Get this card
Best Western Mastercard®
This offer is not available for residents of Quebec. For residents of Quebec, please click here.
Apply Now
Network Provider

Mastercard

Provider

MBNA

Types

Rewards

Balance Transfer

No Fee

Annual fee

$0

Purchase interest rate

19.99%

Cash advance rate

22.99%

Balance transfer rate

1.99%

22.99% after 10 months

Credit Needed

Good (650-749)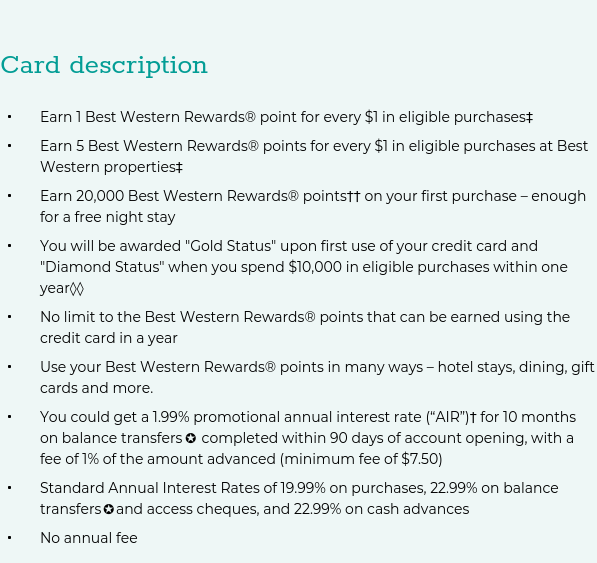 Card Features
No Limit on Points Earned
About This Card
The Best Western Mastercard is a rewards credit card for travellers who like the convenience and comfort of a good hotel (and complimentary breakfast buffets).
The card doesn't come with an annual fee or minimum income requirement but requires a credit score of 650 or higher. It has a standard purchase interest rate of 19.99%, a cash advance rate of 22.99% and a regular balance transfer rate of 22.99%. However, the card also has a special balance transfer rate of 1.99% for the first 10 months for new activations.
General purchases on the Best Western Mastercard earn one reward point per dollar spent. That works out to about 0.9% cash back. However, you earn five reward points per dollar (equivalent to 4.5% cash back) when spending at Best Western Hotels.
Why get the Best Western Mastercard card?
Get a free night's stay at a Best Western just for using your card - Earn a welcome bonus of 20,000 Best Western Rewards points upon activating the card with any purchase. This can cover one night at most of Best Western's locations.
Become an elite member instantly - Card holders are automatically given "Gold" membership status in the Best Western Rewards loyalty program, allowing them to earn discounts and free room upgrades at a faster rate. Plus, if you spend $10,000 within your first year, you will be upgraded to "Diamond" membership, which will earn you 30% more Best Western Rewards points on every purchase and give you a 10% discount on free night redemptions, making it even easier and cheaper to earn and use your points.
Low balance transfer rate - With a 1.99% balance transfer rate for the first 10 months, you can transfer debt from high interest cards to your Best Western Mastercard to make it easier and cheaper to pay down your debt.
No fees - With no annual fee, you can focus on collecting rewards without any catches. Rack up rewards points and put them towards future hotel stays — for free.
Apply Now