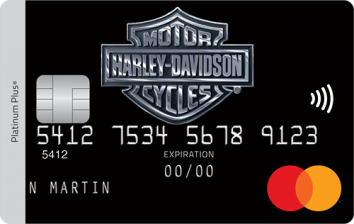 Harley-Davidson® Mastercard®
This offer is not available to residents of Quebec. For residents of Quebec, please click here.
Apply Now
Card details
Network provider

Mastercard

Provider

MBNA

Card types

Rewards

Balance Transfer

No Fee

Credit needed

Good
Fees and interest
Annual fee

$0

Purchase interest rate

19.99%

Cash advance rate

22.99%

Balance transfer rate

1.99%
22.99% after 10 months
Credit score required
Excellent (750-900)
Good (650-749)
Fair (575-649)
Bad (300-574)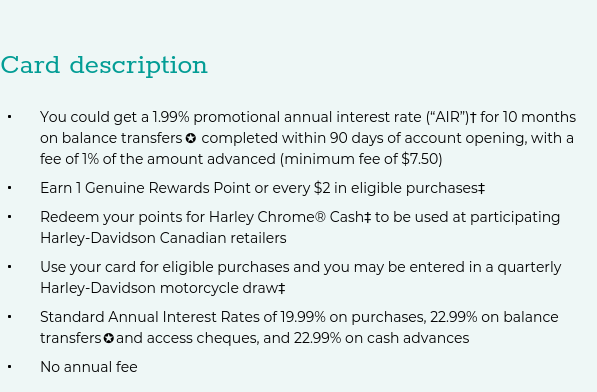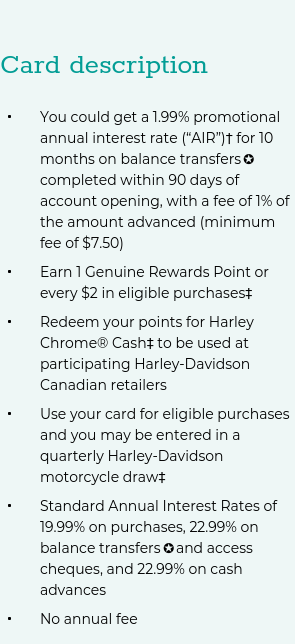 The MBNA Harley-Davidson Mastercard is a premium rewards card that does not charge an annual fee. In order to qualify, you must have a good credit score (between 650-749).
Since this is a branded card, the rewards points you earn can be redeemed for apparel and goods from the legendary motorcycle company — there's even an ongoing quarterly draw for an actual Harley Davidson motorcycle, and as a cardholder, you're automatically entered. You earn one Genuine Rewards Point for every $2 you spend on eligible purchases. Accumulating 2,500 points (about $1,250 of spending) will net you a $25 Harley Chrome Cash certificate.
When you sign up, you can transfer a balance from another card for a promotional annual interest rate of 1.99%. The offer is valid for the first 10 months. After that, the interest rate jumps to 22.99%
Why get the

MBNA Harley-Davidson Mastercard?

Travel protection - Cardholders receive assistance for lost luggage as well as insurance for lost travel documents and even tickets.

Rental car coverage - Mastercard partnered with MBNA to offer platinum benefits to holders of the Harley-Davidson Mastercard, which includes rental car insurance.

Purchase assurance - Items you purchase with the MBNA Harley-Davidson Mastercard will be covered by MBNA's purchase assurance benefit, which is in effect for the first 90 days from the date of purchase. The lifetime total accumulative limit of this benefit is $60,000 per account.

Extended warranty benefits - The length of the warranty of any item purchased with the MBNA Harley-Davidson Mastercard is doubled, providing an additional year of coverage.