No-Fee Scotiabank Value® VISA*
Apply Now
Card details
Network provider

VISA

Provider

Scotiabank

Card types

Low Interest

Balance Transfer

No Fee

Credit needed

Good
Fees and interest
Annual fee

$0

Purchase interest rate

16.99%

Cash advance rate

16.99%

Balance transfer rate

3.99%
16.99% after 6 months
Credit score required
Excellent (750-900)
Good (650-749)
Fair (575-649)
Bad (300-574)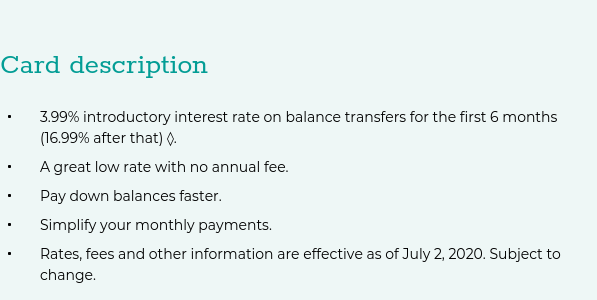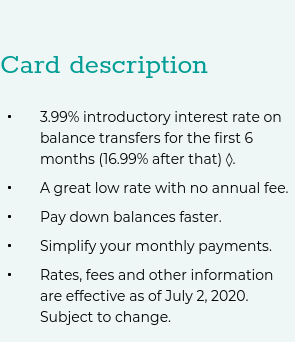 The No-Fee Scotiabank Value VISA is a low-interest credit card available to people with credit scores of 650 or higher. The minimum credit limit is $500 and there are no annual fees.
The most attractive perk offered by the No-Fee Scotiabank Value VISA is the introductory special that lets you pay only 3.99% on cash advances and balance transfers for the first six months. It's available to cardholders who apply for an account by June 30, 2019. After the introductory period, interest on transfers and cash advances goes up to 16.99%.
While the reduction in interest is only temporary, other features of the No-Fee Scotiabank Value VISA are here to stay.
For example, you pay 16.99% interest on purchases; the industry benchmark is 19.99%. The card also generates reward points that pay for all sorts of everyday purchases.
Why get the Scotia Momentum® No-Fee VISA

card?

Rent cars for less - Need to rent a car? You'll appreciate the Scotia Momentum No-Fee VISA card. Users save 20% on rentals at participating AVIS locations worldwide.

Optional protections are available - For a low monthly rate—on an average daily balance of $100, it amounts to $0.95 —you're covered in the event you experience disability, job loss, strike or lockout, critical illness or loss of life.

Room for more - A second Scotia Momentum No-Fee VISA card is available at no extra cost. Add a friend or family member to the account to kick your points collection into overdrive.

Lots of quick payment options - Making payments becomes even less of a hassle with the Scotia Momentum No-Fee VISA card. Users can choose between paying with VISA payWave, My Mobile Wallet, VISA Checkout, and Apple Pay.