Get this card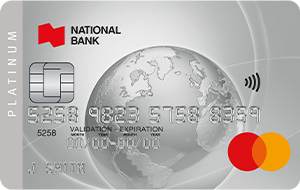 The Platinum Card®
Apply Now
Network Provider

American Express

Provider

American Express

Type

Rewards

Annual fee

$699

Purchase interest rate

30%

Cash advance rate

N/A

Balance transfer rate

N/A

Credit Needed

Excellent (750-900)
Card description
Unlock special experiences with the Platinum Card
New Platinum Cardmembers, earn 25,000 welcome bonus Membership Rewards® points when you charge $2,000 in purchases to your Card in your first three months of Cardmembership.
Earn 3 points for every $1 in Card purchases on eligible dining in Canada, 2 points for every $1 in Card purchases on eligible travel, and 1 point for every $1 in all other Card purchases
You will have access to a $200 CAD annual travel credit to use towards any single travel booking of $200 or more charged to your Platinum Card and made on www.americanexpress.ca/travel or through Platinum Card® travel service
Take full advantage of the American Express Global Lounge Collection™ which unlocks access to over 1200 airport lounges worldwide. This includes The Centurion® Lounge network, Plaza Premium Lounges, and hundreds of other domestic and international lounges designed to enhance your travel experience
Enjoy complimentary benefits that offer an average value of $550 USD at over 1,000 extraordinary properties worldwide when you book Fine Hotels & Resorts
Platinum Cardmembers can enjoy access to special events and unique opportunities
Enjoy premium benefits at the Toronto Pearson Airport such as discounts on parking
You will also have access to many leading hotel and car rental companies' loyalty programs. Our partners include Marriott International, Hilton Hotels and Resorts, Radisson Hotel Group Hotels and Resorts, Hertz® and Avis®
As a Charge Card, the balance must always be paid in full each month. 30% annual interest rate applies to balances not paid in full. Payments must be received and processed by the date of the next monthly statement to avoid interest charges
American Express is not responsible for maintaining or monitoring the accuracy of information on this website. For full details and current product information click the Apply now link. Conditions apply
Card Features
Airport Lounge Access
Airport Parking Discounts
Airport Valet Service
Annual Travel Credit
Complimentary Airline Upgrades
Entertainment Benefits
Extended Warranty
Flight Discounts
Golf Course Access
Hotel Benefits
Premium Hotel Program Membership
Purchase Protection
Rental Car Discounts
Travel Insurance
About This Card
People with excellent credit scores (750 and above) can apply for The Platinum Card, the iconic rewards credit card from American Express.
A product refresh in early 2019 brought a host of exciting changes to the card.
First, The Platinum Cards are now made of actual metal. It's been one of the most exclusive cards on the market for years now — it has an annual fee of $699 and additional cards cost $175 — and the design change is sure to deliver an even more premium experience to cardholders.
Then, there are the changes to The Platinum Card's rewards earn rate. Here's how the new earn rate breaks down:
Earn 3 points for every $1 spent on eligible dining experiences.
Earn 2 points for every $1 on eligible travel purchases.
Earn 1 point on all other purchases.
One of the benefits of getting a new Platinum Card is the fact that you can now access benefits that have an approximate cash value of $550 USD when you plan trips through Amex's Fine Hotels & Resorts portal.
For reference, Amex is partnered with Marriott International, Hilton Hotels and Resorts®, Radisson Hotel Group, and Hertz® and Avis® car rentals.
And new cardmembers earn 25,000 welcome points when you charge $2,000 in purchases to your card within the first three months.
However, since it is a charge card, holders of The Platinum Card must pay off their entire balance each month. An annual interest rate of 30% applies to balances that are not paid in full. To ensure you're not charged any interest, make sure your payment is received and processed by the date of your next monthly statement.
The other benefit of a charge card like The Platinum Card is that there's no predesignated credit limit. You can charge whatever you think you can afford. That said, it bears repeating: you must be able to pay it off in full.
Cardholders also get a number of travel, insurance, entertainment and protection privileges. Included is the American Express' Front Of The Line program, which grants cardholders access to highly sought after shows and concerts.
The Platinum Card has an annual fee of $699. Additional cards cost $175.
Why get The Platinum Card?
No credit limit - With no preset credit limit, you can charge whatever you think you can afford to pay off at the end of the month.
25,000-point welcome bonus - New members are eligible to receive a welcome bonus of 25,000 membership reward points. To qualify for the bonus, cardholders must spend $2,000 within three months of activating the card.
Luxury lounge access - The Platinum Card is your ticket into more than 1,200 airport lounges worldwide.
Hotel and car rental benefits - Holders of the Platinum Card receive unparalleled benefits and discounts to over 600 hotels and resorts across the globe, as well as elevated status at participating hotels and car rental companies. Cardholders will also have access to a $200 CAD Annual Travel Credit to use towards any single travel booking of $200 or more charged to your Platinum Card and made on www.americanexpress.ca/travel or through Platinum Card® Travel Service.
Referral program - Refer friends or family and you'll receive a bonus of 15,000 membership points. Cardholders are able to earn up to 225,000 referral points each year.
Apply Now