Get this card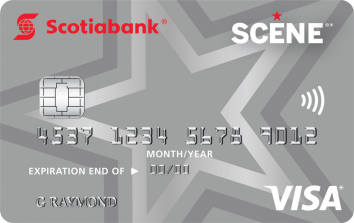 SCENE® VISA* Card
Apply Now
Network Provider

VISA

Provider

Scotiabank

Types

Rewards

No Fee

Annual fee

$0

Purchase interest rate

19.99%

Cash advance rate

22.99%

Balance transfer rate

22.99%

Credit Needed

Good (650-749)
Card description
Earn 2,500 bonus SCENE points with your first $500 in everyday purchases in first 3 months1
Earn 1 SCENE point for every $1 you spend on credit card purchases
Earn 5 SCENE points for every $1 you spend on SCENE Visa purchases at participating Cineplex Entertainment theatres or online at cineplex.com
Rates, fees and other information are effective as of Mar 1, 2021. Subject to change.
About This Card
The SCENE Visa credit card is a no-fee rewards card with a minimum credit limit of $500. It's also one of the most popular no-fee credit card options in Canada.
The big draw? The card is affiliated with the Cineplex Entertainment rewards program, SCENE, Every dollar spent with the SCENE Visa earns users one SCENE point, while every dollar spent at Cineplex Entertainment (whether you're actually at the theatre or online) rewards you with five SCENE points.
You earn 5 SCENE points for every $1 spent on SCENE Visa purchases at participating Cineplex Entertainment theatres or online at cineplex.com. All other purchases on the card earn 1 SCENE point per $1 spent.
Opening an account by November 21, 2021 gets you 2,500 SCENE points on the first $500 you spend on the card within the first three months.
Two thousand SCENE points is equivalent to two regular price adult tickets. Points can be redeemed for other Cineplex Entertainment goods. Alternatively, you can spend them at participating stores and restaurants such as Sport Chek, Swiss Chalet, Harvey's, Montana's, and East Side Mario's.
Interest rates on most purchases with the SCENE Visa card is 19.99%. For cash advances, balance transfers, and Scotia Credit Card Cheques, the rate is 22.99%.
Why get the SCENE Visa credit card?
Join one of Canada's most popular rewards programs - Every time you make a purchase, you're a little closer to seeing the latest blockbuster for free. It's basically a movie pass.
More than just movies - SCENE Visa card points can be redeemed for a wide array of rewards at a number of retailers.
Bring someone else on board - A second card is offered to users at no extra cost. Finding a second cardholder means SCENE points will add up at double the rate.
Get reassurance for unexpected challenges - Cardholders have the option of purchasing additional benefits. Acquiring these benefits requires a pay-in that is proportional to the average daily balance on the card, while the value of the benefits is calculated in a similar manner. They include coverage for disabilities, job loss, strike or lockout, and critical illness or loss of life.
Apply Now
1 Offer Description and Conditions: The 2,500 Bonus SCENE Points Offer (the "Offer"), applies only to new SCENE Visa credit card accounts (excluding SCENE Student Visa cards) ("Account") opened by November 21, 2021 subject to the conditions below. To be eligible for the Offer, at least $500 in eligible purchases must be posted to the Account within the first 3 months of the Account open date. Eligible purchases include purchases (less any refunds, returns or other similar credits) but do not include payments, cash advances (including balance transfers, Scotia® Credit Card Cheques or cash-like transactions), interest, fees or other charges. The bonus points will be awarded within 2-3 business days of the completion of the $500 net purchases provided the Account is open and in good standing at time of payout. The Account is considered in good standing if it is not delinquent (past due) or over limit and the Cardholder(s) is not in breach of the Revolving Credit Agreement that applies to the Account. Only one welcome bonus is awarded per Account. In case where both the primary and supplementary cardholders are SCENE members, the bonus points will be credited to the SCENE membership account that has been connected to the account.
Offer may be changed, cancelled or extended at any time without notice and cannot be combined with any other offers.