Get this card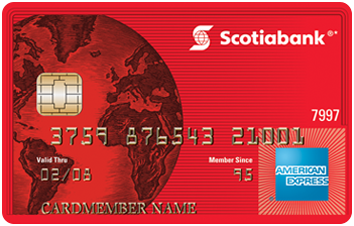 Scotiabank®* American Express® Card
Apply Now
Network Provider

American Express

Provider

Scotiabank

Type

Rewards

Annual fee

$0

Purchase interest rate

19.99%

Cash advance rate

22.99%

Balance transfer rate

22.99%

Credit Needed

Good (650-749)
Card description
Earn 5,000 bonus Scotia Rewards points with your first $500 in everyday purchases in first 3 months ◊.
Earn one Scotia Rewards point on all eligible everyday purchases.
Flexible Point Redemption.
Rates, fees, and other information are effective as of Nov 1, 2020. Subject to change.
Card Features
Airfare Price Guarantee
Cruise Discounts
Entertainment Benefits
Extended Warranty
Hotel Discounts
Price Protection
Purchase Protection
Rental Car Discounts
Rental Car Insurance
Travel Insurance
Vacation Package Discounts
About This Card
The Scotiabank American Express Card is a no-fee rewards points card well-suited for travellers. Despite not having any fees, the card still offers rewards points on purchases as well as extended travel insurance and purchase protection coverage.
To be approved for the Scotiabank American Express card, you need a good credit score or higher — which means a score of 650 and up. As far as interest rates, the purchase rate is 19.99% while both cash advances and balance transfers are charged at 22.99%.
Purchases made on the card earn one Scotia Rewards point per dollar spent — that makes it easy to know how many points you've collected.
If you apply before Feb. 28, 2021, you'll receive 5,000 Scotia Rewards points when you spend at least $500 on the card within the first three months.
Additional cards can be added to your account for free, each one allowing additional cardholders to earn rewards points for the account. Your statement will indicate which card transactions belong to which, making it easier for you to review your spending.
Why get the Scotiabank American Express card?
Stress-free vacation planning - Book your big trips using the Scotia Rewards travel service and let them take care of the rest. It's a full-service travel agency for Scotiabank American Express Cardmembers.
Stay covered no matter where you are - As long as you put your trip's expenses on your card, the included travel insurance will provide protection against accidental injury and death during transit, trip interruption, emergency medical expenses for up to eight days, and rental car coverage.
Join the club - Scotiabank American Express card users can enjoy the benefits of American Express Invites. That means access to special offers, exclusive perks, and access to music, theatre, film, dining, and shopping experiences.
Get discounts off your trip, just for using your card - Get reduced rates at hotels, up to 25% off eligible car rentals, and special offers and amenities with vacation packages at resorts and cruises around the world.
Apply Now
◊ Offer Description and Conditions: The 5,000 Bonus Scotia Rewards Points Offer (this "Offer") applies only to new Scotiabank American Express credit card accounts ("Account") opened by February 28, 2021 subject to the conditions below. To be eligible for the Offer, at least $500 in eligible purchases must be posted to the Account within 3 months of the Account open date. Eligible purchases include purchases (less any refunds, returns or other similar credits) but do not include payments, cash advances (including balance transfers, Scotia® Credit Card Cheques or cash-like transactions), interest, fees or other charges. The bonus points will appear as an adjustment on the Account statement within 2 statement cycles after the third billing cycle has passed provided the Account is open and in good standing at time of payout. The Account is considered in good standing if it is not delinquent (past due) or over limit and the Cardholder(s) is not in breach of the Revolving Credit Agreement that applies to the Account.

Offer may be changed, cancelled or extended and cannot be combined with any other offers.

Eligibility and Exclusions: Individuals who are currently or were previously primary or secondary cardholders of a Scotiabank retail credit card in the past 2 years, including those that switch from an existing Scotiabank retail credit card, as well as employees of Scotiabank, are not eligible for the Offer. Subject to the above exclusions, Scotiabank small business credit cardholders are eligible for the Offer.

Rates and Fees: There is currently no annual fee for the primary card and no fee for each additional supplementary card.
The current preferred annual interest rates for the Account are: 19.99% on purchases and 22.99% on cash advances (including balance transfers, Scotia® Credit Card Cheques and cash-like transactions).
All rates, fees, features and benefits are subject to change.