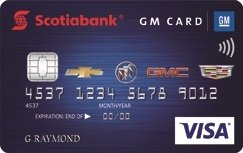 Scotiabank® GM®* VISA* Card
Apply Now
Card details
Network provider

VISA

Provider

Scotiabank

Card types

Rewards

No Fee

Credit needed

Good
Fees and interest
Annual fee

$0

Purchase interest rate

19.99%

Cash advance rate

22.99%

Balance transfer rate

22.99%
Credit score required
Excellent (750-900)
Good (650-749)
Fair (575-649)
Bad (300-574)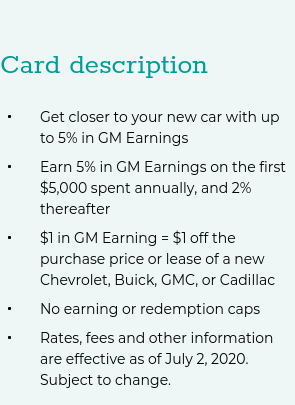 The Scotiabank GM Visa Card is a no-fee rewards card that earns points you can put towards the purchase of a GM vehicle. You need a good credit score to qualify and an income of at least $12,000.
Here's a breakdown of how the GM Earning rewards system works: the ratio of earnings per dollar works out to 5% on the first $5,000 spent on the card annually (or $250). After the initial period, you earn 2%. Your points will never expire and you can use them in conjunction with other special offers from GM. However, the offer is limited to GM vehicles.
The interest rates associated with this card are 19.99% on purchases and 22.99% on cash advances, balance transfers and Scotia Credit Card cheques.
Why get the

Scotiabank GM Visa Card?

Even more extras thrown in for car lovers - Show your Scotiabank GM Visa Card at a participating AVIS Car Rentals location, and you'll be eligible for a discount on your rental car worth up to 20%. The offer is valid at AVIS locations worldwide.

An additional safety net - The Scotiabank GM Visa Card offers support in the event of disability, job loss, strike or lockout, critical illness or loss of life. A monthly benefit equal to 10% of your outstanding balance can be paid towards your account, protecting you from more debt. This coverage is available for a monthly premium rate of 95 cents per $100 of the average daily balance of your credit card. In the event of critical illness, your balance can be paid off in full, up to a maximum of $50,000.

Show personal flair with your card - Showcase your love of cars through one of the five designs offered. The cards are enabled with Visa payWave, so at the cash register, simply wave your card over the reader to pay.

Or forgo a physical card altogether - Scotiabank's My Mobile Wallet app is available to holders of the Scotiabank GM Visa. Now, you only need to tap the register with your smartphone to pay.