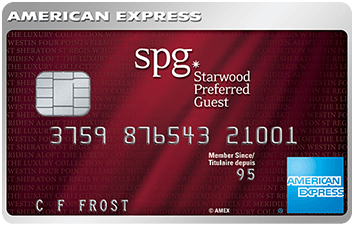 The Starwood Preferred Guest Credit Card from American Express
Apply Now
Card details
Network provider

American Express

Provider

American Express

Card type

Rewards

Credit needed

Excellent
Fees and interest
Annual fee

$120

Purchase interest rate

19.99%

Cash advance rate

22.99%

Balance transfer rate

N/A
Credit score required
Excellent (750-900)
Good (650-749)
Fair (575-649)
Bad (300-574)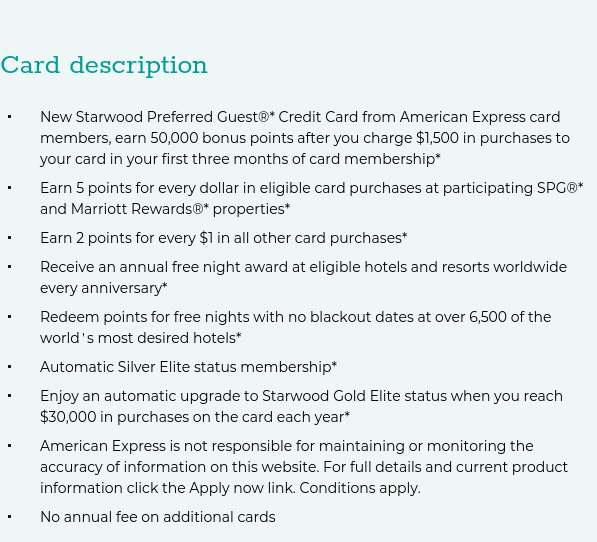 Features
24/7 Customer Service
Entertainment Benefits
Extended Warranty
Purchase Protection
Rental Car Insurance
Travel Benefits
The Starwood Preferred Guest (SPG) Credit Card from American Express is a rewards card with an annual fee of $120 that is available to individuals with a top-tier credit score of 720-850. The SPG card is highly regarded for its exclusive travel and hotel offers, and with the recent refresh of its rewards program, the offerings for cardholders are even better.
Cardholders earn five points for every $1 spent at participating SPG and Marriott Rewards properties.
Two points are earned for every $1 in purchases charged to an SPG card. (For some context, this earn rate was once reserved for new cardholders — before the SPG revamp, the standard earn rate for everyday purchases was only one Starpoint for every dollar spent.)
Redemption options for points range from free stays at more than 6,500 first-class hotels in nearly 100 countries to free flights.
As a new cardholder, you can earn 50,000 Starpoints if you charge $1,500 in purchases to your card within the first three months of membership.
It now takes $30,000 in purchases each year to reach Starwood Gold Elite Guest status instead of a $40,000 annual spend, which was the previous qualifying spend.
In the past, you had to reach an annual spend of $40,000 on the card to receive a Free Weekend Night Award, which entitled you to a one-night stay at any participating hotels.
That requirement is now gone: today, all members get one complimentary stay per year on the anniversary of the day they became cardholders.
In addition to rewards-related perks, members also get invitations to events through SPG Moments and American Express Invites. These include shopping, food, and live artistic experiences.
Since this is a travel rewards card, we should point out the 2.5% foreign transaction fee.
Additional cards are free of charge (American Express recently removed the $50 fee on extra cards).
The card has an APR of 19.99% and a cash advance rate of 22.99%. Missed payments trigger an APR increase of 23.99% to 26.99%.
Why get the Starwood Preferred Guest credit card?

Support when you need it - SPG provides members with 24/7 customer service. Whenever you're in a bind, or just have some casual questions, get quick answers and the information you need.
Accumulate points quickly - Spend $1,500 on the card within the first three months and earn 50,000 points. Get an additional card for free and earn points even quicker.
Extended warranty coverage - Purchases made with the SPG card come with the benefit of an extended warranty. Just make sure to hold onto your manufacturer's warranty and the purchase receipt.
Don't get burned by thieves - Anything bought with an SPG card is automatically insured in the event that someone steals it. As long as you can prove that you bought your item on the card and that a theft took place, SPG has you covered with purchase protection.
No rental car insurance worries - Rental car insurance is one thing you won't have to worry about when you have an SPG card. Any claims you need to make are handled for you.
Enjoy travel and entertainment benefits - SPG offers an impressive selection of travel and entertainment benefits and exclusive members-only offers, including a free night's stay in any participating hotels once a year.