Looking for the best Royal Bank of Canada credit card in Canada? You've got this.
No cards matched your search criteria.
Recommended RBC credit cards.
RBC is one of the biggest financial institutions in Canada and carries an extensive offering of credit cards to fit many individual needs. Whether you want to focus on travelling, getting free merchandise, or just getting cash back, these are our picks for the most competitive RBC credit card offers.
Most popular RBC card.
With a cashback rate of 1.5% across unlimited purchases, extended purchase protection, and access to exclusive World Elite Experiences and Offers, there's no denying this is a premier card for those who want to get the most from their everyday spending. This premium credit card comes with a $99 annual fee and requires a personal income of at least $80,000, or a minimum household income of $150,000. Cardholders have the option of setting up pre-authorized payments so that they can earn cash back without effort. They can also get supplementary cards at no extra charge. Perks include access to Boingo Wi-Fi across the globe, exclusive concierge services, and Priceless Cities, a program that connects cardholders to entertainment opportunities where they live or travel.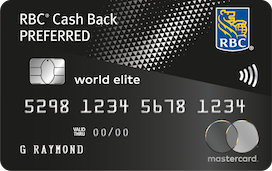 RBC Cash Back Preferred World Elite Mastercard
Rewards rate
1.5% cash back.
Bonus offer
Not available.
Best RBC travel rewards card.
The Visa Infinite Avion is made for those who have been bitten with the travel bug and those whose line of business takes them across borders. As a premium card, it comes with an annual fee of $120. It also requires a minimum personal income of $60,000, or a minimum household income of $100,000. Cardholders earn one RBC Rewards point for every dollar spent and an extra 25% on eligible travel-related purchases. The card also comes with plenty of insurance coverage, including trip cancellation, emergency medical, hotel and rental car coverage, and purchase protection. Finally, as a Visa Infinite member, cardholders will gain access to exclusive benefits such as hotel upgrades, dining experiences, and more.
RBC Visa Infinite Avion
Rewards rate
1 RBC Rewards point for every $1 spent, plus 25% extra on eligible travel purchases.
Bonus offer
Up to 15,000 welcome points.
Best RBC low-interest card.
Most standard-issue credit cards will charge you nearly 20% interest on outstanding balances, but RBC's Visa Classic Low Rate Option card charges only 11.99% — and has an annual fee of only $20 to boot. If your priority is paying down your balance rather than, say, earning cash back and rewards, the Visa Classic Low Rate Option is a card you should definitely consider.
RBC Visa Classic Low Rate Option
Rewards rate
Not available.
Bonus offer
Not available.
The RBC advantage.
RBC is one of Canada's oldest and largest financial institutions with a brand that's synonymous with trust and quality service. Apart from credit cards, RBC offers a full suite of banking services including chequing accounts, savings solutions, mortgages, and more.
Here's more on why Canadians love RBC credit cards.
Flexible rewards programs
RBC credit card holders can take advantage of RBC Rewards, the bank's robust and flexible rewards program. Points can be redeemed for gift cards, statement credit, and brand name merchandise. You can even use the points to save on travel flights, hotels, car rentals, cruises, and more. Avion is RBC's signature travel rewards program. Cardholders who collect Avion points are never subject to blackout periods, seat restrictions, or unnecessary stopovers. The earn rate for Avion points straightforward — the ratio is one to one — so it's easy to keep track of your points balance. But you can increase your earning potential when you use the card for rental cars and hotels (1.25 points for every dollar spent) or using it to pay for your Uber rides (two points for every dollar spent).
The latest mobile banking technology
RBC makes banking easier with its online services and mobile apps. Use the RBC Wallet app on your NFC-enabled Apple or Android phone to make secure, contactless payments to your debit and credit cards. RBC cards also integrate with Apple Pay, allowing you to store your credit cards with ease.
The most satisfied customers in the business
RBC has received recognition for its leadership in customer service. In 2016, global marketing research firm J.D. Power ranked RBC the best out of the Big Five banks for customer satisfaction. It has also taken top spot at the Retail Banker International Awards competition three times in a row, winning Global Retail Bank of the Year in 2014, 2015, and 2016.
About RBC
Founded in Halifax in 1864, the Royal Bank of Canada is one of Canada's youngest banks — at least among the major institutions. Since the end of the First World War, strategic mergers and expansions have propelled RBC past its competitors. RBC is now headquartered in Toronto and has been the biggest of the Big Five banks for most of the past century. RBC also boasts an impressive credit card portfolio. If you're looking for a top-tier travel rewards card or a basic, no-fee option, RBC's selection won't disappoint.
LowestRates.ca may receive compensation when you click on links to those products or services; however, our content and calculations are objective and free from bias. The opinions expressed are purely those of LowestRates.ca; thus, partners are not responsible for any editorials or reviews that may appear. For current term and conditions on any advertiser or partner's product, please visit their website.