Get this card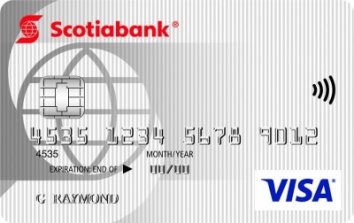 Scotiabank Value® VISA* Card
Apply Now
Network Provider

VISA

Provider

Scotiabank

Types

Low Interest

Balance Transfer

Annual fee

$29

Purchase interest rate

12.99%

Cash advance rate

12.99%

Balance transfer rate

0.99%

12.99% after 6 months

Credit Needed

Good (650-749)
Card description
0.99% introductory interest rate on balance transfers for the first 6 months (12.99% after that; annual fee $29)1
Save hundreds of dollars in interest a year
Low 12.99% interest rate
Pay down balances faster
Simplify your monthly payments
Rates, fees and other information are effective as of March 1, 2021. Subject to change.
About This Card
The Scotiabank Value Visa card is a low-interest card available to anyone with a credit score of 650 or higher.
The interest rate on purchases and cash advances made on the Scotiabank Value Visa card is 12.99%, the lowest rate offered by the bank. For the first six months, you pay only 0.99% on any balance you transfer over to the Scotiabank Value Visa card if you open an account by November 21, 2021.
The Scotiabank Value Visa card has an annual fee of $29 and a minimum credit limit of $500. If you choose to open a joint account, supplementary cards are available at no extra cost.
The Scotiabank Value Visa card is not a rewards card but it still offers users a few perks, like discounts on car rentals from select rental companies.
Why get the Scotiabank Value VISA?
Get Scotiabank's lowest interest rate - Of all the cards offered by Scotiabank, this one has the lowest interest rate at 12.99%. Plus, for the first six months, you pay only 0.99% on any balances transferred onto this card.
Save on car rentals - The Scotiabank Value Visa card gets cardholders discounts of up to 20% on car rentals at participating AVIS locations around the world.
Enjoy an interest-free grace period - Cardholders have 21 days to pay their statement balance.
Get a supplementary card at no charge - Bestow the benefits of low interest rates to a friend or relative — supplementary cards are free. Secondary cardholders are entitled to the same car rental discounts as the primary account holder.
Apply Now
1 Offer Description and Conditions: The introductory 0.99% interest rate applies only to cash advances (including balance transfers, Scotia® Credit Card Cheques and cash-like transactions) (collectively "Cash Advances") subject to the conditions below (the "Offer"). This rate applies when the new Scotiabank Value Visa credit card account ("Account") is opened by November 21, 2021 and will continue for 6 months from date of Account opening (the "Promotional Period"). This Offer is subject to any available limit for Cash Advances (the "Cash Advance Available Limit") on your Account. This Offer cannot be used to transfer a balance from another Scotiabank Account, or to make a payment or deposit to another Scotiabank account. After the Promotional Period, the 0.99% interest rate on any promotional Cash Advances (including any that remain unpaid after the Promotional Period ends) will increase to the preferred interest rate on Cash Advances (currently 12.99%). If you don't pay the minimum payment on your Account by the payment due date on your statement, two times in any consecutive 12-month period, you will lose the benefit of this promotional rate Offer and the interest rates that apply on any unpaid balance will increase to the standard annual interest rates that apply to your Account (currently 24.99% on purchases and 27.99% on Cash Advances).
Eligibility and Exclusions: Individuals who are currently or were previously primary or secondary cardholders of a Scotiabank retail credit card in the past 2 years, including those that switch from an existing Scotiabank retail credit card, as well as employees of Scotiabank, are not eligible for offer. Subject to the above exclusions, Scotiabank small business credit cardholders are eligible for the Offer.
Offer may be changed, cancelled or extended and cannot be combined with any other offers.
Payment Allocation: In general, if you make a payment that exceeds the minimum payment on your statement, we will apply your payment on a proportionate basis among each group of billed charges on your Account. We group charges based on the interest rate that applies to the group of charges. Your payment cannot be applied to the balance(s) of your choice. See your credit card agreement for more information about how we apply payments to your Account.
A Balance Transfer fee of 0% of the amount of each Balance Transfer transferred during the Promotional Period applies to this Offer.
Rates and Fees: The current annual fee is $29 for the primary card and $0 for each additional supplementary card.
The current preferred annual interest rates for the Account are: 12.99% on purchases and 12.99% on Cash Advances.
All rates, fees, features and benefits are subject to change.