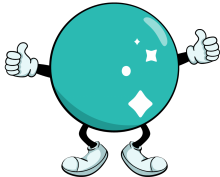 writer
The Glint
At LowestRates.ca, we love to save you money on personal finance products, but if there's anyone who loves it more than us, it's The Glint.
If you've been to our website, you might recognize The Glint. It's the LowestRates.ca logo brought to life as our new mascot!
After The Glint graduated from The School of Saving People Money, it needed a place to live. A real city slicker, The Glint had its heart set on a beautiful waterfront condo in Vancouver that would afford it the luxury of summertime ocean views.
The Glint searched for an affordable condo, but quickly realized there wasn't one. Defeated, The Glint hitched a ride to Toronto to see if housing was any cheaper. (Spoiler alert: it wasn't.)
Once in Toronto, The Glint realized that in order to put its degree to good use and spread money-saving tips to the public, it would need a car. Of course, this meant that The Glint would also need insurance. The Glint got a quote from one insurance company that was so high, it nearly knocked The Glint off its feet.
The next day, The Glint ran into a man named Justin Thouin. The Glint confided in Justin how expensive it was to live and have insurance in Canada. Justin told The Glint not to worry; he'd created a rate comparison website called LowestRates.ca that was saving Canadians millions of dollars by enabling them to compare the lowest rates from the country's banks and insurance companies on personal finance products like insurance, mortgages, and credit cards.
The Glint visited LowestRates.ca and found himself a much cheaper insurance quote. Amazed, it knew what it had to do going forward: join LowestRates.ca in helping Canadians save money.

Oh, and don't worry. The Glint eventually ended up finding a home. Earlier this year, it moved in to the LowestRates.ca office, where, for the time being, we've decided The Glint can stay rent-free.