Compare mortgage offers and save time and money!
The New Way to Shop for a Mortgage
Compare mortgage rates from over 30 banks and brokers in seconds
Fixed rates from 1.97% and variable rates from 2.09%
FREE, no obligation service
Save thousands of dollars per year by finding the best mortgage possible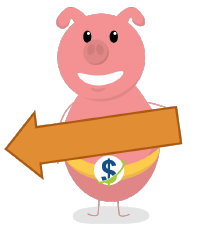 We Compare Mortgage Rates From Over 30 Banks and Brokers

Compare Mortgage Rates to Save Tens of Thousands of Dollars!
Buying a home is the most significant financial decision most Canadians will make. That's why it's so important to choose a mortgage that suits your unique needs and minimizes the amount of interest you pay. No matter where you live, it's fast and easy to find the lowest and best mortgage rates available with LowestRates.ca. We work with the top banks and brokers across the country to provide you with the most competitive mortgage offers in Canada. The best part is it's a free, no obligation service.
How can comparing mortgage rates save me money?
Banks rarely offer their best rates up front, and they usually make customers negotiate rate discounts over the phone or in person. With LowestRates.ca, you'll be able to compare the best mortgage rates from over 30 banks and brokers in just seconds. Our quotes are tailored to whatever area you live in, so that you'll always know you're getting the best deal, whether you're in Ontario, Alberta, British Columbia, Quebec, Nova Scotia or anywhere in between!
Comparison sites force brokers and lenders to compete for your business, meaning you'll see their lowest rates right away, without any hassle or negotiation.
Should I get a mortgage from a broker or a bank?
Banks issue mortgages directly to the customer, while brokers work on their clients' behalf to find the best deal possible from a range of lenders.
It's no surprise that Canadians are increasingly using mortgage brokers to get the lowest rates on their home loan. Brokers have access to a variety of lenders, and they often get more competitive rates than regular consumers because of the special relationships they have with the institutions they do business with. Because brokers process a lot of mortgages, they can pass the volume discounts they receive on to borrowers like you!
Taking a mortgage with your local bank does allow you to consolidate all of your financial services (bank account, credit card, insurance, mortgage, etc) with one institution. It's a small but not insignificant advantage banks enjoy over brokers. However, brokers have access to mortgage offers from most of Canada's major banks, so you can still find a great mortgage rate from a major bank through a mortgage broker.
Recent surveys show that brokers are particularly popular with young Canadians and first-time home buyers. The latest Canadian Association of Accredited Mortgage Professionals (CAAMP) report shows brokers processing over a third of all mortgages in these two categories: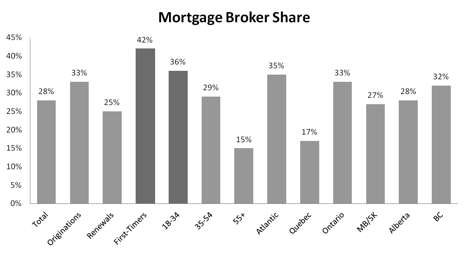 Source: Annual State of the Residential Mortgage Market in Canada, CAAMP November 2013
Do mortgage rates vary by province?
They can. Some provinces have greater competition among lenders, which tends to result in slightly lower mortgage rates.
Should I select a variable or fixed rate mortgage?
It depends on your tolerance for interest rate risk and your financial profile.
Fixed rate mortgages offer the most security because your payments will stay the same for the duration of the mortgage term, while variable rates fluctuate with market conditions, so your mortgage payments can go up or down, depending on the interest rate environment at the time. If you want the lowest mortgage rates possible, however, then variable rates are usually better because they tend to be lower than fixed rates, especially over the long term.
Fixed rates, which remain near historic lows, have been a popular choice among Canadians recently.
Percentages of Mortgages by Type, For New Purchase Mortgages and Recent Renewals:
| | | | |
| --- | --- | --- | --- |
| Mortgage Type | Purchase During 2013 | Renewal or Refinance During 2013 | All Mortgages |
| Fixed-rate | 82% | 66% | 66% |
| Variable or Adjustable Rate | 9% | 24% | 26% |
| Combination | 9% | 10% | 8% |
| All Types | 100% | 100% | 100% |
Source: Annual State of the Residential Mortgage Market in Canada, November 2013
What's the difference between an open mortgage and a closed mortgage?
Open mortgages can be paid off at any time without penalty, while closed mortgages essentially lock you into the loan for the duration of the term. With a closed mortgage, you'll most likely get a lower interest rate than you would on a comparable open mortgage. If you must pay off a closed mortgage, you'll still be able to do so but will have to pay a steep "penalty" for exiting the loan ahead of schedule.
How is a mortgage term different from an amortization period?
A mortgage term is the amount of time the conditions of your mortgage contract (interest rate, payment schedule, etc) remain in effect. At the end of the term you'll need to renew your mortgage. Think of the term as a contract that is renegotiated with new conditions just before it expires. In Canada, the majority of mortgage terms are five years, as you can see from a CAAMP survey below:
Canadian Mortgages By Term:
Length of Morgage Term
Age of Borrower
Term
18-34
35-54
55+
All ages
1 year or less
5%
7%
6%
6%
1-2 years
11%
4%
5%
7%
2-3 years
10%
8%
2%
7%
3-4 years
6%
6%
5%
6%
5 years
66%
65%
69%
66%
6-10 years
3%
9%
10%
7%
Source: Canadian Association of Accredited Mortgage Professionals, November 2010 Report
The amortization period, on the other hand, is the total length of time it will take to pay off your loan. Most amortization periods are 25 years, and if your down payment is less than 20 percent, this is the longest amortization period currently offered. The longer the amortization, the lower your monthly payment because you'll be paying the loan off over a greater period of time. The flip-side of course is that you'll end up paying more total interest over the life of the loan.
How does the payment schedule work on a mortgage?
In the past, mortgage payments were only made once a month, but this tradition is rapidly changing. Modern mortgages allow you to pay more frequently – you can choose a variety of different payment options, including semi-monthly or even weekly. By making payments more frequently, you'll pay your mortgage down quicker and save on interest.
You'll save the most if you choose accelerated payments. With an accelerated bi-weekly payment, for example, you'll pay one-half of your monthly payment every two weeks, rather than two times per month. The result is that you end up making 26 payments per year instead of 24, which yields significant savings over time.
The chart below breaks down the interest savings you would receive using different payment schedules on a mortgage of $300,000 at 5% interest with a 25 year amortization:
| | | | | |
| --- | --- | --- | --- | --- |
| Payment frequency | Payment | Number of payments per year | Total interest you pay | Interest saved |
| Monthly (one payment per month) | $1,744.82 | 12 | $223,443.02 | $0.00 |
| Semi-monthly ( half your monthly payment, twice each month) | $872.41 | 24 | $222,381.43 | $1,061.59 |
| Bi-weekly (you make a payment every two weeks) | $805.30 | 26 | $220,571.04 | $2,871.98 |
| Rapid bi-weekly (half your monthly payment, every two weeks) | $872.41 | 26 | $185,882.99 | $37,560.03 |
| Weekly (You make a payment every week) | $402.65 | 52 | $220,088.08 | $3,354.94 |
| Rapid Weekly | $436.21 | 52 | $185,471.03 | $37,971.99 |
Based on a mortgage of 300,000 at 5% (APR) interest on a fixed 5-year term, with a 25-year amortization.
Get the Lowest Rates
It's all here at LowestRates.ca – the lowest mortgage rates from the nation's best banks and brokers, all in one place. Don't delay – compare rates and apply today!