Compare Auto Insurance Quotes in Canada
Get 10+ car insurance quotes in just 3 minutes
Save HUNDREDS, even THOUSANDS of dollars per year on your car insurance
Get your FREE quotes today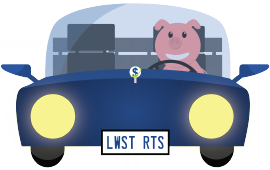 Compare the Best Quotes From Canada's Top Insurance Companies

Auto Insurance
Quotes By Province
Auto Insurance
Quotes By City
Do You Need Other Types of Insurance?
Auto Insurance
Compare Car Insurance Quotes Online to Get the Lowest Rates
Looking for the best rates on car insurance? You've come to the right place.
At LowestRates.ca, we'll help you compare the most competitive offers from Canada's leading auto insurance companies. You'll get the policy that suits you best while saving time and money.
Most drivers don't realize that comparing quotes online while shopping for their auto insurance can save them hundreds, or even thousands of dollars per year! Auto insurance rates for the same driver with the same car can vary wildly between insurance companies, which is why comparing rates is the only way to get the best deal.
Whether you're an experienced motorist shopping for the perfect policy or a new driver exploring auto insurance plans for the first time, we have all the tools you'll need to find cheap insurance rates in whatever province you live in. At LowestRates.ca, saving money is easy – we make shopping for car insurance as quick and painless as possible!
How do I find the cheapest auto insurance rates?
Online quote comparison sites like LowestRates.ca make it simple – just fill out the form provided in our auto insurance section with specific driver details such as your postal code, driving experience, vehicle make and model, etc, and our comparison engine will then tap into our vast network of insurance companies and brokers to find and rank the cheapest auto insurance rates available to you.
Once you've selected the quote from the company that suits you best, you will speak directly with an insurance broker to lock in your rate with the insurance company and help you get set up with your policy. Shopping for car insurance has never been quicker or easier!
Is auto insurance different from province to province?
Yes, auto insurance systems vary greatly depending on where your vehicle is registered.
Several provinces have government administered auto insurance programs, including Saskatchewan, Manitoba and British Columbia. Here, car insurance rates are set by a Crown corporation and reviewed annually. Quebec uses a hybrid system, where the government provides personal injury coverage while property damage coverage is set by private insurers.
Alberta, Ontario, Nova Scotia, New Brunswick, Newfoundland, Prince Edward Island and all the territories have private insurance markets where private insurers offer coverage. It should be noted though that many of these jurisdictions still review rates annually and government policies can influence premium prices from year to year.
Private and Public Insurance Systems in Canada
Province
Auto Insurance System
Private
Public
Alberta
British Columbia *
Manitoba *
New Brunswick
Newfoundland and Labrador
Northwest Territories
Nova Scotia
Nunavut
Ontario
Prince Edward Island
Quebec †
Saskatchewan *
Yukon
* BC, Manitoba, and Saskatchewan drivers can still purchase non-mandatory coverage from private insurers.
† In Quebec, public coverage is limited to personal injuries.
What are the minimum auto insurance requirements where I live?
Minimum auto insurance requirements vary by province and territory. In general, most jurisdictions require minimum liability coverage of $200,000, as well as some form of uninsured motorist coverage in case your vehicle is hit by someone without insurance.
Minimum Coverage Requirements by Province
Province
Mandatory Coverage Requirements
Third Party Liability Coverage1
Direction Compensation Property Damage2
Uninsured Motorist Coverage3
Accident Benefits Coverage4
All-Perils Coverage5
Alberta
$200,000
British Columbia *
$200,000
Manitoba *
$200,000
New Brunswick
$200,000
Newfoundland and Labrador
$200,000
Northwest Territories
$200,000
Nova Scotia
$500,000
Nunavut
$200,000
Ontario
$200,000
Prince Edward Island
$200,000
Quebec
$50,000
Saskatchewan *
$200,000
Yukon
$200,000
1 Provides coverage when a policyholder or insured driver is responsible for an automobile accident.
2 Covers damage to - or loss of use of - an automobile or its contents if it is damaged by another vehicle. The insured person collects directly from his or her insurer instead of from the person who caused the accident.
3 Covers financial losses in the event of a car accident with an uninsured driver.
4 Covers medical, rehabilitation and funeral expenses, as well as loss of income related to an automobile accident.
5 Coverage which provides protection for your vehicle for all types of perils except those specifically excluded from the policy.
How do auto insurance rates compare across the country?
Just as insurance systems vary from province to province, so too do average insurance rates. A study by the Frasier Institute found average car premiums range from a high of $1,281 in Ontario to a low of $642 in Quebec.
Average Auto Insurance Rates by Province
| | |
| --- | --- |
| Province | Average Rate |
| Ontario | $1,281 |
| British Columbia | $1,113 |
| Saskatchewan | $1,049 |
| Manitoba | $1,027 |
| Alberta | $1,004 |
| Newfoundland and Labrador | $749 |
| Nova Scotia | $736 |
| New Brunswick | $728 |
| Prince Edward Island | $695 |
| Quebec | $642 |
Note. Adapted from "The Personal Cost and Affordability of Auto Insurance in Canada," Fraser Institute (2011)
How can I get cheap car insurance?
There are many ways to lower your auto insurance premiums, no matter where you live. They include:
Shopping around online for your insurance policy
Maintaining a good driving history
Choosing the right insurance coverage
Paying your premiums on time
Bundling your home insurance with your auto insurance
Using winter tires (some insurers offer discounts)
Insuring all your vehicles with the same company
Completing a certified driver training program
You might also consider getting a usage-based car insurance policy. Usage-based insurance premiums are calculated with the help of a driver monitoring (sometimes called telematics) device installed in your vehicle. The device measures driving metrics like speed, braking, cornering and acceleration – even where you drive and what time of day you're on the road. If the data shows you're a low-risk driver, you can benefit from a big discount on your car insurance premiums.
What factors help determine auto insurance rates in Canada?
Auto insurance rates across the country are determined by a variety of factors, including:
Your experience behind the wheel
Your driving record
Use and location of your vehicle
The type of vehicle you drive
The amount of coverage you've selected
Your age and gender
What types of coverage are available from Canadian insurers?
Getting the best auto insurance policy isn't just about the lowest price – it's also about finding the right coverage for your unique needs so you'll have financial protection if you get into an accident.
Here's an overview of the various categories of coverage available in Canada:
Liability Insurance – This insurance is required by law throughout Canada. It covers the costs associated with damages caused to another person or vehicle in an accident, including medical bills, rehabilitation, lost earnings, legal fees and other expenses up to the limit of your policy. As a practical matter, you'll want enough insurance to cover a judgment against you in a major accident so that your personal assets won't be put at risk.
Collision Insurance – This covers damage to your car in the event of a collision with another vehicle or object, as well as rollovers. If your car is totaled, collision insurance will pay the cost of replacing your vehicle.
Comprehensive Insurance – This type of auto insurance covers damages stemming from a variety of adverse events, such as extreme weather, vandalism, fire and theft.
Emergency Road Service (ERS) – Rapidly gaining popularity, ERS insurance provides roadside assistance in the event of a breakdown or mishap while you're out driving. It also covers the cost of getting your car back on the road, including light mechanical labour, delivery of oil and gas to your vehicle, new batteries or a boost, tire changes, locksmith services and, in the event of a large mechanical failure, a tow to a nearby garage. ERS takes the stress out of a breakdown; rather than worrying about hitchhiking or getting greasy, policy holders can sit back and listen to the radio, smiling knowingly that help is on the way.
Uninsured Motorist Coverage – Provides financial coverage for costs related to injury or death if you're in an accident caused by another driver who is either uninsured or unidentified, as in a hit and run. Damage to your vehicle is only covered if the driver is identified and uninsured.
Direct Compensation Property Damage (DCPD) – Available only in New Brunswick, Nova Scotia, Ontario and Quebec, this covers the cost of loss or damage to your car in an accident for which you were not entirely responsible. Keep in mind that the other driver has to be identified, insured and found to be at least partially at fault.
All-Perils Insurance – Provides protection for you against all types of perils except those specifically excluded from the policy.
Accidents Benefits Coverage – Provides medical care and income replacement benefits to insured persons injured in a car accident. In most provinces, this type of coverage is included in auto insurance policies by law.
No-fault Insurance – No-fault policies allow you to deal with your own insurance provider regardless of which party is at fault in an accident. You won't have the hassle of pursuing the other driver's insurer to receive compensation in the event they are at fault; instead, your insurance provider will pay out your benefits, getting you back on the road quicker and paying your medical bills when you need it most.
What if I'm an Uber driver or I drive for another ride-sharing service?
As of the beginning of 2016, there's coverage for that! Ride-sharing insurance plans have just arrived in Canada, and LowestRates.ca is one of the few places where you can purchase them. Ride-sharing insurance is designed specifically for drivers who use their personal vehicles to transport paying passengers.
Here's why you need to buy ride-sharing coverage:
Your personal auto insurance policy doesn't cover you if you ride-share (and could be cancelled at any time).
A commercial auto insurance policy (used by taxi services) is way too expensive for the average ride-share driver.
Ride-sharing insurance gives you and your passengers the coverage you need -- at a price you can afford (many ride-sharing plans are less than $100 per month).
Ride-share drivers can call 1-844-277-0404 to learn more and get a quote.
Don't Wait – Compare Auto Insurance Quotes Online Today!
LowestRates.ca connects you with Canada's leading car insurance providers, allowing you to quickly receive competing quotes and compare offers. Regardless of the type of car insurance you choose, you can be sure that by using LowestRates.ca you will find the lowest car insurance rates anywhere, instantly!