Get this card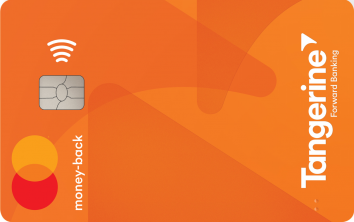 Tangerine Money-Back Credit Card
Apply Now
Network Provider

Mastercard

Provider

Tangerine

Types

Rewards

Balance Transfer

No Fee

Annual fee

$0

Purchase interest rate

19.95%

Cash advance rate

19.95%

Balance transfer rate

1.95%

19.95% after 6 months

Credit Needed

Good (650-749)
Card description
Get a 1.95% interest rate on balance transfers for the first 6 months, with a fee of 1% of the amount advanced

Only available for 30 days after being approved for a Tangerine Credit Card

2% Money-Back Rewards on purchases in two Money-Back Categories of your choice, and 0.50% Money-Back Rewards on all other purchases
Get three 2% Money-Back Categories if you choose to have your Rewards deposited into your Tangerine Savings Account, or two 2% Money-Back Categories if your Rewards are deposited back onto your Credit Card
No limit on the amount of Money-Back Rewards you can earn
No annual fee
2.5% Foreign Conversion Fee
Free Cards for Authorized Users on your Account
Money-Back Rewards are earned automatically and paid monthly, and can either be applied towards your Credit Card balance or redeemed into your Savings Account.
Change your 2% Money-Back Categories to suit your spending.
Orange Alerts are emailed to you so that you're up-to-date on what's happening in your Account.
Purchase Assurance and Extended Warranty
Accepted worldwide at more than 24 million locations in over 210 countries
Mastercard Zero Liability
Card Features
Extended Warranty
Free Supplementary Card
Purchase Protection
About This Card
Unlike most rewards cards, with the Tangerine Money-Back Credit, cardholders enjoy an uncommon amount of control over where and how they collect rewards points.
By default, users get 2% back on purchases that fall under the categories of groceries, furniture, restaurants, hotels, gas, drug stores, home improvement, entertainment, public transportation and parking. However, these categories can be changed to better suit the cardholder's individual spending habits. Even purchases that fall outside the selected categories yield rewards points, but at a lower rate (0.5%).
Another unique feature about Tangerine's cashback program is the fact that you can have your extra cash deposited directly into a Tangerine savings account. When you choose this option, you qualify for a third 2% Money-Back category. And Tangerine pays you your cash-back monthly, not annually (typical among the vast majority of credit card providers).
Normally the fee for balance transfers with the Tangerine Money-Back Credit Card is 3%, but the bank has a promotion that allows new customers to transfer balances from another card and pay only 1.95% in interest for the first six months (though there is a onetime fee: 1% of the transferred amount). The interest on overdue balances and cash advances is a more standard 19.95%.
Cash fees for cash advances are $3.50 within Canada and $5 if you make an advance outside the country. Dishonoured payment, over-limit, and rush card fees are each $25.
Why get the Tangerine Money-Back credit card?
The more the merrier - Additional cards are free, so you can enlist others to help you collect points.
Protect your purchases - ​Items you buy with the card will be well-protected. Users receive a lifetime maximum of up to $60,000 for purchase assurance and extended warranties. Tangerine's assurance policy will cover loss, theft or damage on items for 90 days after the purchase date. The extended warranty program doubles an item's warranty period.
Use Apple Pay - Purchase items using your iPhone or Apple Watch.
A sterling security guarantee - ​Tangerine uses DoubleSafe, an extra-secure login process. Tangerine also offers users free IBM Security Trustee Rapport software, which provides online identity theft and online transaction protection.
Apply Now
Orange Alerts are emailed to you so that you're up-to-date on what's happening in your Account.
Tangerine is a registered trademark of The Bank of Nova Scotia, used under licence. Forward Banking is a registered trademark of Tangerine Bank.
®/TM Mastercard and the Mastercard Brand Mark are registered trademarks and tap & go is a trademark of Mastercard International Incorporated.
Applicants will have to consent to a credit check as part of the application process. Accounts must be in Good Standing in order to receive Money-Back Rewards.
Balance Transfers are treated as Cash Advances and interest applies from the transaction date that appears on your monthly statement to the date you repay the balance in full. There is no interest-free grace period on Cash Advances or Balance Transfers.