Compare cheap condo insurance quotes for free.
Get quotes from 50+ Canadian providers in 3 minutes.
Compare rates from Canada's leading condo insurance providers

28,844

Canadians

have compared rates and saved money over the last 24 hours
August 5
Received a call before I was even…
Received a call before I was even finished submitting information. Super fast se...
Robert Chiasson
August 4
Insurance Premiums
I got all the information I needed with the lowest Auto and Home insurance premi...
joseph almeida
August 4
A click and I was a few minutes away my 50% savings!!
A click and few answers to questions and I got a quote almost half the price of ...
Laurentia
August 4
Great service!
Great service!
Linda RitaOlivier
August 3
They respond very quickly
They respond very quickly. They are very understandable. The representative I sp...
Nuwara47
August 3
Excellent
They help and did a great job assisting in new insurance
Serena MarieCasto
August 2
The agent name, Justin Farr
The agent name, Justin F. was very helpful, kind, and patient. I will surely get...
JessicaMercado
August 2
Quick efficient and very helpful 👌
Quick efficient and very helpful 👌
Khalilulla Razzaque
August 2
dick
Web page was quick and easy to use
Richard
July 30
Good experience was pretty quick
Good experience was pretty quick
Grant W.Murray
July 29
The agent was friendly
The agent was friendly, helpful and polite. All in all a good experience.
KaneezAla
July 29
Impressed
The gentleman I spoke with, Steve Chajka, was very polite and professional in he...
MarkKereluk
July 29
Extremely simple
Extremely simple, and fast process.
JaniceGiannitti
July 26
excellent
excellent, professional service
SabinBaidoc
July 23
Very kind and helpful
Very kind and helpful
April Shannon
July 22
Easy to find easy to use website which…
Easy to find easy to use website which provided me with options.
Randall McLellan
July 22
Excellent service
Excellent service
Sven Zorz
July 21
Car & Home Insurance Savings!
CAA agent Tim Gulley contacted me and we had a great connection. So we are in th...
Jim McIntosh
July 21
They were great
They were great
ChristinaLain
July 21
Excellent pricing
Excellent pricing
pankaj joshi
July 20
Great experience
I was contacted on my cell right away after the quote was done. That is very goo...
Rubaet TIslam
July 20
Wanted to shop around
Wanted to do a check for my recent insurance quote from an existing provider. Ke...
RANDALL MCKENNA
July 20
Auto quote
The representative is very good
Jonathan Vea Cabading
July 19
I could compare charges from various…
I could compare charges from various policy providers. Navigation was plain and ...
Anup Dubey
July 16
I needed a quote for tenant insurance…
I needed a quote for tenant insurance and was able to find an amazing company wh...
Benjamin Bohnsack
July 13
Best experience!!
Fast and wonderful service. Called me within seconds of my submitting my online ...
Brooke Bouchard
July 10
Review for low rates
Lowest rate did send me to the desired rental insurance rates, which I was able ...
JOY cumberbatch
July 7
Knowledgeable about Insurance.
Knowledgeable about Insurance.
Alex Ponvanibhom Daniel
June 30
The review was fine
The review was fine. It was easy to complete. The quote was too close to what I...
Robert Kennedy
June 23
Excellent opportunity
Excellent opportunity to explore and compare insurances rates. It was easy and I...
Roberto
Get the best rates on condo insurance.
Protect your condo unit with a great condo insurance policy. We'll bring you the cheapest rates on condo insurance from the top providers — just like that.
See how much you could be saving on condo insurance.
Type of condo
Location
Previous claims
Lowest rate
Average rate
Saved

Quote from August 05, 2022

Type of condo

Townhouse

Location

Kingston, ON

Previous claims

None

Lowest Rate

Average rate

Saved

Quote from August 07, 2022

Type of condo

Low Rise

Location

Victoria, BC

Previous claims

None

Lowest Rate

Average rate

Saved
Why compare with LowestRates.ca?
Cheap
Spending extra money on condo insurance doesn't make sense. Compare rates and get the cheapest plan.
Quick
Better rates on condo insurance are just a few minutes away. In fact, the entire process takes just 3 minutes.
Free
Our comparison service is 100% free, so finding the best condo insurance quotes won't cost you a dime.
Easy
Fill in a few quick details about yourself and the place you're insuring and leave the rest to us.
Unbiased
At LowestRates.ca, insurers compete for your business on an even playing field and you pick the best quote.
Comprehensive
You need options. That's why we compare up to 15 condo insurance quotes from all the top insurers in your area.
Secure
We only ask for the details we need to find the best condo insurance quotes in your area. We'll never share your info with a third party.
Awesome
Saving (potentially) hundreds of dollars every year after only a few minutes of shopping around is just plain awesome. It's time to start saving your time and money.
Your home insurance questions, answered.
Why do I need condo insurance?
Your condo building is insured by the condominium corporation, but the corporation's policy doesn't cover damages in your unit. In the unwelcome event of a break-in, flood, or an injury in your unit, or in the event of vandalism or smoke damage, you'll be responsible for the resulting costs, whether it's repairs, replacements, or legal liabilities.
That's why condo insurance is a must for condo owners. Condo policies cover your personal property and the interior of your unit, plus they give you liability protection for bodily injury or property damage to others. With LowestRates.ca, you can compare condo insurance plans from Canada's top providers and find the right policy.
Why should I shop for condo insurance online?
Comparing quotes online leads to big savings. After all, condo insurance prices can vary from insurer to insurer, which is why you need to compare rates to get the best deal.
The good news is that comparing is easy. No matter what kind of condominium you own, we can find you the cheapest condo insurance rates in your area.
How do I compare quotes?
Just fill out the form at the top of this page and provide a few quick details about you and your place. Then we'll find you the cheapest condo insurance rates available.
Depending on where you live, you'll receive up to 15 quotes. Once you select a quote, an insurance broker will call to lock in your rate and help you set up your policy.
Will I have to submit to a credit check?
A credit check is optional, but it can help you score the lowest rate on your condo insurance. Insurers may use credit checks to help set rates, and a good credit score can dramatically lower the price of your plan. In fact, you'll likely only find the cheapest condo insurance rates if you get a credit check.
And, thankfully, at LowestRates.ca, we only do one credit check per application, so your credit score will remain intact anyway. Condo owners who shop around on their own for an insurance plan will usually have to submit to multiple credit checks, which can harm their credit.
What does condo insurance not cover?
Standard condo policies don't cover high-value items, like precious stones, rare art, and so on. If you want these items included in your coverage, ask to schedule them separately on your policy.
Should I select an all-perils or named perils condo insurance plan?
It depends on how broad you want your coverage to be.
All perils coverage protects your belongings against a wide range of hazards, and any coverage exclusions will be explicitly listed in your policy.
Named perils coverage only protects your belongings against the most common types of hazards, which will be clearly listed in your policy.
All perils condo insurance costs more but gives you a much broader range of coverage. If a major disaster damages your condo, you'll be able to fall back on your all perils plan, which will replace your belongings.
Should I select an actual cash value plan or a replacement cost plan?
That depends on how much you want your policy to pay out in the event of a claim. The difference between these two types of plans can be thousands of dollars.
An actual cash value (ACV) plan reimburses you for the value of the items you claimed at the time they were damaged. But ACV plans account for depreciation, so the amount you get from a successful claim most likely won't be enough to replace your damaged belongings. For example, if your old TV is stolen, your insurer only pays what they deem the TV to be worth at the time of the theft, which is probably less than what you paid — or what it'll cost to replace.
Replacement cost plans actually pay you back for the full replacement value of your lost or damaged belongings. For example, if someone breaks into your condo and steals your old TV, your insurance provider will pay for a new one of similar make (if available) and quality. With the right replacement cost plan, you'll be able to replace all of your belongings in the event that your condo sustains major damage or is subject to a serious theft.
How much condo insurance coverage do I need?
The amount of condo insurance coverage you take out should reflect the value of your belongings plus any improvements you've made to the unit. Take inventory of your belongings and estimate the cost of replacing each item.
If you've renovated your unit or made any other betterments, like installing a new, state-of-the-art kitchen or adding more shelving, you should make note of those changes and their costs.
How can I have a hassle-free claims experience?
Take photos of your belongings when you get a condo insurance policy. A visual record of what your unit looks like inside and what you own can expedite the claims process. And if you've made improvements, like adding new appliances, cabinetry, or carpeting, you should document those changes.
It's also a good idea to keep receipts for any of the upgrades you've made to your unit. Credit card statements work too. Make sure you know how to access your credit card history online and keep your paper receipts in a secure place, like in a safety deposit box.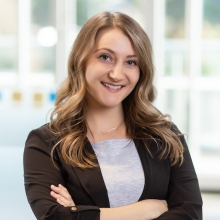 Lisa Coxon
About the Author
Lisa is an Editor and Writer for LowestRates.ca. Her work has appeared in Reader's Digest, Toronto Life, Canadian Living and TVO. As a child, she diligently hoarded the $50 bills that fell out of her Christmas cards. Adult Lisa is working hard to resurrect those stockpiling tendencies.