Compare home insurance quotes in Ontario for free.
Compare lowest Ontario property insurance quotes, save an average of 28%*.
Get quotes from 50+ Canadian providers in 3 minutes.
Compare rates from Canada's leading home insurance providers

28,759

Canadians

have compared rates and saved money over the last 24 hours
August 5
Received a call before I was even…
Received a call before I was even finished submitting information. Super fast se...
Robert Chiasson
August 4
Insurance Premiums
I got all the information I needed with the lowest Auto and Home insurance premi...
joseph almeida
August 4
A click and I was a few minutes away my 50% savings!!
A click and few answers to questions and I got a quote almost half the price of ...
Laurentia
August 4
Great service!
Great service!
Linda RitaOlivier
August 3
They respond very quickly
They respond very quickly. They are very understandable. The representative I sp...
Nuwara47
August 3
Excellent
They help and did a great job assisting in new insurance
Serena MarieCasto
August 2
The agent name, Justin Farr
The agent name, Justin F. was very helpful, kind, and patient. I will surely get...
JessicaMercado
August 2
Quick efficient and very helpful 👌
Quick efficient and very helpful 👌
Khalilulla Razzaque
August 2
dick
Web page was quick and easy to use
Richard
July 30
Good experience was pretty quick
Good experience was pretty quick
Grant W.Murray
July 29
The agent was friendly
The agent was friendly, helpful and polite. All in all a good experience.
KaneezAla
July 29
Impressed
The gentleman I spoke with, Steve Chajka, was very polite and professional in he...
MarkKereluk
July 29
Extremely simple
Extremely simple, and fast process.
JaniceGiannitti
July 26
excellent
excellent, professional service
SabinBaidoc
July 23
Very kind and helpful
Very kind and helpful
April Shannon
July 22
Easy to find easy to use website which…
Easy to find easy to use website which provided me with options.
Randall McLellan
July 22
Excellent service
Excellent service
Sven Zorz
July 21
Car & Home Insurance Savings!
CAA agent Tim Gulley contacted me and we had a great connection. So we are in th...
Jim McIntosh
July 21
They were great
They were great
ChristinaLain
July 21
Excellent pricing
Excellent pricing
pankaj joshi
July 20
Great experience
I was contacted on my cell right away after the quote was done. That is very goo...
Rubaet TIslam
July 20
Wanted to shop around
Wanted to do a check for my recent insurance quote from an existing provider. Ke...
RANDALL MCKENNA
July 20
Auto quote
The representative is very good
Jonathan Vea Cabading
July 19
I could compare charges from various…
I could compare charges from various policy providers. Navigation was plain and ...
Anup Dubey
July 16
I needed a quote for tenant insurance…
I needed a quote for tenant insurance and was able to find an amazing company wh...
Benjamin Bohnsack
July 13
Best experience!!
Fast and wonderful service. Called me within seconds of my submitting my online ...
Brooke Bouchard
July 10
Review for low rates
Lowest rate did send me to the desired rental insurance rates, which I was able ...
JOY cumberbatch
July 7
Knowledgeable about Insurance.
Knowledgeable about Insurance.
Alex Ponvanibhom Daniel
June 30
The review was fine
The review was fine. It was easy to complete. The quote was too close to what I...
Robert Kennedy
June 23
Excellent opportunity
Excellent opportunity to explore and compare insurances rates. It was easy and I...
Roberto
Home insurance in Ontario.
Canadian law doesn't require homes to be insured, but most lenders will only offer mortgages for insured properties.
The benefits are significant: In addition to the comfort that comes from protecting one of your largest financial assets, most home insurance policies also offer the practical benefit of liability protection.
This means that your home will be protected against common perils such as fire, wind, water damage and explosion. You'll also be protected if you, a family member or guest are injured on your property.
More protection is available when you tailor your home insurance policy to include coverage for contents and additional perils such as flooding and earthquake. You can also choose the coverage limits associated with some perils as well as the limit your liability protection.
Most insurance providers package coverage, similarly, describing each home insurance policy as either comprehensive, broad or basic. The details of each policy type are described below.
The more coverage you have, the more you're likely to pay. However, there are many ways to bring down the overall cost. One of the most effective is comparing available rates. It's a particularly effective cost savings tactic because of how home insurance is regulated.
While providers can increase home insurance rates without getting approval from the industry regulatory body, increasing auto insurance rates requires approval by the Financial Services Commission of Ontario.
As a result, there tends to be a meaningful difference between home insurance premiums offered by different providers; comparing them is likely to result in savings.
Our free, online home insurance quoter offers a quick means of doing so. In less than three minutes, you'll receive 50+ quotes for home insurance in Ontario from the most-trusted providers in the country.
If you're looking for additional information about specific providers, beyond the premiums reflected by our online quoter, the FSCO has many resources available on their site, including corporate and consumer reports as well as financial literacy resources.
Components of home insurance coverage in Ontario.
There are several different aspects to any home insurance policy, regardless of what type you purchase.
Here, we break them down, highlighting each so that you're empowered to select coverage that suits your property and lifestyle needs.
Building/property coverage – Most home insurance policies include protection for each building on the property, including the primary dwelling as well as detached buildings such as a shed or garage.

Contents – Most comprehensive home insurance policies include protection for the contents of your home. This means that if they're damaged by a covered peril, you'll receive financial compensation.

Personal liability– Personal liability coverage is a part of most homeowners insurance policies, including tenant insurance for rental apartments as well as condo insurance.

It protects the policyholder and anyone who lives in the insured property if someone is injured by their negligence anywhere in North America.

Personal liability coverage includes protection for bodily injury and coverage for property damage.

While bodily injury aspect of liability coverage will pay for damages awarded to someone who's injured at the insured's home, property damage will cover costs if the policyholder damages someone else's property.

When you purchase a home insurance policy, it's standard to receive liability protection to a limit of $1,000,000. However, experts often recommend that homeowners increase their limit to $2,000,000 because of how costly medical and legal expenses can quickly become.

Additional living expenses – If your policy includes coverage for Additional Living Expenses (ALE), the costs associated with your displacement from home following an insured loss will be covered. For example, the cost of staying at a hotel while your home is repaired following a fire would be covered.
Most home insurance policies include coverage for common perils such as fire, wind, hail, lightning strike, water damage and explosion. In addition, most include liability protection. However, if you're looking for the most coverage possible, consider adding coverage. Some of the most common add-ons include flood protection, earthquake and sewer back-up.
As incidents of severe weather become more and more common across Ontario, we recommend that every homeowner seriously consider adding flood protection to their home insurance policy. It's usually considered an exclusion meaning that in the event of a flood, protection will not be available.
Factors that determine your home insurance quote in Ontario.
Home insurance premiums are determined by several factors. Some of the most important factors include location, proximity to water and dwelling type. For example, is the home on the shores of a lake that has a history of flooding? Is it a single-detached home, a house with a basement tenant suite, or a condo?
Insurance companies also try to predict the kind and size of claim you might make in the future. Here are some of the criteria they look at when calculating your premium:
The square footage of your home – In general, you'll pay more for more coverage. You'll likely pay more for a 5,000 square foot home than for a 1,000 square foot condo.
The location of your home – Insurance costs will be greater in areas with a history of flooding. Similarly, if your home is in a neighbourhood with a high crime rate, you could pay more.
Distance to a fire hydrant – You'll pay more if your home is located at a significant distance from a fire hydrant because providers estimate that in the event of a fire, fire services will take longer to extinguish the flames and your home will be more significantly damaged as a result.
Your insurance claims history – If you have a history of insurance claims, you're likely to pay more.
The age of your roof – Since a damaged roof can lead to extensive damage throughout a home, an aged roof could result in a more expensive premium.
Your home's plumbing – Water damage of any sort can be costly. A home with a history of plumbing issues is likely to result in more costly premiums.
Your home's electrical system – Out of date electrical systems such as knob-and-tube wiring are considered risky to insurance providers.
Common risk factors for homeowners in Ontario.
Flooding, freezing temperatures and earthquakes pose a risk to Ontarians, particularly to those with homes near water, in more northern parts of the province and those located near tectonic fault lines.
If you fall into either category, or all three, we encourage you to add coverage to your policy. While water protection that's standard to most policies will protect your home in the event of a frozen pipe, flood protection and earthquake coverage are not included in most policies.
Here, we describe in greater detail the three perils specific to Ontario homeowners.
Overland flooding
Water damage has overtaken fire as the primary cause of home insurance claims in Ontario. It occurs when excess rainfall or snowmelt causes freshwater or wastewater sources to fill beyond their normal confines and seep into homes through doors, windows, basements, and vents. The resulting water damage can be extremely costly to repair. Most basic home insurance policies do not cover overland flooding, storm surges, or even backed-up sewers — to protect against these kinds of water risks, additional coverage is usually required.
Regions at highest risk: GTA, Southwestern Ontario
Freezing temperature
A major concern with Ontario's cold winters is ice damming. This happens when a layer of ice melts — from attic heat or freeze-thaw weather — allowing water to seep into the house or attic, causing costly damage. Ice damming is sometimes covered under basic home insurance policies, but always ask your provider to be sure. Freezing temperatures can also cause frozen pipes, which are also sometimes covered by basic home insurance policies, providing certain precautions have been taken (e.g. having someone check on your home every 24 hours if you're away for an extended period during the winter).
Regions at highest risk: Northern Ontario has the harshest winters, but the entire province is at risk.
Earthquakes
While not common in Ontario, earthquakes do occasionally occur. The most recent one took place in 2010 and registered 5.0 on the Richter Scale. The resultant damage to the Ottawa region and parts of nearby Quebec was significant though not necessarily severe.
Most basic home insurance policies will not cover earthquakes; additional coverage is required. If you live in the Ottawa and North Bay regions of the province, we encourage you to seriously consider adding earthquake coverage to your home insurance policy.
Forest fires
While Ontario isn't known for forest fires, the province still averages 1,000 major burns per year. As incidents of severe weather become more common across the country, it's likely that forest fires will too. These aren't your average house fires — each blaze could engulf the entire Greater Toronto Area. Luckily, most basic home insurance policies list fire as a covered peril. Regions at highest risk include Northeastern Ontario and Northern Ontario.
What kind of home insurance policy do you need in Ontario?
Homeowners in Ontario can choose between several home insurance coverages:
Comprehensive or All Perils - This is the most thorough home insurance available. It's also the most expensive, as it covers the home and its contents against all perils and losses, expect those that are explicitly excluded. The two kinds of perils that are typically not included in any policy are 'uninsurable perils' (e.g. water damage, insect damage, earthquakes) and 'optional coverage' (e.g. sewer back-up). These perils require additional coverage.
Broad or Named Perils - This policy covers your home and its contents for perils specifically named in the policy. It's less expensive than the comprehensive option but leaves the homeowner at greater risk.
Basic - This policy offers baseline coverage for properties that fail to meet normal underwriting standards. Speak with your broker or provider for details.
Another important note: Home insurance is based on replacement cost, not market value. This means if it costs $350,000 to rebuild your home in the event of a total loss — even if it's worth twice that on the market — an insurance company would provide you with the lower replacement value (not the higher market value). Therefore, when determining your home insurance premiums, replacement value is a major factor that insurance companies consider.
Some insurers will also offer an option to purchase an Actual Cash Value (ACV) home insurance policy, which is replacement value less depreciation. So, if the washing machine you need to replace is ten years old, your payout will be based on the estimated cost of purchasing a similar model (and similar aged) washing machine.
With ACV coverage, your premiums will be lower, but so will the payouts.
How we find you the best home insurance quotes in Ontario.
According to the 2021 census, the province of Ontario is home to nearly 5.9 million private dwellings. This means almost 40% of Ontario's population has home insurance.
While it's not legally mandated that properties in Ontario are insured, most banks and lenders require that mortgaged homes be covered, so home insurance is a de facto requirement for homeowners.
Adding to that is the fact that homes are our places of comfort, security, community, and family — all things worth protecting.
Most policies for single family homes will cover detached structures on your property (e.g. sheds, garages), and some policies will even cover additional living expenses if you're forced to temporarily reside in a rented home or hotel.
The premiums you pay into your home insurance policy will help you cover these unexpected costs.
Like auto insurance, there are numerous home insurance providers for Ontarians to choose between, and because they each offer different rates, it's important to shop the market before making your decision.
That's where we come in: LowestRates.ca will compare the home insurance market for you and connect you with a qualified broker, ensuring that you have the coverage you need at a price you can afford.
See how much you could be saving on home insurance.
Type of home
Location
Previous claims
Lowest rate
Average rate
Saved

Quote from August 07, 2022

Type of home

Townhouse 1,678 sq ft

Location

Kitchener

Previous claims

None

Lowest Rate

Average rate

Saved

Quote from August 07, 2022

Type of home

Detached 1,100 sq ft

Location

Sault Ste. Marie

Previous claims

1

Lowest Rate

Average rate

Saved
How comparing
home insurance

quotes works. Hint: it's free!
Share
First, we need to know about you and your home. It only takes 3 minutes, and it's 100% confidential.
Compare
Next, we'll show you quotes from 50+ Canadian providers. It's free, with no commitment.
Save
When you find the best quote, secure your Ontario home insurance rate by talking to a licensed broker or agent.
All your questions about home insurance in Ontario, answered
How can I find the cheapest home insurance quote in Ontario?
Comparison shopping is a crucial first step in lowering your home insurance costs. There's a wide range of available prices so when you shop around for the best rate, you're likely to find savings. We recommend that you compare rates every time your policy is up for renewal. Other easy ways to bring down your home insurance costs include bundling, increasing your deductible and installing security and carbon monoxide alarms.
How much on average does home insurance cost in Ontario?
The cost of an average home insurance premium isn't necessarily a good indication of how much you'll pay. This is because of how many variables go into determining a rate. Some key factors include the home itself, its location, flood risk in the area and details about you, the policyholder.
More recently, home insurance premiums have been increasing for everyone – including for renewals. For example, according to the Applied Rating Index, a data-driver report produced quarterly by Applied Systems to reflect insurance premium trends, in Q1 2022, the personal property premium renewal rate change increased 5.5% versus Q1 2021. This change marked a further .9% increase from Q4 2021.
There are many reasons for these increases, including more and more severe weather resulting in providers having to pay out record claims more and more often. Supply chain issues and increasing labour costs are also driving up replacement costs which means it's more expensive for insurance providers to replace a home following a covered peril.
While auto insurance premium increases require regulatory approval, home insurance providers can increase home insurance rates at their discretion. As a result, there tends to be a wider range of home insurance rates available. If you compare them, you're more likely to find savings. There are many things you can do to reduce your home insurance costs, but one of the most effective ways is to comparison shop. Use our online tool to get free quotes from 50+ of the most trusted providers in Canada.
If I list a portion of my house on Airbnb or Vrbo, do I need to inform my home insurance provider?
Yes, absolutely. If your home is being used as an income property, it's important to get a policy that protects you as a landlord. You may also want to consider requiring any tenant – whether their short-term or longer-term – to get their own insurance as well.
While home insurance will protect you as a landlord, it will not extent to protection for a tenant, including their contents. If you file a home insurance claim for damage that took place when you were using your home for commercial purposes, a provider can deny coverage if they were unaware of how the property was being used.
What companies offer the best home insurance in Ontario?
There are many companies offering home insurance in Ontario, each with their own unique underwriting standards, additional coverages, and pricing structures. While it's hard to pinpoint what provider offers the 'best' home insurance, here are some of the province's major players:
Aviva Canada.
CAA Home Insurance
Desjardins Home Insurance.
Johnson Home Insurance.
RBC Home Insurance.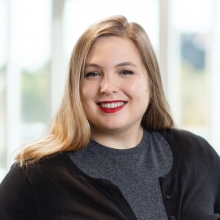 Alexandra Bosanac
About the Author
Alexandra Bosanac is the Core Content Manager for LowestRates.ca. Her reporting has appeared in Canadian Business, the Toronto Star, the National Post, and the CBC.