Meet State Farm Canada
State Farm began as a mutual auto insurance company that was owned and operated by its policyholders — farmers, primarily. Over time, it branched out from its midwestern roots to become an internationally-known company. After over 90 years of doing business, State Farm has grown into a Fortune 500 company, though it has manged to stay true to one element from its past: it still houses its head offices in Bloomington, IL.
State Farm no longer operates in Canada.
State Farm conducted business in Canada for decades and provided coverage in Alberta, Ontario, and New Brunswick. In 2015, its Canadian book of business was purchased by the Desjardins Group, making the State Farm brand officially defunct in Canada.
State Farm policyholders will get to keep their agent, though they are now captive agents for Desjardins. In addition, claims should now be filed through the Desjardins website. According to the company, customers should not see "any changes to the look and feel of [their] policies in the short term." All policies are now underwritten by Certas Home and Auto Insurance Company or Desjardins Financial Security Life Assurance Company. 
The acquisition also included State Farm's mutual fund, loan, and living benefits companies, making Desjardins Group the third-largest property and casualty insurance provider in Canada.
State Farm Canada offered all mandatory and non-mandatory insurance policies. By law, drivers in Alberta, Ontario, and New Brunswick must purchase liability and accident insurance. Direct Compensation-Property Damage (DC-PD) coverage is mandatory in the latter two provinces, but not in Alberta. Collision coverage, comprehensive coverage, and uninsured motor vehicle coverage are available for those looking to add on to the basics.
State Farm went well beyond the basic range of home and auto coverage for insurance and could satisfy other finance-related needs as well.
Province
User satisfaction rating
Alberta

 

Atlantic

 

Ontario

 

 

 

 

 

Quebec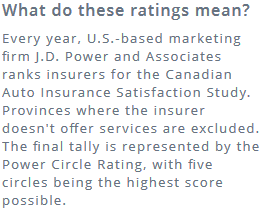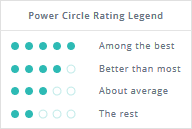 Discounts
There were three major ways to earn discounts with State Farm:
First is the multi-vehicle discount, which could reduce premiums by up to 15% if two or more vehicles in the same household were insured by State Farm.
Next, there was the bundling discount, which rewarded those who also had homeowner's, renter's, or condo insurance with a discount of up to 5%.
Though they weren't listed explicitly as discounts, clients could also renegotiate their policies and see their premiums go down after getting married, getting a different car, moving, changing deductible amounts, or having a child go to a post-secondary institution where he or she will no longer access the car regularly.
Special programs
Discounts for defensive drivers - One of the easiest ways to earn a discount was to participate in State Farm's telematics program. Telematics refers to technology, usually app-based, that monitors and gathers data about a person's driving habits in real-time. By signing up through the State Farm Canada app, clients were able to save up to 25% on their premiums.
Mobile rewards - The program was notable for being the first fully mobile program of its kind in Canada. It operated by closely tracking drivers' behaviour and then rating it based on a score out of 100. Good results were rewarded with a premium discount and bad ones weren't penalized. It was a win-win for drivers — or at least a win-draw.
Is there an app?
There was. The State Farm Canada mobile app allowed clients to manage their car insurance policies, file a claim, and participate in its telematics program (to enroll, you must have downloaded the app). The app was available and responsive 24-7, and had a gamification element, where users could earn badges for good driving.
How to submit a claim with State Farm
If you purchased, and still have, a policy with State Farm, you must now file claims to Desjardins. Reporting a claim to Desjardins can be done over the phone, online, or through your agent. 
To make a claim over the phone:
Call the Desjardins claims line: 1-877-659-1570
 
Hours of availability:
Claims agents are available 24-hours a day, seven days a week.
What else does State Farm do?
Outside of auto coverage, State Farm's Canadian arm offered quite a bit in the way of insurance products: home and property coverage, life insurance, small business insurance, identity fraud protection, living benefits, mutual funds, retirement guidance, annuities, and vehicle loans.