10 Budget-Friendly DIY Holiday Gifts (That People Will Actually Want!)
By: Lucy Zemljic on

December 16, 2014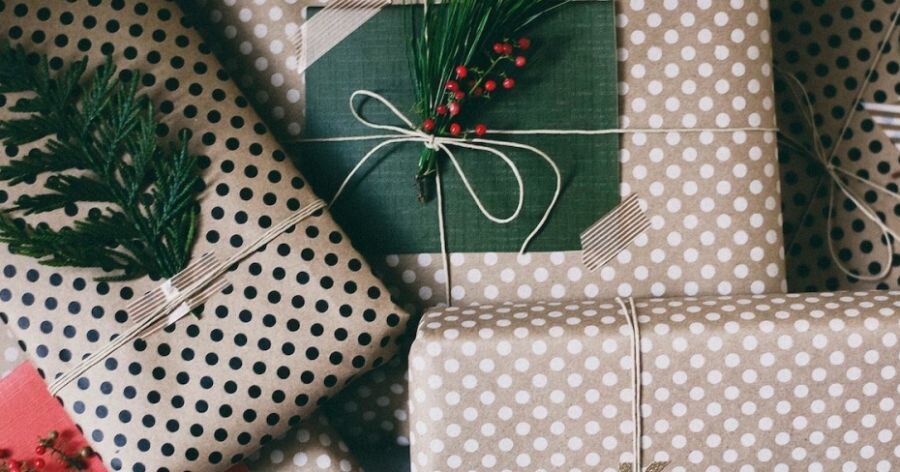 The holiday countdown is on! Christmas is just days away, and, while many Canadians have wrapped up their holiday shopping, some of us last-minute folks have yet to cross everything off of our to-buy list. The clock may be ticking, but time isn't the only factor at play – holiday shopping can cost a bundle, too.
Canadians reportedly spent an average of

$1,810 during the holiday season

last year, 
according to a CIBC survey
! The truth is, the holidays
don't
have to drain your savings – with a bit of creativity, you can get the perfect gift for everyone on your list, without breaking the bank. Read on to check out our picks for the top 10 budget-friendly DIY holiday gifts! 
1. A homemade gift basket
Gift baskets are a staple of holiday giving, but store-bought baskets can run from $25 to $50 to $200. To craft the perfect basket, made with much more love for much less money, roll up those sleeves and do it yourself.
Start out with your "basket" – this could be a traditional weaved basket, a plastic basket or even a large holiday-themed paper plate from the thrift or dollar store. Next, add your filler – made with shredded wrapping paper or coloured paper of any kind – then arrange your goodies inside. You can include:
Cookies
Peppermints
Candy canes
Chocolate
Candles
Wine/sparkling cider
Warm socks
Hot chocolate
Lip balm
Mini ornaments 
When you're done arranging, wrap your basket up in cellophane, and tie it up with ribbon. For the finishing touch, attach a festive bow.
What's more, your gift basket doesn't have to be holiday-themed, either – have a friend that loves baking? Make a "baker's gift basket" and fill it with baking supplies like a whisk, oven mitts, cookie cutters and cake mix. The gift basket possibilities are endless!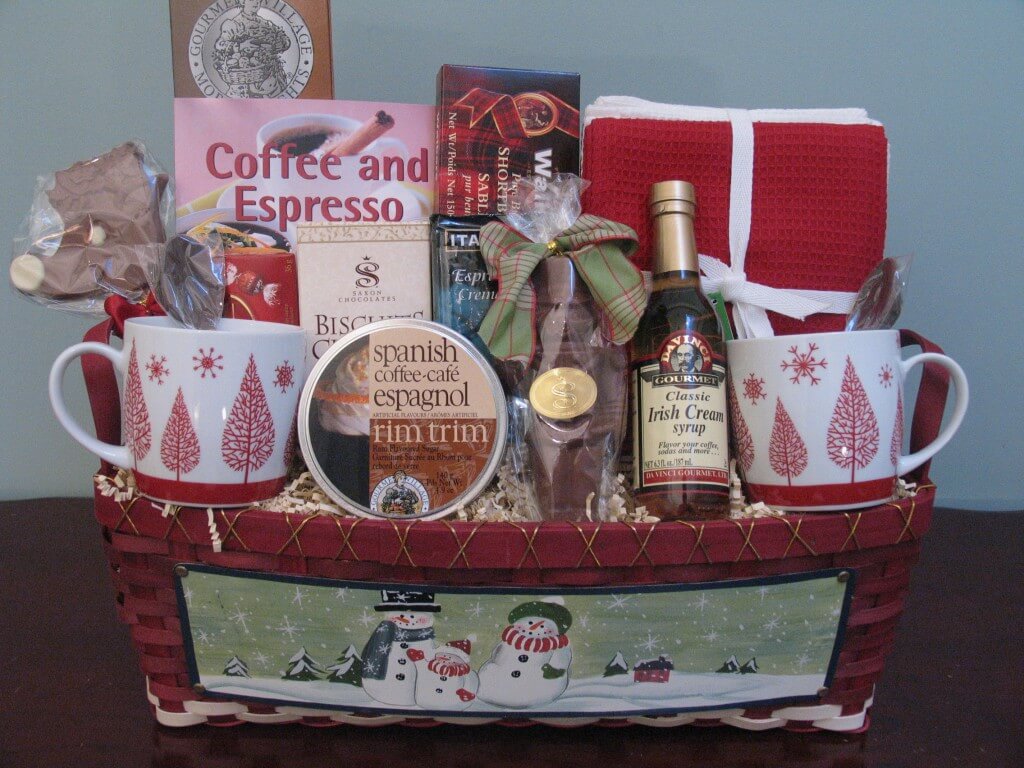 Cookies, coffee, and a little Irish cream - what's not to love?
2. Gifts in a jar
This holiday gift idea is as clever as it is delicious, and is perfect for kids, adults, seniors – you name it.
For the quintessential warm-hug-on-a-cold-day, layer cocoa, granulated sugar, dry milk powder, and marshmallows in a mason jar. Spice it up with a thin layer of cinnamon, some crushed peppermint candies, or mini chocolate chips.
You can also do pancake mix, brownie mix, cookie mix or even soup mix in a jar. When your recipient wants to try their delicious gift, they simply add its contents into a mixing bowl (or mug for the hot chocolate) and add the appropriate wet ingredients (whether it's an egg, butter, or just boiling water.)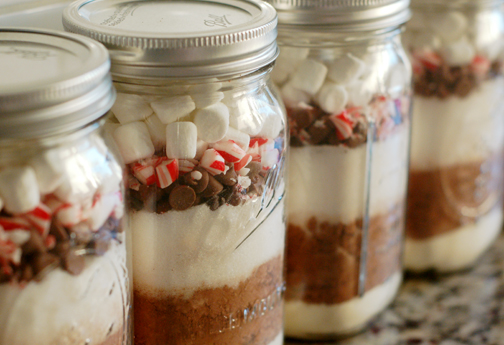 Now that looks straight-up delicious.
3. Friendship bracelets – all grown up
Maybe you made friendship bracelets with your besties as a kid, but have long since abandoned the practice. Guess what? With some creativity and patience, you can take the friendship bracelets of youth into adulthood. Just take a look at this nautical 
braided anchor bracelet
, or this 
sophisticated update of the traditional macramé bracelet
. You can even make one for yourself and one for your friend. Cheesy? Yes. Adorable? Absolutely.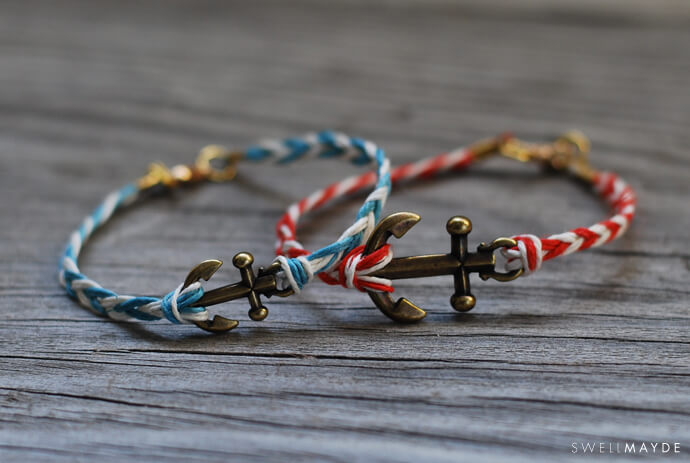 Photo courtesy of swellmayde.com.
4. Mason jar snowglobe
Nothing says the holidays like a good old fashioned snow globe – but you can put a new twist on an old holiday tradition by making one yourself. Channel your inner Martha Stewart with
these wintry creations
, and make your holidays a little more adorable.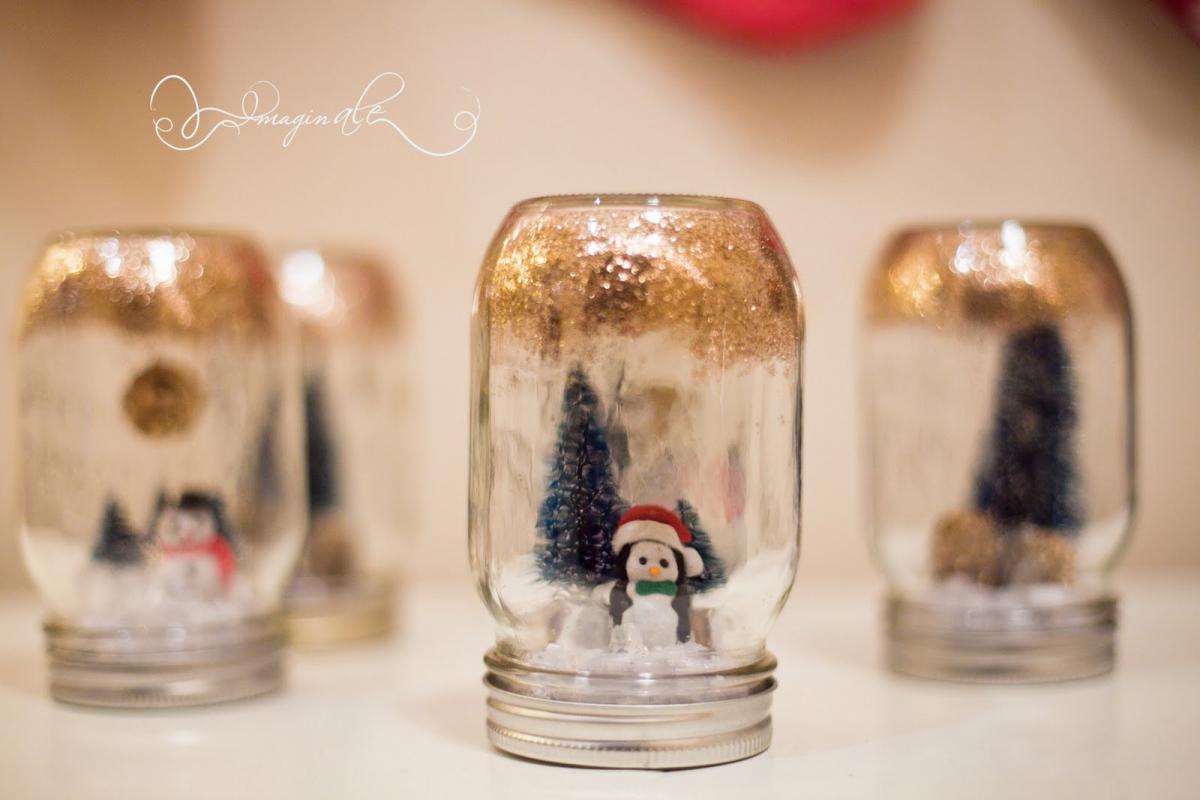 Just look at this homemade penguin snowglobe from imaginale.blogspot.ca – could it get any cuter? Didn't think so. 
5. Homemade baked goods
There's no present that's more from-the-heart than a batch of homemade cookies, muffins, banana bread or other delicious holiday treats. Why not put your baking skills to use this holiday season by whipping up a batch of tasty treats made with love?
You can find recipes all over the Internet – like this 
easy shortbread recipe
, this 
crowd-pleasing banana bread
, and 
these eggnog muffins
. When you're done baking, package them up nicely - you can do this using cellophane, cupcake liner, a wrapped gift box, decorative paper plates or (you guessed it!) a mason jar. Add a personalized tag for that extra touch.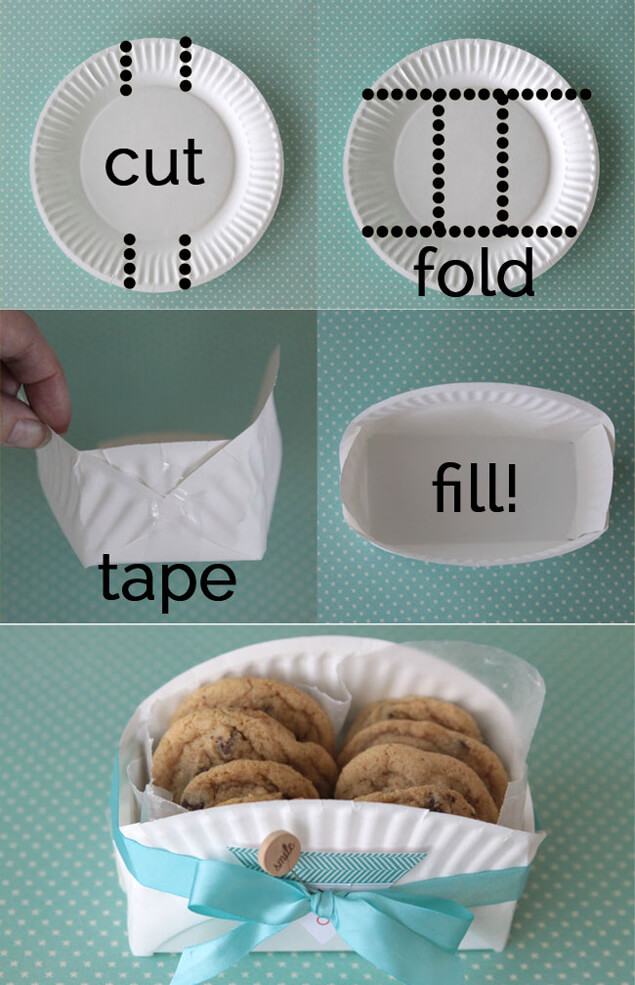 Or, turn your regular paper plate into a basket with this ridiculously clever trick courtesy of itsalwaysautumn.com!
6. Personalized Christmas ornament
Channel your inner Martha Stewart and craft some Christmas ornaments for your friends and family this holiday season. Start out with some clear ball ornaments (you can get them cheap 
on Amazon
). What do you put inside? The possibilities are almost endless, and include everything from holly and pine cones to origami to family photos.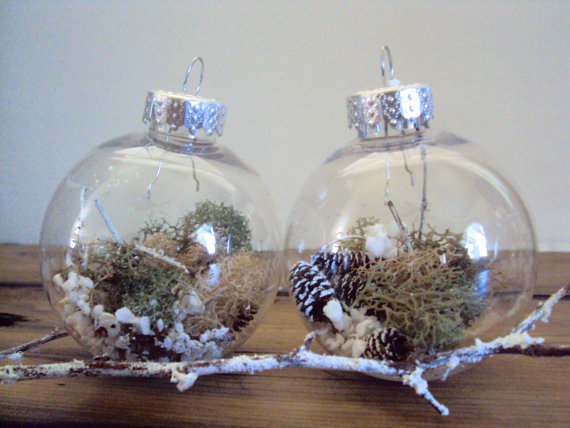 Photo courtesy of ElizabethanFolkArt
 on Etsy.
7. Personalized ceramic gift mugs
Much like the holiday gift basket, it's much cheaper to make your own gift mug – just get yourself a ceramic mug from the dollar store, and fill it with treats like hot chocolate packets, candy canes, marshmallows, little Christmas ornaments and more.
To personalize even further, use Sharpie paint oil-based markers to draw or write on your mug, then bake it at 350 degrees for 20 minutes to set the paint.  
You don't need to stick to the Pinterest style, just take a look at this clever mug by amyylauren.com – that's the chemical formula for caffeine!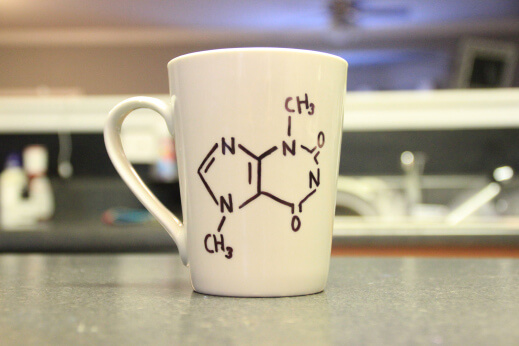 You don't need to stick to typical Pinterest style - check out this adorkable mug from amyylauren.com. Hint - it says caffeine!
8. DIY smartphone case
Fancy cellphone cases can set you back $50 or more – yikes! Thankfully, with just a bit of creativity, you can make a DIY smartphone case for a fraction of the price.
Get a clear cellphone case (you can get these for just a few bucks) then use nail polish to draw stripes or dots. You could also use map cut outs, vintage photos, or magazine cut outs, then glue them on the inside of the case. If your friend is a fan of bling, get some rhinestones, faux pearls, studs, or other decorations and crazy glue them to the back of the case – voilà, the perfect blinged-out gift!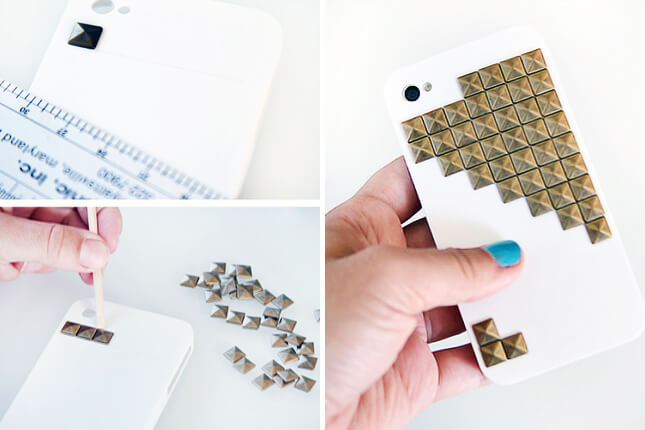 Photo courtesy of julieannart.com.
9. Personalised coasters
Everyone needs coasters, because no one wants to ruin their furniture with an ill-placed coffee mug. Why not make some DIY coasters for your friends or family this holiday season?
Take a look at this tutorial on 
instructables.com
and let your imagination run wild. Use comic book cut-outs for the comic book lover in your life, maps for the frequent traveler, or floral wrapping paper for the one that loves all things flowery.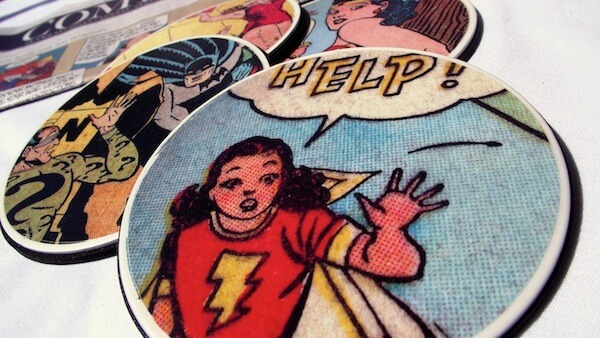 Photo courtesy of modpodgerocksblog.com.
10. 21st century message in a bottle
Take the message-in-a-bottle of yore into the 21st century with this budget-friendly but heartfelt gift. Just get yourself an empty jar and usb drive, and go to town. Spraypaint the usb, then add photos, songs, TV Shows or movies onto your thumb drive – all of them with sentimental value of course – and super glue it to the inside of the jar lid. To spruce things up a bit, add confetti in the jar, or do some photo decoupage to personalise even more.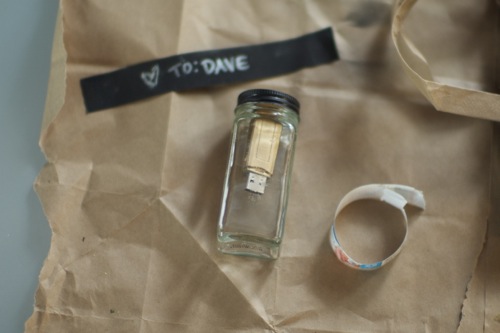 Photo courtesy of brit.co.