Auto insurance prices in Canada hit a record high in Q1 2019
By: LowestRates.ca Staff on

April 23, 2019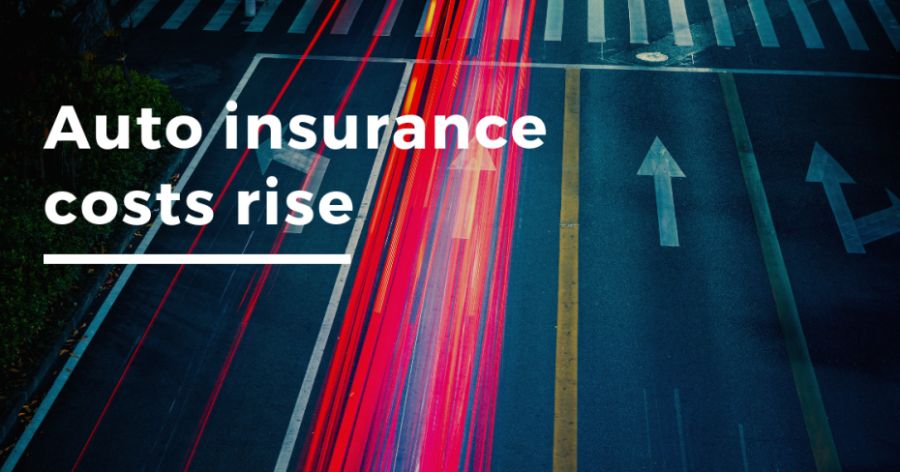 Canadian drivers are paying more than ever to insure their vehicles.
The latest Auto Insurance Price Index from LowestRates.ca, which tracks price movements in the private Canadian auto insurance market, shows that prices are up in Ontario, Alberta and Atlantic Canada. Not only have prices risen, but they're also now at the highest levels in most markets since we began tracking prices in 2016.
These price increases have occurred as governments are increasing their efforts to try to lower costs for drivers. Why prices are rising is a bit of a complicated explanation, however, that requires a look at each individual province.
Below, we break down what's going on in each of the markets we track. First, a brief explainer about our index: 100 is our benchmark reading. We set the index to 100 in Q1 2018 and use average prices from that quarter to gauge whether prices are moving up or down. Every one point move above 100 represents a roughly 1% increase in prices. We collect this data through our auto insurance quoter, which millions of Canadians use every year to compare auto insurance and which was created in partnership with Applied Systems Canada.
Ontario prices hit record, auto insurance changes introduced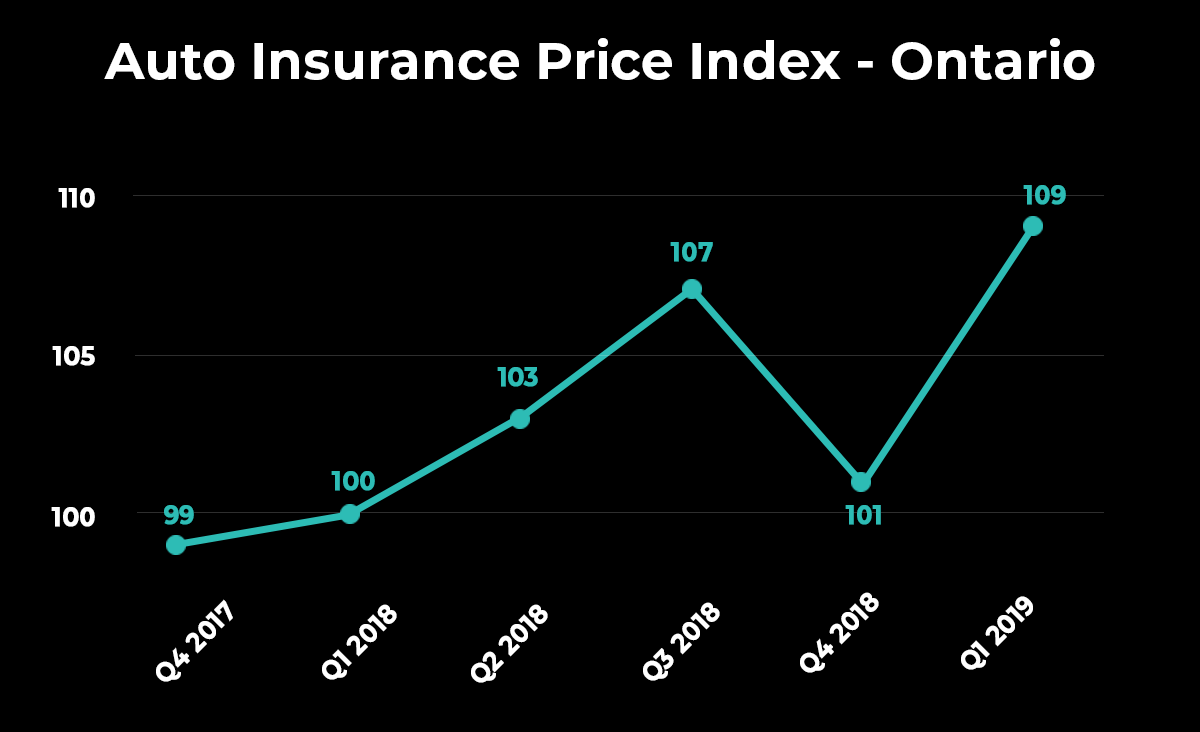 Auto insurance prices rose 9.06% in Ontario in the first quarter of 2019 (on an annualized basis), with the index hitting 109 — a fresh new record. The previous record reading for the index occured in Q3 2016, when it was at 108.  Interestingly enough, prices went on to decline by 10% over the next 12 months.
Of course, that's not guaranteed to happen this time around and we don't predict future pricing trends in this report.
It's important to note that the Progressive Conservative government in Ontario recently announced sweeping changes to auto insurance in the province. Now, the previous Liberal government attempted to lower prices as well — failing to hit their goal of reducing rates by 15% by August 2015.
So, let's take a look at what the new government is proposing to do to lower rates. One of the changes proposed will allow drivers to have more customized insurance policies — allowing them to pick and choose what coverages they want and which ones they don't. The government, however, has not released information on what coverages will be included.
Also on the table is a new "Driver Care Card", which would allow drivers to charge insurance claims to a card, rather than going through the complicated paperwork of the current insurance claims process. The Ontario government has said the card would also centralize the claims process and help clamp down on fraud.
Speaking of fraud, the Ontario government has highlighted that tackling auto insurance fraud is one of their big priorities. We've highlighted before that fraud is costing the province millions of dollars a year in unnecessary claims, which are then being passed on to drivers.
Finally, the Ontario government has vowed to end "postal code discrimination". That refers to the current system that takes into consideration a driver's address when pricing a premium. Insurance companies say the system allows them to price risk based on what areas experience higher accidents due to density, or what areas have a higher number of break-ins and thefts. Critics say the system unfairly penalizes good drivers who live in areas that are judged high risk.
Regardless, it will take some time to see all of these changes go into effect — during which time prices in the province could move even higher.
Prices in Alberta see a massive jump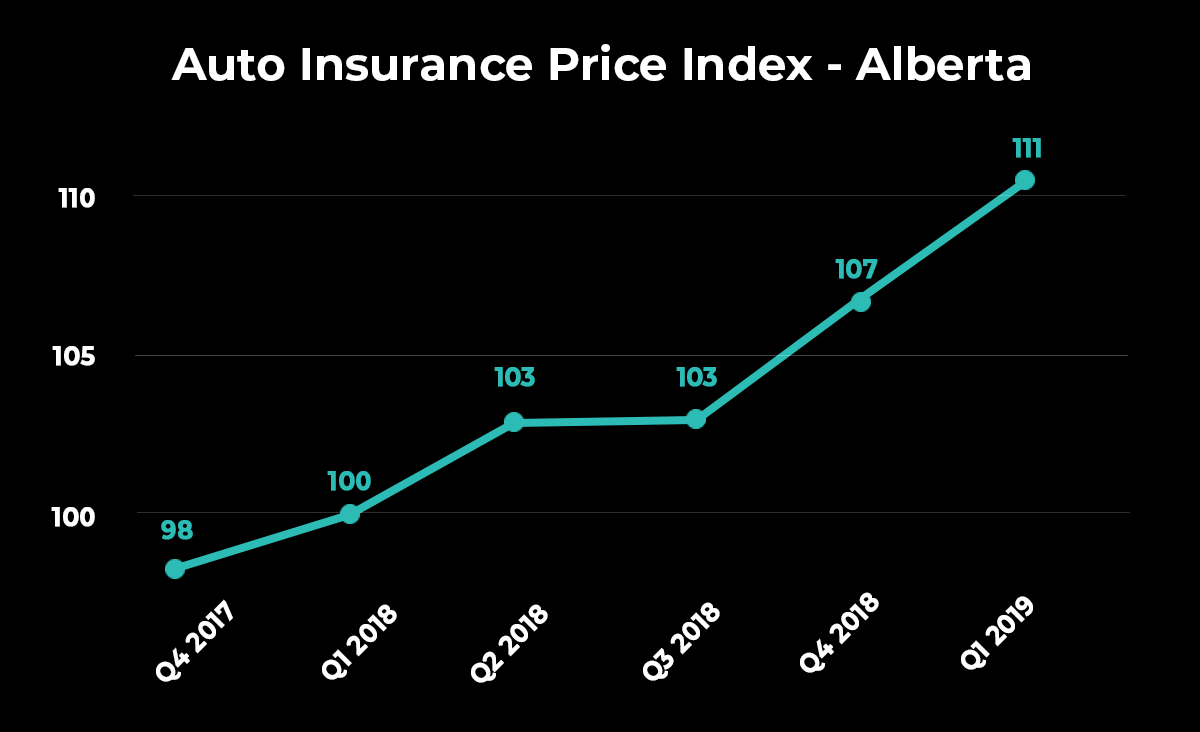 Prices in Alberta have hit a new record — and insurance companies are blaming it on a government cap that limits the amount that auto insurance rates can go up.
The current cap prevents insurance companies from raising rates by more than 5% for consumers. While in theory this sounds like a good idea that can prevent consumers from being hit with sudden price hikes they can't afford, it has not had the intended effect.
Several of our auto insurance partners we have spoken to in the province say they have been limiting the number of new clients they're taking in Alberta because the caps are hurting them financially. These insurance companies and brokers say caps have led to instances where quarterly claim payouts for accidents or thefts have been larger than the amount of money brought in from consumer premiums.
Naturally, this scenario has led to fewer options for consumers when they go to sign up for auto insurance. Insurance rates in Alberta have risen 11% over the past year according to our data and now stand at the highest level since we began tracking prices in 2016.
Increases in Atlantic Canada, but far more mild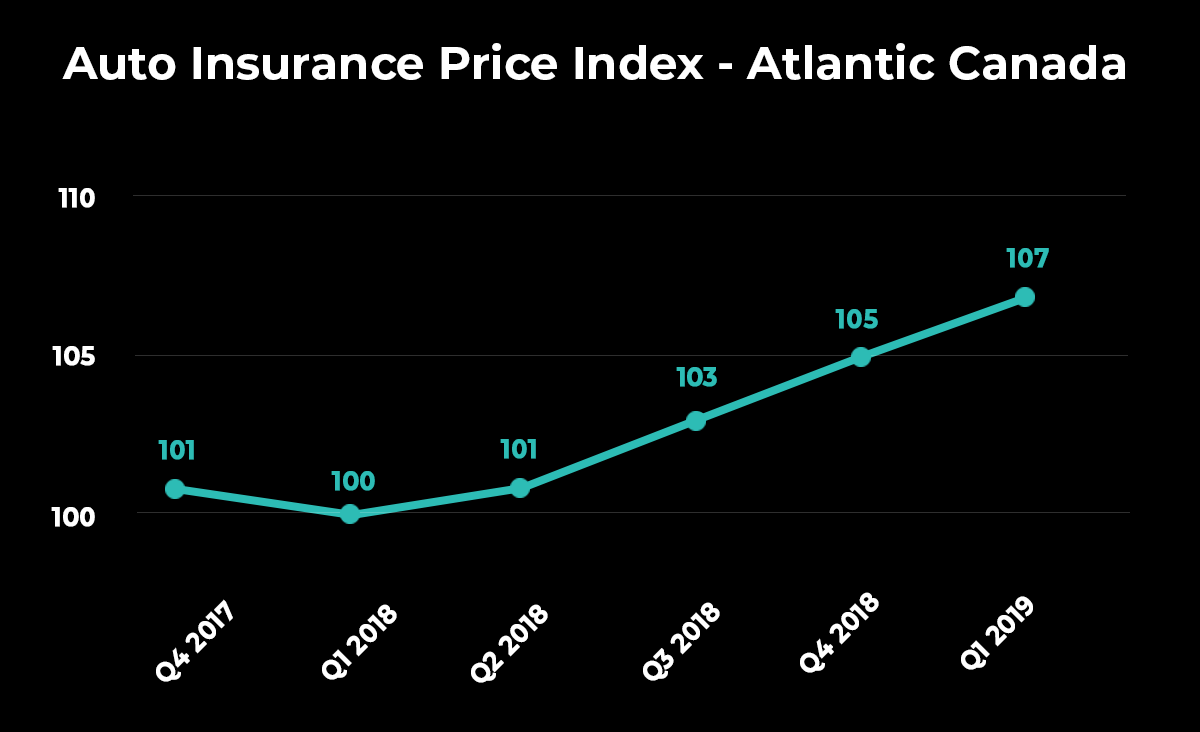 Prices in Atlantic Canada saw the smallest increase of all provinces we track — up 6.52% when compared to the same time last year.
Prices in Newfoundland and Labrador have driven much of the increase. Prices in the province have been considerably higher than the rest of Atlantic Canada for some time now, with the Insurance Bureau of Canada pinning the blame on the province's lack of limits on minor injury claim amounts. This compares to the province's Atlantic neighbours, all of which have caps on the amount someone can make for minor injury claims.
In Newfoundland, a driver must pay a deducitble of $2,500 on minor injuries, but there is no limit to how much they can claim after that. You can no doubt see the issue here — someone could make claims on medical expenses that total tens of thousands of dollars.
Insurers say this results in them paying out much more for claims in Newfoundland and Labrador, which has driven auto insurance prices up as a result. The government there is expected to make an announcement — with potential changes to auto insurance rules in the province — this month.