The latest data from our Auto Insurance Price Index shows that price trends for car insurance in Ontario and Alberta are diverging.
Drivers in Ontario have seen prices decline overall in the past year, with the average quote received by consumers on LowestRates.ca down 4.9% in Ontario in the fourth quarter of 2017. In Alberta, however, prices have seen an uptrend, rising 5.1% when compared to a year ago.
Our data is collected from drivers who apply on our quoter, which was created in partnership with Applied Systems Canada.
Now, let's break down what's going on.
Easing price pressures in Ontario    
Insurers price their premiums based on their costs, meaning if they see rising claims and bigger payouts, they'll likely increase the amount they charge customers. Insurers in Ontario make requests to raise or lower their premiums to the Financial Services Commission of Ontario (FSCO), which determines if rate changes are justifiable.
In Ontario, we're finding that, overall, customers are getting lower quotes for their car insurance.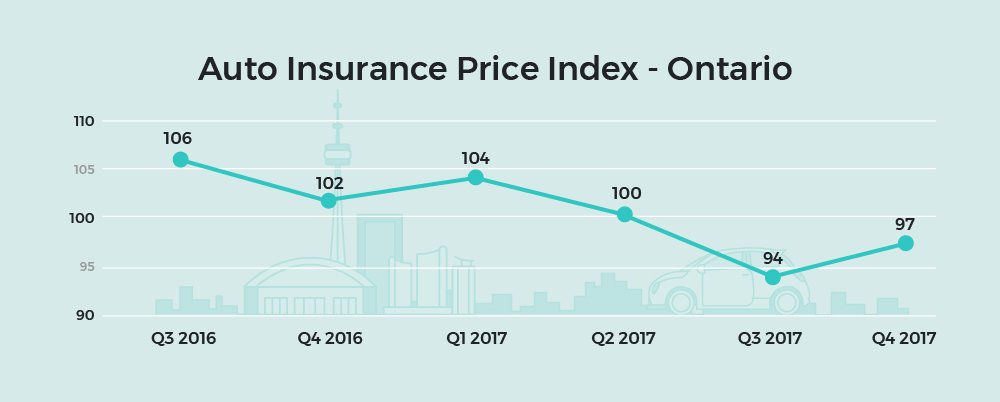 The most recent quarter is a bit of an anomaly, with car insurance costs rising. The average quote in the fourth quarter was 3.2% higher when compared with the average quote in the third quarter.
Rising prices in Alberta
Prices in Alberta have been trending in a different direction. For four straight quarters now, the average quote for drivers in the province has increased.
Prices rose by 1% from the third quarter of 2017 to the fourth quarter of 2017.
On a year-over-year basis, prices are up 5.1%.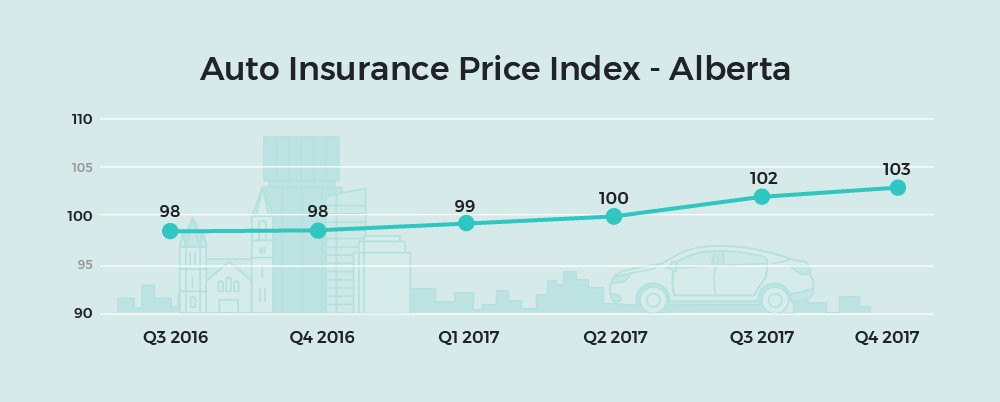 What's behind the price swings?
At the end of the day, insurance companies are basing their prices on risk. If the number of accidents increase, or if the average price of claims goes up, or if insurance companies find they're signing up riskier drivers, average premiums are going to follow.
FSCO in Ontario has noted it's paying attention to two trends right now that could be impacting insurance risk.
First, it notes that insurance companies are seeing higher costs related to vehicle damage, which could be due to the growing technological sophistication of our cars. All those onboard computers and sensors are making cars costlier to repair.
FSCO also notes that there is a "growing concern related to distracted driving." There has been a worrying uptick in the number of accidents caused by drivers texting and driving. This has driven up compensation and collision claims.
In Ontario, the provincial government has been actively taking steps to lower premiums for drivers, which are among the highest in Canada.
Some segments of the population are bucking the trend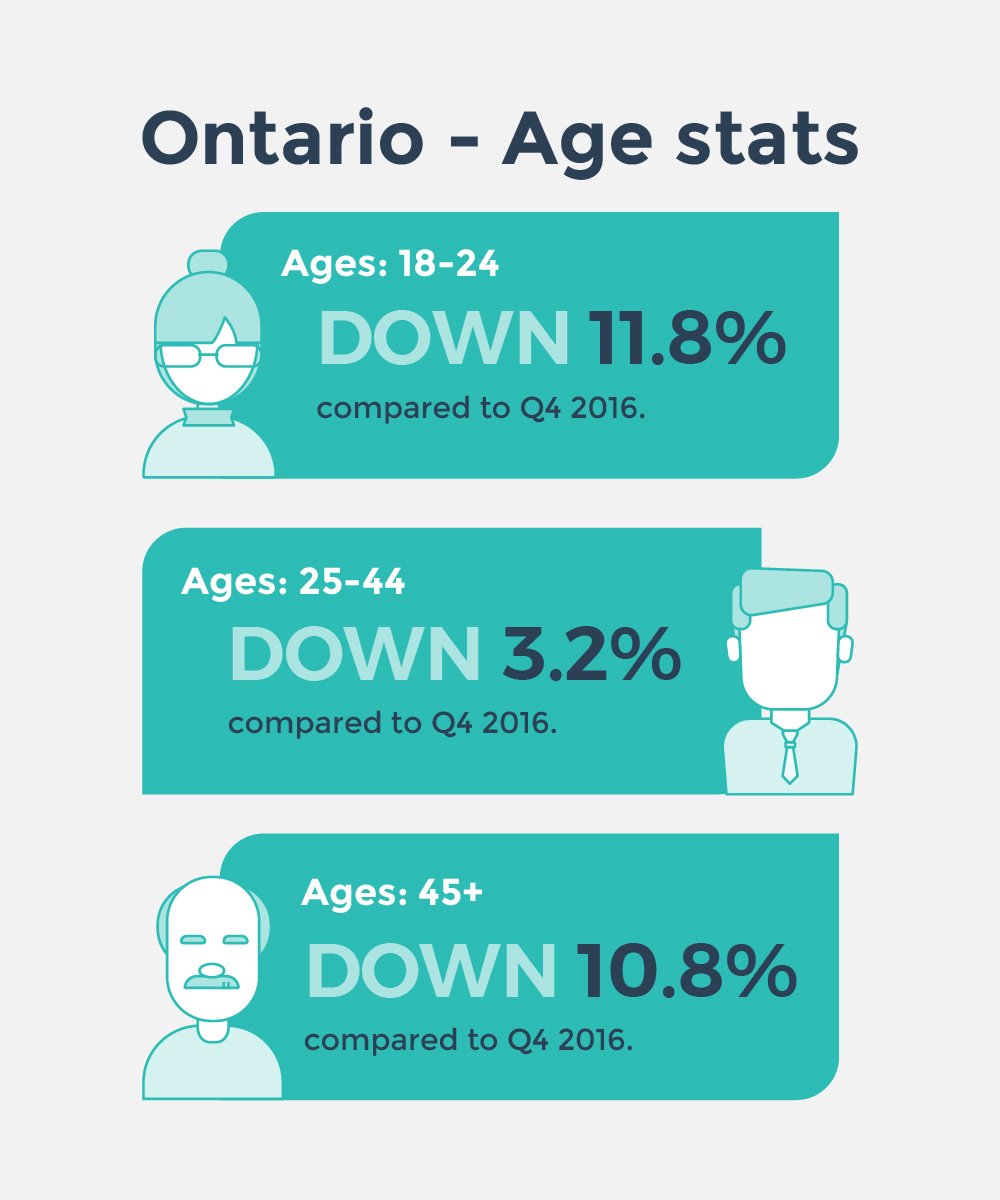 Insurance companies take into account a variety of factors to price their premiums, including your personal details. Your gender, age, and even your marital status can affect what you pay.
Our index not only tracks overall prices, we also monitor changes by gender and age group. Here's a look at how prices fluctuated between the different age cohorts. Keep in mind, these numbers may seem like they don't quite line up with the overall price trend in a province; that's because if we get many more young people signing up in a given quarter, their average quote will be more influential than other groups.
As for the gender breakdown, in Ontario, men saw their rates decline 6.9% in the past year, while women saw rates rise 1.9%.
In Alberta, men are paying 5.9% more, while women are paying 2.9% more for auto insurance.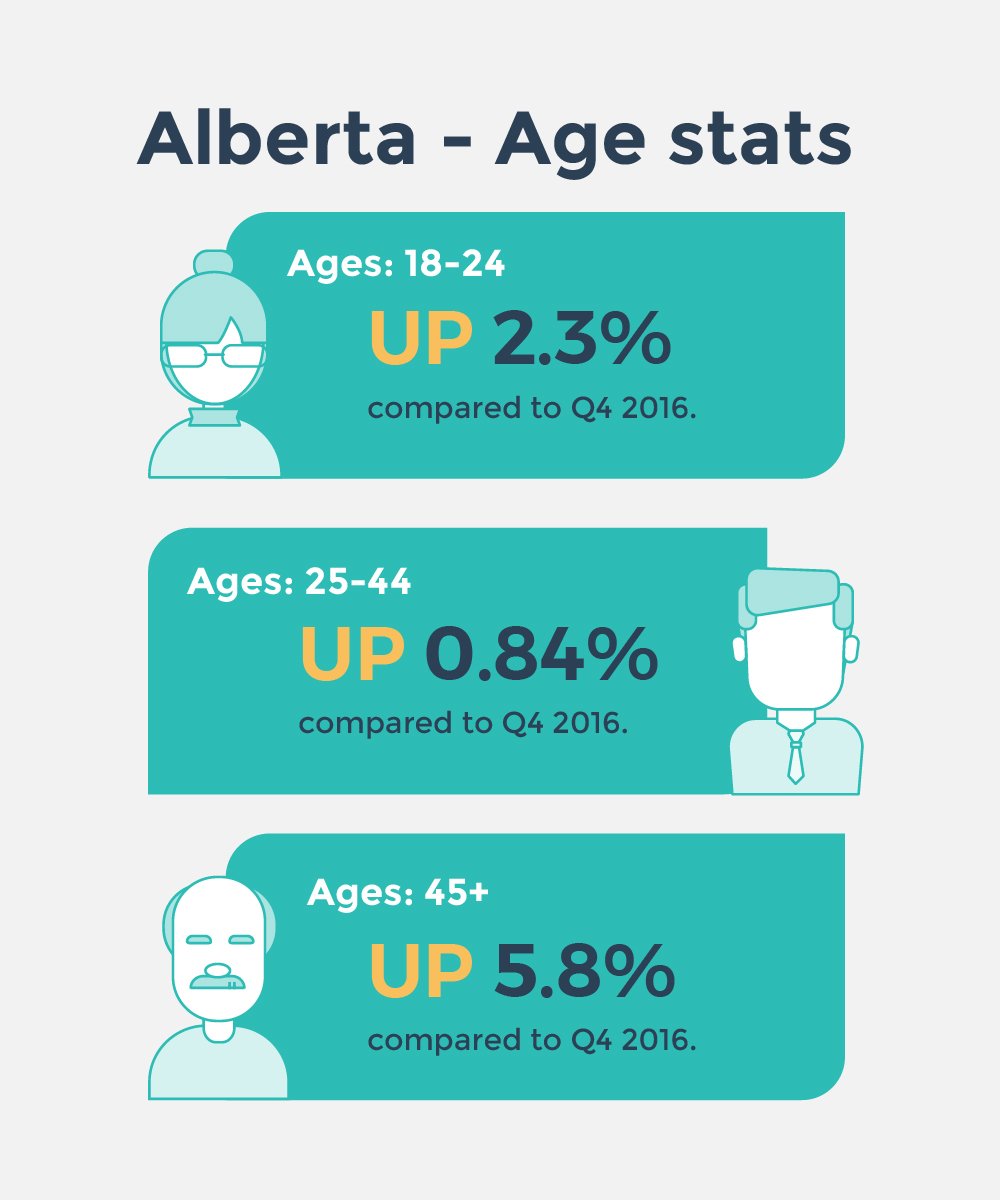 And there you have it. We'll keep watching auto insurance prices in the coming quarters to see if the current trends hold true. Stay posted for our next quarterly release in April.
And in case you missed our last report, dive in and take a look as we break down some of the trends and stats talked about in this report.