Canadian auto insurance rates rose considerably in Q4 2018
By: John Shmuel on

January 24, 2019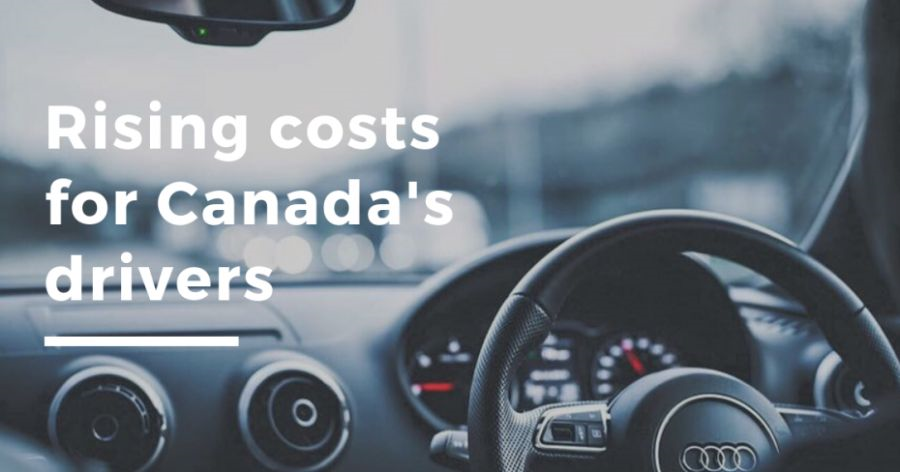 Fed up with high auto insurance rates? You're not alone. 
Data from the latest LowestRates.ca Auto Insurance Price Index report show that drivers across Canada are seeing their insurance costs rise. The index tracks data from the millions of Canadians who use the LowestRates.ca auto insurance quoter, which is created in partnership with Applied Systems Canada.
The latest report found that rates in Alberta rose 10.05% in Q4 2018 when compared to the same time last year. Ontario saw an annual increase of 1.7% and Atlantic Canada saw a climb of 3.75%.
Below, we break down what's going on in each region. To help us track changes in pricing, we set our index at 100 as of Q1 2018. Any one-point move above 100 represents a roughly 1% increase in prices.  
Some price relief in Ontario
Ontario is the only province where auto insurance rates have seen some price relief in the past year. While the average premium increased over the past 12 months, there was a sizable price decline of 5.63% from the third quarter to the fourth quarter. 
While it's often more useful to look at annualized data to smooth out any seasonal volatility, it's important to look at quarterly pricing in this case for a couple of reasons.
First, insurance companies in the province were approved by the Financial Services Commission of Ontario (FSCO) to raise rates by 3.35% in the fourth quarter. FSCO is the provincial regulator that insurance companies must apply to for any rate increases or decreases.
Some insurance companies were approved for rate increases far above the average — Aviva General Insurance Company got the go-ahead for a 16.8% increase, while Sonnet Insurance Company was approved for a 14.55% increase.
However, on LowestRates.ca, the average Ontario customer actually saw their average quoted rate decrease by 5.63% during that same period. So it's clear while rates are increasing overall, customers who compare online are still finding rates below the market average. 
Prices rise in Alberta as insurers pull out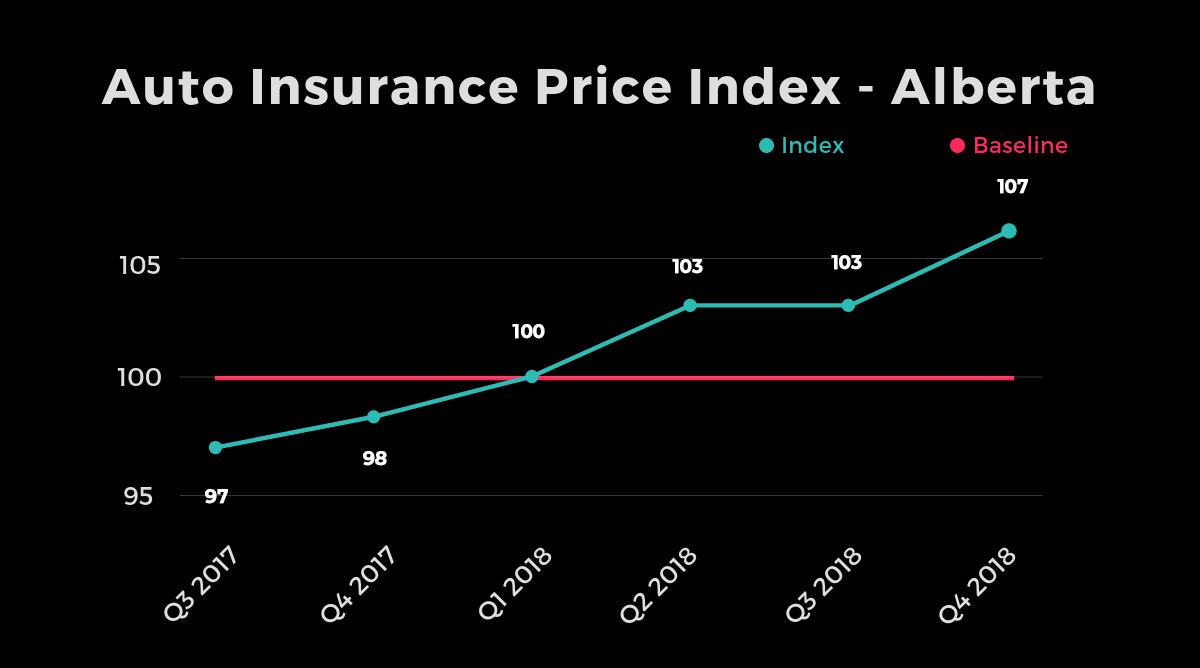 Out of all the regions we track, auto insurance prices are rising the fastest in Alberta. Prices are up 10.05% in the past year, with the index moving from 98 to 107.
Brokers in the province have blamed the increase on the provincial government's cap on insurance pricing. Last year, the government set a 5% cap on passenger vehicle insurance rate increases.  
As well, Alberta requires that all drivers be able to purchase insurance — even those who are accident prone and end up costing insurers more than they make back in profit. Insurance companies argue that these rules are causing them to lose money — resulting in some insurance companies pulling out of the province altogether. 
Celyeste Power, Insurance Bureau of Canada's acting vice-president for Western Canada, told the Calgary Herald last year that insurers in the province are paying out between $1.01 and $1.29 in claims for every $1 they bring in in premiums. The lack of competition means that prices haven risen across the board — even safe drivers are seeing their rates go up as insurers try to remain profitable. 
Auto insurance prices reach new highs in Atlantic Canada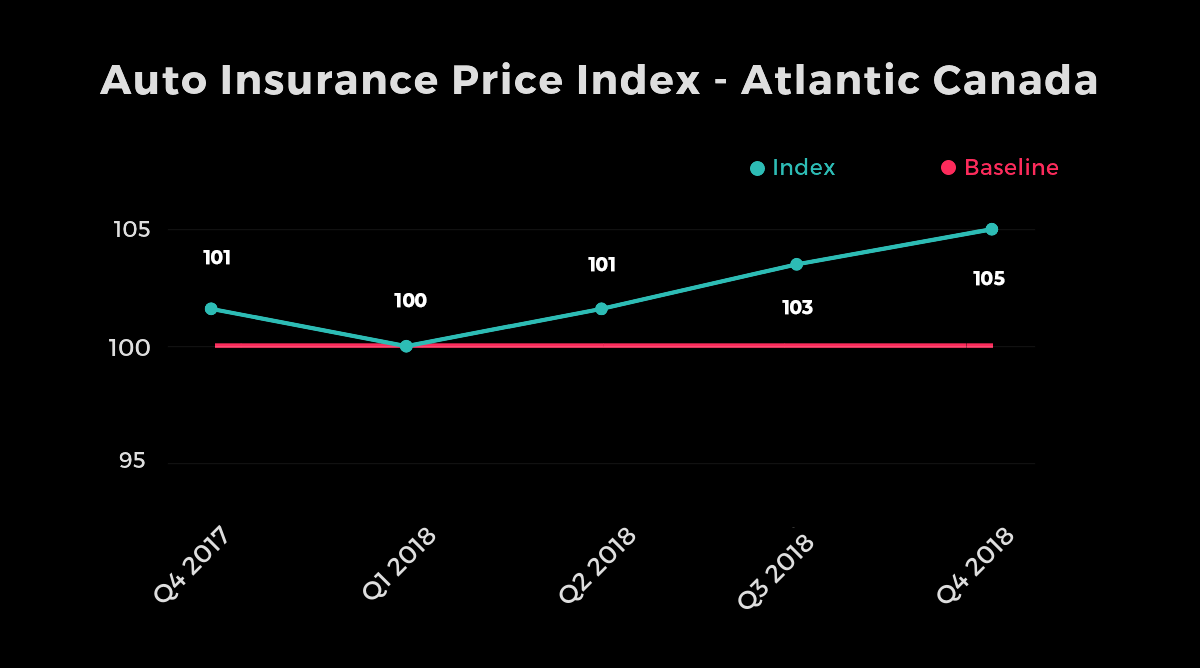 Auto insurance prices also rose in Atlantic Canada — New Brunswick, Nova Scotia, Prince Edward Island and Newfoundland and Labrador. 
Insurers in these four provinces are dealing with the same challenges that those in other parts of Canada are. That includes rising costs from repairing new vehicles, which tend to be crammed with new technology like sensors and screens, and a growing number of distracted driving accidents. Insurance fraud also remains a challenge. 
Prices in the region rose 3.75% when compared to a year ago, and are now at the highest level since we started tracking prices in 2017.