REPORT: Car insurance prices rose in the fourth quarter despite pandemic and lockdowns
By: Alexandra Bosanac on

March 3, 2021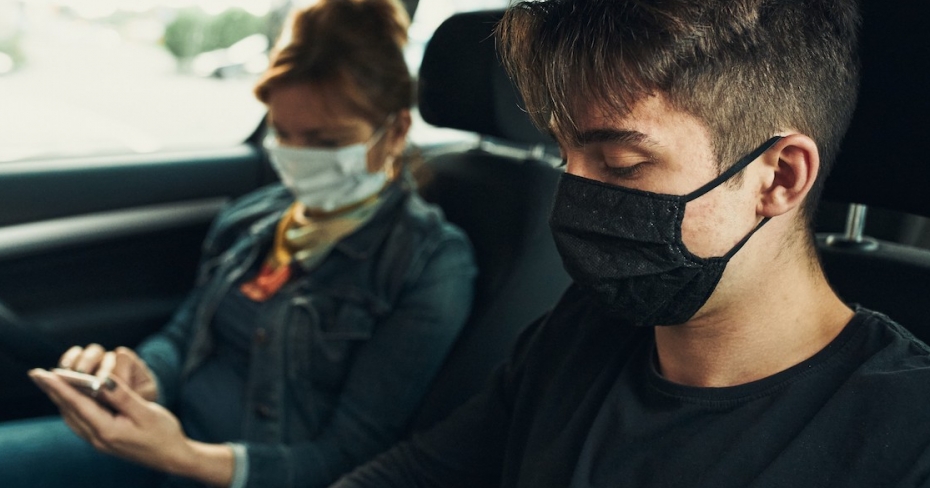 Despite a pandemic and lockdowns across Canada that led to fewer people on the roads, prices for car insurance climbed in the fourth quarter of 2020, according to the latest Auto Insurance Price Index from LowestRates.ca. 
The average price of car insurance rose in part because more inexperienced drivers have been hitting the road since the pandemic began. In consulting with experts, they point to a trend of former public transit users now opting for vehicles as concerns about safety and health remain. But while new drivers pushed prices higher, we also saw many drivers save money as they switched from commuting to work daily to working from home. 

Key highlights from the report:
More young adults, who might have eschewed car ownership pre-pandemic, are applying for car insurance quotes amid concerns about taking public transit.

We found a big increase in the number of drivers who are 50+ that are no longer commuting to work, which has enabled them to find substantial savings. 

COVID-19 hasn't led to insurance companies lowering prices for drivers. However, changing habits have allowed drivers who no longer drive to work or have decreased their annual mileage to save money on car insurance. 
Before we delve any further into our analysis, a quick note about how to read the Auto Insurance Price Index. The index is created from the hundreds of thousands of insurance quotes we get every year and shows whether prices in your province are rising or falling. Here's how it works: Our baseline is set at 100. This means that if our index increases from 100 to 101, prices have increased by roughly 1%. (One thing to note: this index doesn't factor in inflation.)
You might be wondering how you, a consumer, can use this index. 
If you currently have insurance, check to see how your renewal rate tracks in comparison to the index, says LowestRates.ca COO Dave Dyer. "If you're not in line with the index, you want to shop around. That's always the advice we give." 
Plus, Dyer says, being aware of the long-term trend of car insurance prices drives home the importance of being a responsible driver. Having claims in your insurance history makes it hard to find lower rates.
Now, let's take a look at the index and the change in the average car insurance rates by province.
Ontario

Premium change (%) by age year-over-year
| | | | |
| --- | --- | --- | --- |
|   | Q3 |   | Q4 |
| Ages 25 and under | +2.2% | Ages 25 and under | +6.6% |
| Ages 25 to 49 | +3.2% | Ages 25 to 49 | +4.5% |
| Ages 50+ | -8.0% | Ages 50+ | -12.4% |
Premium change (%) by gender year-over-year
| | | | |
| --- | --- | --- | --- |
|   | Q3 |   | Q4 |
| Female | -0.5%     | Female | +2.5%     |
| Male | +0.7%     | Male | +3.6%     |
Auto insurance prices in Ontario climbed to their highest level since our price index began. 
Prices in the fourth quarter of 2020 were 4.1% higher than they were a year earlier. 
Our data shows that Ontarians are increasingly trading in their public transit passes for a set of car keys — even if it means paying some of the highest car insurance premiums in Canada. 
Year over year, the number of inexperienced drivers shopping on our site increased by 2.9% (Q3) and 8.7% (Q4). Inexperienced drivers are those with less than four years of driving experience.
While we gained more new drivers on the site, we also saw an interesting trend among Ontario drivers aged 50 and over. 
Since the start of the pandemic, we've seen an increase in the number of older drivers who quote with very low mileage, and particularly, that do not drive to work. The distribution of users aged 50+ with personal-use vehicles who said they drove 0 kilometres to work increased from 28.6% in Q4 2019 to 35.9% in Q4 2020. 
How you use your vehicle can impact your insurance rates. If you drive your car to work every weekday, for instance, your insurance company will charge you higher premiums than if you simply use your car for errands or to visit family. 
As a result of lower average mileage and fewer drivers using their car to get to work, average prices for drivers aged 50 and over fell by 8% in the fourth quarter on our site. 
The reduction in traffic has led to fewer claims from customers and that's been good for the insurance industry's bottom line. It might even lead to lower prices down the road. Drivers might not see prices reflect new trends that happened during the pandemic for some time, says Dyer. 
"The question is, will any recent drop in traffic and any decline in accidents remain for the long term? That is less certain, and insurers won't price that in until they have certainty." 
Alberta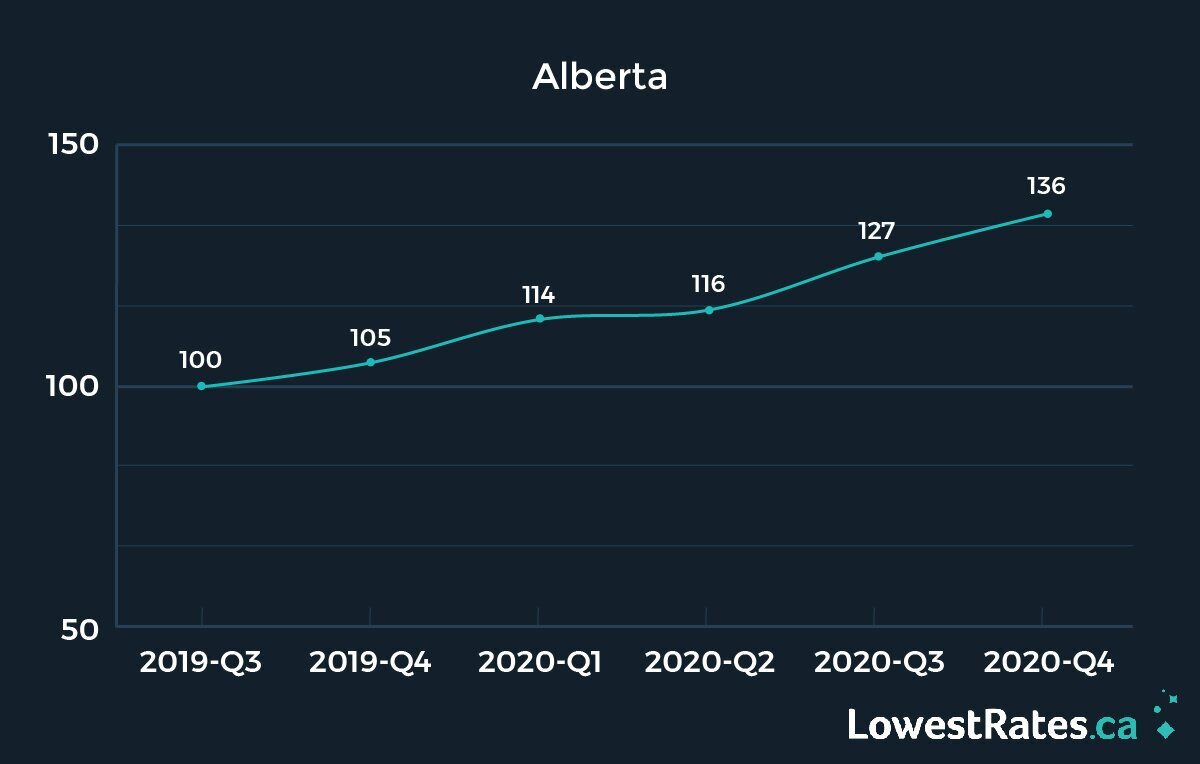 Premium change (%) by age year-over-year
| | | | |
| --- | --- | --- | --- |
|   | Q3 |   | Q4 |
| Ages 25 and under | +22.6% | Ages 25 and under | +28.1% |
| Ages 25 to 49 | +30.8% | Ages 25 to 49 | +29.3% |
| Ages 50+ | +11.5% | Ages 50+ | +13.4% |
Premium change (%) by gender year-over-year
| | | | |
| --- | --- | --- | --- |
|   | Q3 |   | Q4 |
| Female | +31.2% | Female | +24.5% |
| Male | +29.7% | Male | +29.1% |
Unfortunately for drivers in Alberta, auto insurance prices in the province have been on a relentless upward tear since last year. 
Our index shows that prices rose 29.5% in the fourth quarter when compared to last year. 
Prices have risen considerably since a cap on insurance rate hikes was removed in 2019 when Premier Jason Kenney and his United Conservative Party were elected. Insurance companies had long complained that the cap, which limited annual rate hikes on consumers to 5%, meant they lost money selling insurance in Alberta. Insurance companies must take more in premiums than they pay out in claims to remain profitable. 
Since the cap was removed in the third quarter of 2019, auto insurance prices have risen by 36%. 
LowestRates.ca CEO Justin Thouin says that drivers can expect to see prices continue to rise until more insurance companies return to the Alberta market and make it more competitive. This is expected to happen now that companies say they can price insurance at a level that properly reflects the risks they are insuring. 
Looking closer at the Auto Insurance Price Index, some interesting trends can be observed for who was shopping for insurance in the fourth quarter in Alberta. One of the biggest shifts revealed by our data is that fewer adults in their prime working years shopped for car insurance as COVID-19 cases grew. The majority of overall visitors to our site are between the ages of 25 and 49. This has been true for the last six quarters. 
Since Q2 2020, however, the distribution of visitors from Alberta within this age bracket shrank from 58% to 53%. This doesn't come as a surprise. We're hearing from brokers in Alberta that drivers between 25 and 49 are staying with their current providers because insurance is hard to get.
"As long as it's hard for insurance companies to charge the premium they need to remain profitable, you will have fewer insurers and options in the long run, leading to higher rates," says Dyer.  
However, there is reason to be hopeful that market conditions will improve. In 2020, the Government of Alberta assembled a task force to find policy solutions to lower prices for consumers. That led to the passage of Bill 41 in December 2020, which seeks to address the price issue from multiple angles. These include changes to the injury dispute resolution process. As well, car insurance companies can now offer plans that allow drivers to pay for coverage by the kilometre. Insurers are also allowed to set premiums based on the data gathered by usage-based technology, helping to bring down prices for those who opt-in. 
According to Dyer, widespread adaptation of such technology could deliver relief to the market. Using real-time data could help insurance companies assess a driver's risk profile more accurately, leading to fairer pricing. For example, a conscientious driver would reap savings more quickly and someone who speeds regularly would be penalized.
"A regulation that says that certain people have to have telematic policies could help the competitiveness in Alberta," says Dyer. "There's got to be other solutions than freezing rates." 
Atlantic Canada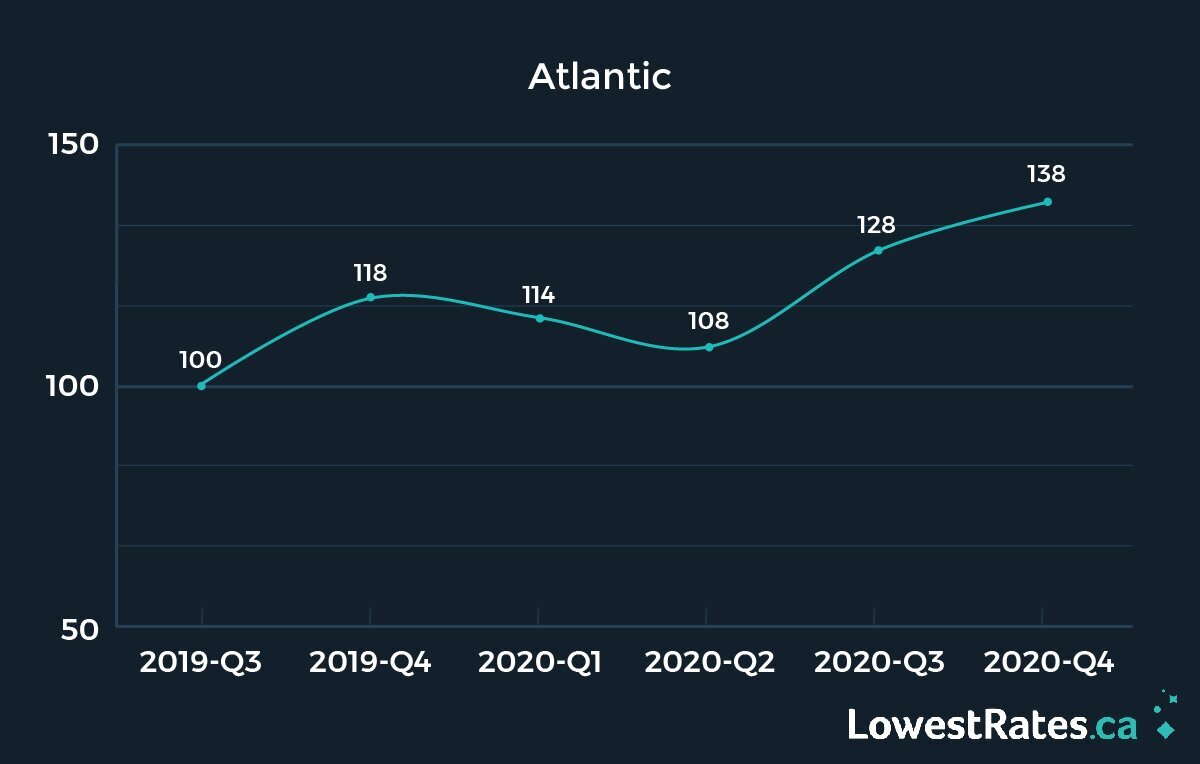 Premium change (%) by age year-over-year
| | | | |
| --- | --- | --- | --- |
|   | Q3 |   | Q4 |
| Ages 25 and under | +29.1% | Ages 25 and under | +13.2% |
| Ages 25 to 49 | +28.0% | Ages 25 to 49 | +18.2% |
| Ages 50+ | +1.9% | Ages 50+ | +4.2% |
* Since most Atlantic provinces don't allow insurers to rate customers based on their gender, we've excluded this data from this section of our report. 
Atlantic Canada is another region where prices also saw a sharp spike, rising by 17% in Q4 2020 when compared to a year earlier. 
Our data tracks four provinces as part of this region: New Brunswick, Nova Scotia, Prince Edward Island and Newfoundland and Labrador. In the future, we hope to track prices here in each province. However, due to a lower number of quotes in these provinces, we currently track the region as a whole.
Atlantic Canada is facing some of the same challenges that Alberta is. For instance, in New Brunswick, insurance companies have said they are either restricting new business or thinking about pulling out due to caps on what they can charge drivers. 
"The pricing challenges in Atlantic Canada are very similar to the ones in Alberta and Ontario," says Dyer.
In addition to these price challenges, we saw an increase in the number of new drivers from Atlantic Canada that quoted on LowestRates.ca in the fourth quarter, much as we've seen in the rest of Canada. 
Our methodology
We set the index to 100 in Q3 2019 and use average prices from that quarter to gauge whether prices are moving up or down in relation to it.
We collect this data through our auto insurance quoter, which millions of Canadians use every year to compare car insurance prices and which was created in partnership with Applied Systems Canada.