Is it safe to buy a car online? 7 myths debunked
By: Kevin McElligott on

July 27, 2022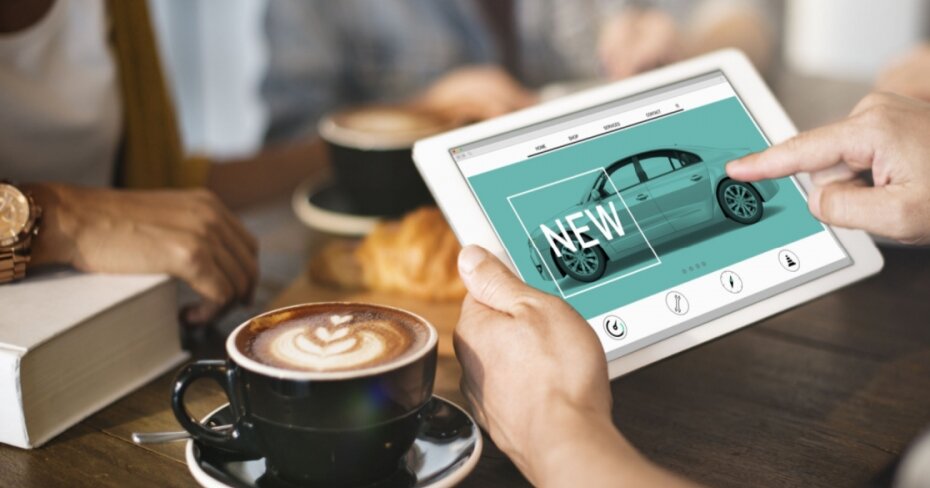 Is the future of car shopping digital?
Car buyers often turn to the internet to research their options, but it's also never been easier to find, finance, and take ownership of a new vehicle online.
Companies in this space are growing fast as more customers find out about the unique benefits of buying a car without ever stepping foot in a dealership.
But the idea of buying a car without first seeing it in person is still pretty unfamiliar to most people. It might even sound a little questionable. There are many misconceptions about online car shopping; some of which might be preventing you from giving it the consideration it deserves. If you still have your doubts, keep reading as we dispel some of the biggest myths around online car shopping.
Myth #1: You buy the car without seeing or test-driving it
While you don't get to test drive the vehicle before buying it online, you do get something better. Some online car retailers offer a wide-open return policy that effectively lets you test own the vehicle for a set number of days. If you decide for any reason during that return window that you don't want the car, you can get a full refund with no questions asked.
Compare that to the traditional car buying experience at a dealership or with a private seller, in which you base your entire decision to buy off a 20-minute test drive, and it doesn't sound so scary.
Additionally, when you buy a car online and it's delivered to your home, you typically get lots of time to inspect the car before officially signing off on it. To give yourself further peace of mind, look for online retailers that sell certified pre-owned vehicles, which are thoroughly inspected, reconditioned, and warrantied.
Myth #2: There's no salesperson to answer your questions
One of the upsides to online car buying is that there's no salesperson following you around the dealership, meaning you don't have to navigate high-pressure sales tactics as they try to talk you into a specific vehicle you might be on the fence about. But while there isn't a salesperson shadowing your every move when you're shopping for a vehicle online, that doesn't mean you can't get answers to your questions. 
Most online car retailers give you a few options for getting in touch with their team, including over the phone or through a chat window right on their website, so you can get quick answers to questions that come up while you're shopping.
Plus, there's no shortage of reliable information and reviews available for every vehicle on the market today. With a little Googling, you can find all of the answers about a vehicle online and make up your own mind at a pace you feel comfortable with.
Myth #3: You have to visit a dealership at some stage
More and more dealerships are offering customers the ability to buy a car online. In most of these instances, however, you still have to visit the dealership to sign documents and pick up the vehicle.
That might still be more convenient than a traditional car buying experience, where you have to do everything at a dealership, but with a 100% online car retailer, you don't have to leave your home at all. The entire transaction, including financing, is completed online and your new car or truck is typically delivered right to your door.
Plus, with some online car retailers, you'll have access to a much wider inventory of vehicles (potentially in the thousands) instead of just the ones that happen to be available at a single dealership or the immediate locale. 
Myth #4: You can't negotiate a better price for yourself
This is a myth with a bit of a twist. While it's true you can't negotiate the price of the vehicle if you go with an online car retailer, it's somewhat of a myth that you can do that at a dealership.
Sure, you can haggle with a salesperson and shave some dollars off the sticker price, but that's all mostly theatre. Dealerships know people will try to negotiate down so they price vehicles accordingly, with the expectation the final sale price will be a number they were always comfortable with.
Online retailers, by contrast, operate via a different kind of business model. Where a dealership is trying to maximize profit on every vehicle they sell, online car retailers are trying to buy and sell vehicles at scale. To this end, online car retailers set competitive pricing upfront that's the same for everyone — no negotiation or haggling required.
Myth #5: Financing options are limited
Most online car retailers have their own financing team and options built right into the car buying experience. In fact, this is one of the ways they make their profits — by focusing on aftermarket products like financing and warranties.
The financing options available through a specific online car retailer might be limited, or not to your liking, but you're not stuck with them. They're really there for convenience, to make the experience simpler. If you prefer, you can usually work with a lender of your choosing and secure your own financing elsewhere to complete the purchase. Or, of course, you can always pay in cash.
Myth #6: Adding a trade-in is complicated
Trading in your old vehicle when you're buying a new one is standard practice for many people. In fact, a lot of the time that trade-in value is critical to put toward the cost of a new car or truck, in order to make things more affordable.
Some car buyers assume trade-ins either aren't accepted by online car retailers, or that the process must be extremely complicated. This couldn't be further from the truth.
With most online car retailers, the trade-in process is as simple and smooth as filling out a short online form, receiving an offer, and choosing to accept or decline it. If you choose to accept it, the value of your trade-in will reduce the price of your new vehicle, and your old ride will be picked up when your new one is dropped off.
Myth #7: All vehicles were previously rental cars
Unlike traditional dealerships, online car retailers typically have a massive inventory of vehicles at their disposal. These retailers are buying and selling at scale, and they get their vehicles from a variety of sources, including cars, SUVS, and trucks they acquired from trade-ins.
Some of the vehicles in their inventory may have previously been rental cars. But this isn't necessarily a bad thing, as there are some surprising benefits to buying a rental car.
For example, rental car companies typically rent out newer vehicles and retire them after only a year or two of use. These vehicles are also subjected to rigorous maintenance, cleaning, and servicing. That means any rental cars you find for sale through online retailers will generally be newer and in better condition than many alternatives.
Buying a car completely online doesn't have to be nerve wracking. In fact, it can be as straightforward and convenient as booking a flight or comparing the best auto insurance rates.  The most important thing is to educate yourself and make the decision from a place of confidence.
Save 30% on average on car insurance
Compare quotes from 50+ Canadian providers in 3 minutes.