You refinance your mortgage to get a better rate. Why not do the same with your car loan?
By: Caitlin Wood on

December 6, 2022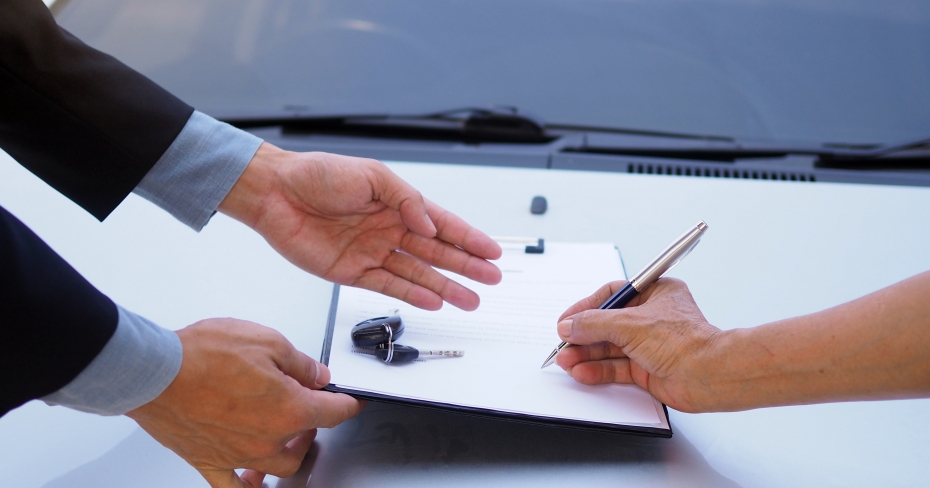 Many Canadian homeowners refinance their mortgages in an effort to reduce their monthly mortgage payments. But did you know you can do the same with your car loan? 
Refinancing is a great way for Canadians to save money on interest, reduce monthly payments, or even pay off their auto loans faster. If you have a car loan and are looking to lower your car loan interest rate, a car loan refinance might be a viable option.  
How to lower car loan rates by refinancing 
Your car loan interest rate is one of the main factors, if not the biggest, that affect the cost of your car loan. By reducing your car loan interest rate, you can not only save money on interest, but you may also be able to lower your monthly payments and pay off your loan faster.  
If you already have a car loan, refinancing can help you secure a new low interest rate. However, you may need to improve certain factors, such as your income, debt, and credit score before deciding to refinance your car loan. Below are three ways you can secure a lower financing rate. 
Increase your income  
If you earn significantly more today than you did when you first applied for your car loan, you'll have more money to dedicate to your loan payments. Your lender may see you as a lower risk, which means you may be able to secure a lower interest rate and a better loan term with a refinance. In turn, your car loan will be more affordable.  
Since you're earning more, you may consider shortening your loan term to pay off your loan faster. This can potentially save you thousands of dollars over the life of the loan.   
Lower your debt levels 
A smaller debt load will take pressure off your overall finances. Even if your income remains the same, less debt means less paid toward your bills and more money left in the pot. This effectively reduces your debt-to-income (DTI) ratio, which is a key factor that lenders look at when assessing loan applications. 
If you can show your lender that you've whittled down your debt since you first took out your loan, you may be able to qualify for a car loan refinance at a lower rate with better terms.  
Improve your credit score 
Lenders place a lot of weight on borrowers' creditworthiness when assessing loan applications because it helps them predict how responsible you are with making payments. Your credit score plays a key role in the interest rate you can get on a car loan, and your ability to get approved in the first place.  
As such, if you've improved your credit since you applied, you may be in a better position to secure a lower rate through a car loan refinance. This could result in lower monthly payments and less paid in interest over the life of the loan.  
Can you refinance a car loan if you have bad credit? 
Getting approved for a car loan with bad credit is already a challenge, and refinancing an existing loan when your score is still down in the dumps can be just as tough. Borrowers with poor credit may have better luck applying with an alternative lender, as conventional lenders typically have minimum credit score requirements. That said, it's still possible to refinance a car loan if you have bad credit, but it might not make much financial sense.  
One of the best times to refinance your car loan is when your credit score has improved. This will increase your chances of securing a lower interest rate, which can help reduce your monthly payments and help you save money in interest. If your score has not improved since you initially took out your loan, you may be better off waiting until improvements have been made. 
However, if other areas of your financial life have strengthened, applying for a refinance could be beneficial. For instance, if you've managed to pay off much of your debt and your income has increased, refinancing could make financial sense, even if your credit score remains the same.  
Otherwise, you may consider refinancing to extend the loan term, which will give you more time to pay back the loan and lower your monthly payments, even if you can't qualify for a lower rate. 
Benefits of car loan refinancing 
There are several perks to refinancing your car loan, including the following: 
Save money. If you can get approved for a much lower interest rate, you can save money paid in interest, which will make your loan more affordable over the long run. A lower rate can also decrease your monthly payments, which means you'll spend less on car loan payments every month and leave more money for other expenses.  

Extend the loan term. If your main goal is to reduce your monthly payments, refinancing to a longer term will stretch out the loan and give you more time to repay it. This translates into lower monthly payments that may fit better within your budget.  

Pay off the loan faster. On the flip side, you can refinance your car loan to shorten the loan term if your goal is to pay off your loan faster. While this will mean higher monthly payments, you can be debt-free much sooner.  
Other reasons you might consider refinancing your car loan include: 
Removing a co-signer. If your loan is co-signed but your finances and credit score have since improved, you can remove the co-signer and manage the loan on your own. 

To get cash back. If you have a decent amount of equity in your car, you can refinance your car loan for a larger loan amount than what you owe. This will give you enough to pay off your existing car loan while keeping some extra cash for yourself.   
How to refinance your car loan 
Thinking of refinancing your car loan? Follow these steps five steps:  
1. Review your current car loan contract  
Grab a copy of your car loan statement to carefully review some important details about your current loan, including the following: 
Repayment schedule 

Monthly payment amounts 

Current interest rate 

Outstanding balance 
Loan payoff amount  

Remaining term 

Early prepayment penalty fees 
Understanding these figures will help you crunch the numbers to make sure refinancing won't cost you more than what you're saving. Moreover, be sure to check what the penalty fee is for breaking your current car loan contract to refinance. Ensure that the fee is not more than the savings you'd get by refinancing.  
2. Check your car's value  
The amount you need to borrow will be based on the current value of your vehicle and whether or not refinancing is possible. You can check resources like Autotrader.ca or Kelley Blue Book to find out what your car is worth based on its year, make, model, condition, mileage, etc.  
If your vehicle is worth less than what you want to borrow, you might wind up paying a lot more for your vehicle than what it's worth. In this case, you might be better off selling it and buying a cheaper vehicle instead of refinancing it in order to save money. 
3. Find out if you're eligible  
Refinancing makes the most sense if your credit and financial situation have improved, which would make you eligible for a lower rate and better terms. Before applying for a refinance, assess your credit score, income, and debt, and compare them to what they were when you first applied for your car loan. These factors will all be considered by the lender when applying for a car loan refinance.  
Each lender may have its own specific loan requirements as well, so check with the lender you're considering applying with to find out precisely what the requirements are.  
4. Fill out the loan application  
You can refinance your car loan either with your current lender or a new one. Once you've decided which lender to work with, complete their loan refinance application. 
Once approved, carefully review the offer to confirm important components, including the new payment schedule, payment amount, loan term, interest rate, and applicable fees. If you're comfortable with everything, sign the loan contract and submit it to the lender to finalize the agreement. 
5. Start refinancing  
Your lender will either repay your old auto loan directly or send you the funds for you to pay the loan off yourself. Confirm that the final loan payment has been processed and that the account is closed. Then, you'll start making payments toward your new loan under the new rate and terms.  
By securing a lower interest rate on your car loan, you'll not only save money on interest but you may be able to pay off the loan faster.  
Interested in creating content with LowestRates.ca? Reach us at email@lowestrates.ca. 
Save 30% on average on car insurance
Compare quotes from 50+ Canadian providers in 3 minutes.