REPORT: Car insurance quotes for electric vehicles on LowestRates.ca surge 146%
By: Zandile Chiwanza on

May 11, 2021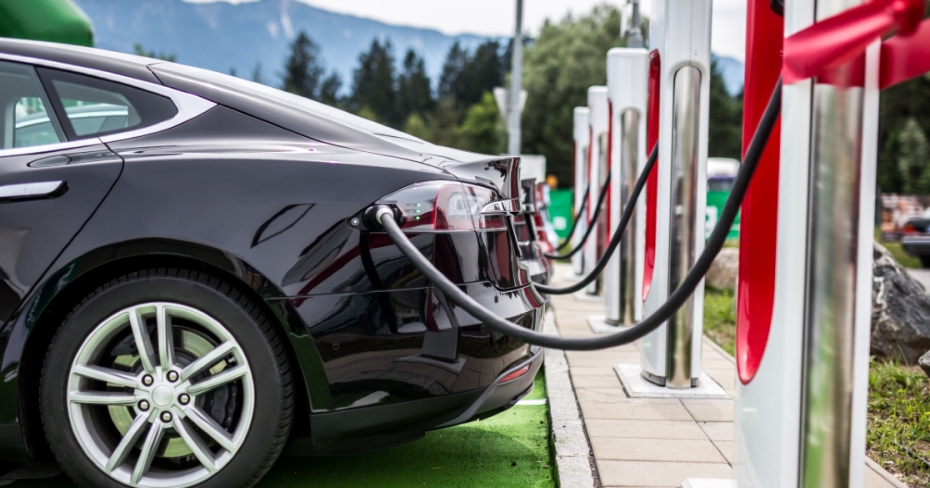 The electric vehicle (EV) industry is rapidly expanding around the world. 
According to BloombergNEF's Electric Vehicle Outlook 2020, car manufacturers are speeding up their plans to produce electric vehicles. Some of these will be delayed by COVID-19, but by 2022, there should be more than 500 different electric vehicle models available worldwide. And by 2040, electric vehicles are predicted to account for more than half of all passenger vehicles.
We're starting to see this demand for electric vehicles show up in insurance data, too. The number of people looking to insure an electric vehicle on LowestRates.ca increased significantly in the first quarter of 2021 when compared to the same time period the year before. In January, we saw a 55% YoY increase in car insurance quotes for EVs, followed by a 109% YoY increase in February, and a 146% YoY increase in March.
While it can be more expensive to insure an electric or hybrid vehicle due to its expensive battery, the process is very similar to insuring a gas-powered car. When drivers come to our site, they can compare car insurance rates for electric and hybrid vehicles using our quoter. After entering some information about the vehicle and their driving history, they will see quotes from 50+ providers.
Key findings:
Car insurance quotes for electric vehicles are on the rise. In March of this year, we saw a 146% year-over-year increase in the number of drivers filling out a car insurance quote for an electric vehicle on our site.
Generous government incentives in provinces like British Columbia and Quebec could be helping fuel Canadians' interest in EVs.
Tesla is the manufacturer with the most electric vehicle car insurance quotes filled out on our site.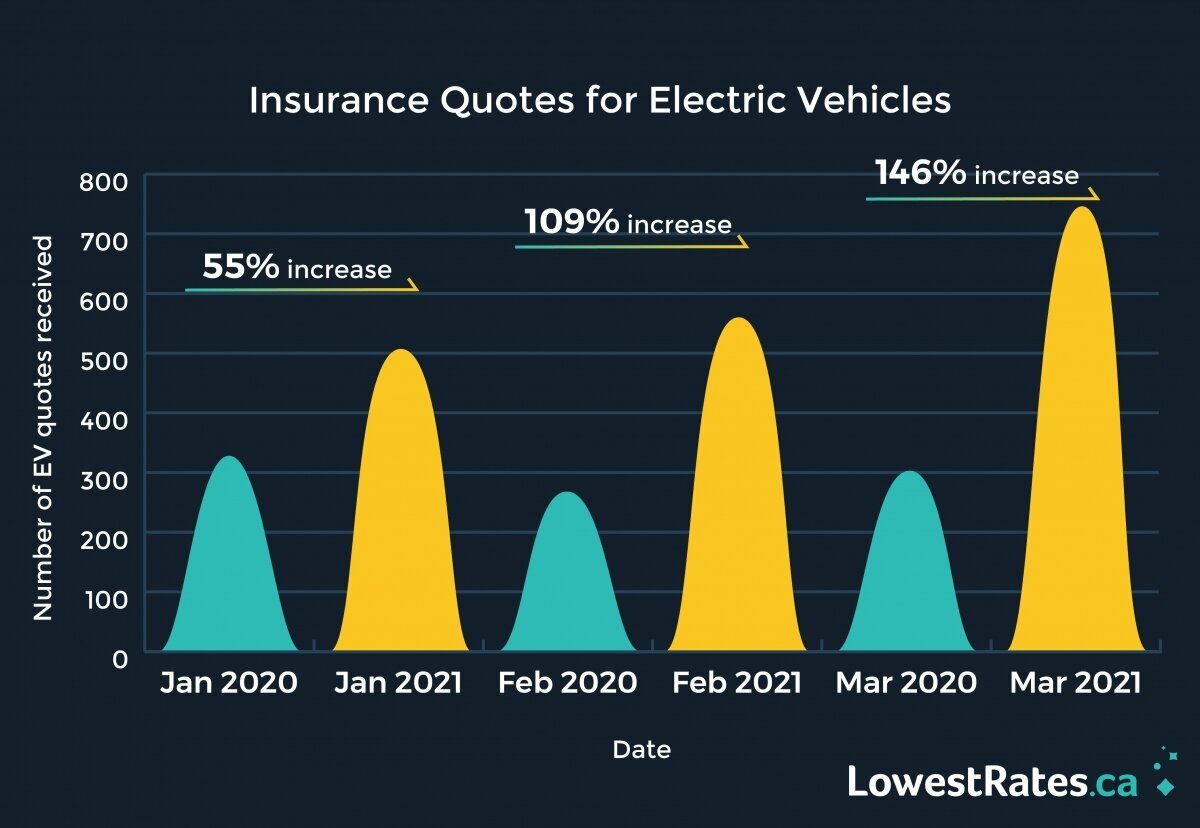 Provincial incentives could be driving EV adoption
Most of the EVs Canada receives currently wind up in B.C. or Quebec because there are few remaining incentives to offset the purchase price in Ontario. 
Shortly after becoming Ontario's premier in 2018, Doug Ford's government cancelled the province's cap and trade program, effectively ending the province's eight-year-old electric vehicle incentive of $14,000. That incentive nearly matched the up-to-$15,000-higher price tag EVs carry compared to gas-powered cars. And the removal of it has made it less appealing for individuals to get behind the wheel of an EV in Ontario. 
In the third quarter of 2020, EVs accounted for 3.5% of the country's new vehicle registrations, according to Statistics Canada. 
In British Columbia, EVs accounted for 8.4% of all new vehicle registrations in the province, making it a leader in terms of EV adoption. 
Quebec is the province's leader in terms of EV sales. In 2020, 26,102 electric cars were registered in the province, accounting for nearly half of all registrations in Canada.
"B.C. and Quebec have generous incentives that buyers in those provinces can use in addition to the federal incentives of $5,000," says Nino Di Cara, President of Electric Autonomy Canada. "There's more demand in those provinces, which means that the car makers send more of their electric vehicles to those regions."  
Nova Scotia and Prince Edward Island also recently announced incentives for people buying electric cars in those provinces.
Environmental benefits of EVs becoming clearer 
Another reason for the sharp uptick in drivers looking for insurance for electric cars could be that people are generally more aware of the environmental benefits of EVs than they were even a few years ago, and therefore less wary about making the switch.
Governments and vehicle manufacturers are gradually setting large, public targets for electric-vehicle adoption. Volkswagen, for instance, intends for electric vehicles to comprise 40% of its global sales by 2023; Nissan plans to introduce eight new electric cars by 2022; GM plans to introduce 30 by 2025; Toyota is aiming to generate half of its sales from electrified vehicles by 2025; and Transport Canada has set goals for electric vehicles to account for 10% of all light-duty vehicles by 2025, 30% by 2030, and 100% by 2040.
"There's more choice for consumers and a more competitive EV marketplace in the country," says Di Cara, who adds that Tesla's Model 3 in particular has had a "huge impact" on the market. This lines up with our data, which show Tesla as the manufacturer with the most EV car insurance quotes filled out on our site in the last year.
EV charging infrastructure becoming less of a barrier
Another potential reason for the uptick in car insurance quotes for EVs could be that national infrastructure is improving, quelling concerns from drivers about where they can charge up if they decide to go electric.
"A couple of new networks have come online in the last couple of years," says Brian Millar, communications specialist at Plug'n Drive, a nonprofit organization that promotes electric vehicles, for their environmental and economic benefits. 
For instance, Electrify Canada, an infrastructure project supported by the Volkswagen Group, has begun installing ultra-fast charging stations here in Canada. 
"The second network in Ontario specifically is being spearheaded by Ontario Power Generation and Hydro One," says Millar. 
"It'd be straightforward for any EV driver to travel across the province using the current level of structure that's out there. When you go farther north, like North Bay, Sudbury, Thunder Bay, the infrastructure is still pretty slim."
What does it cost to insure an electric vehicle?
Generally speaking, EVs are more expensive to insure because the cost to replace the batteries they're powered by is expensive if they're destroyed in a collision. When calculating rates, insurance companies use a number of factors, including your gender, driving background, location, car model, whether it's a personal or business vehicle. The newer and more advanced a car's parts and features are, the more costly it is to replace them.
But that doesn't mean it's impossible to secure a good rate. If you're looking for affordable insurance for your electric or hybrid vehicle, first compare car insurance rates, and then ask your insurance provider if you're eligible for any additional discounts on top of government rebates. More insurance providers are providing "green discounts" to drivers who purchase an electric or hybrid vehicle.
A few years ago, EVs were still somewhat of an emerging novelty. But now almost everyone, including manufacturers, recognizes the role electric vehicles will play in tackling climate change.
"The industry is starting to ramp up now," says Millar. "Moving forward, the number of EV models that are going to be available in Canada is probably going to double. A lot of investments that the auto manufacturers have made are starting to bear fruit."
Methodology
Data represent drivers of all ages, genders, and across all provinces.
Quotes were completed in Q1 2020 and Q1 2021.