What is a vehicle exchange program, and is it a good idea?
By: H.G. Watson on

May 2, 2023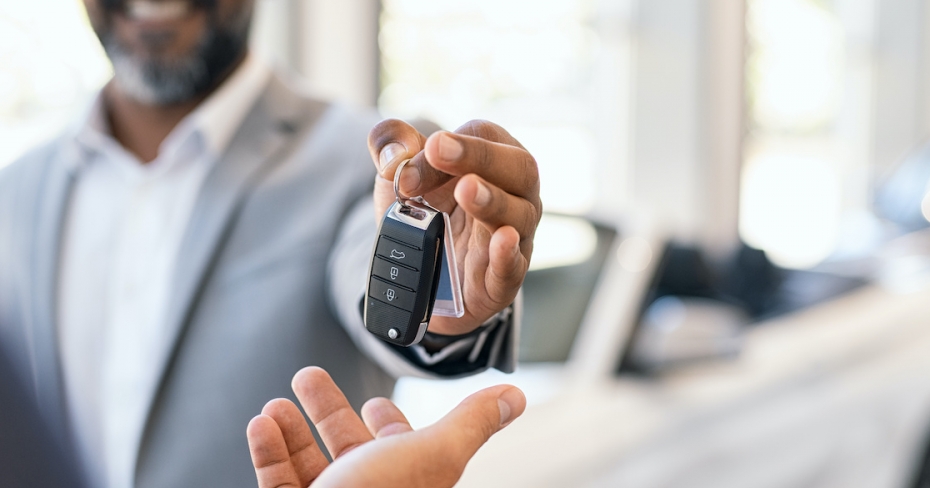 This article has been updated from a previous version.
In the last year or so, you may have received a text message, email, or call from your car dealership asking if you'd consider trading in your vehicle for a newer model, often referred to as a vehicle exchange program. 
The COVID-19 pandemic created a shortage of new cars on the market — putting additional pressure on the used car market. The average price of a pre-owned vehicle steadily rose, hitting its peak last year. But prices have only slightly improved since then. So, many dealerships are still offering incentives for people willing to trade in their used car.  
It's an attractive offer — trade in your now-used set of wheels for a brand-new model with all the bells and whistles for the same, or perhaps even lower, monthly payments than you're currently making. But there are still other costs to consider. 
How do vehicle exchange programs work?
Vehicle exchange programs are effectively trade-in or trade-up programs.  
According to the Humberview Group of automotive specialists, when you trade in a car, you are essentially selling your used car to the dealership. They'll assess its worth based on:  
its current market value. 

kilometres travelled. 

overall condition. 

the year. 

the car's make.  
Whatever they determine it to be worth, you can get in cash or put toward the value of a new or used car.  
If you opt to finance or lease another vehicle, the trade-in would lower the amount being financed, so you'd likely make lower car payments than you were before.  
For some, entering into a new financing agreement may not be an attractive option, depending on how close you were to paying off your car and whether or not you want to continue making car payments for longer than initially planned. However, this isn't the only option available to you. 
You could be paying the same or less per month to finance or lease the vehicle — but be paying more to insure it 
"If you have enough funds to make a 'cash' purchase, you can certainly trade in your vehicle and pay whatever additional amount is needed to purchase the other vehicle (outright)," says Warren Barnard, executive director of the Used Car Dealers Association of Ontario.  
How will a trade-in affect my monthly payments?
Your new monthly payment will largely depend on the amount you have left on your current loan at the time of the trade.  
"If there is still money owing on the [vehicle], over and above its trade-in value, then typically the extra amount owing will be rolled into the new loan," says Barnard.  
Depending on what stage you're at in repaying your loan, a dealership may deny the trade-in if it doesn't make financial sense for them to take on additional debt. You could also lease or purchase a used car instead of a new one, which might help keep your payments low while still upgrading your vehicle. 
On the flipside, if the current value of your car exceeds your remaining loan amount, that pays off the remainder of the loan. Any extra goes towards your new lease or financing agreement. 
Mind the GAP
Guaranteed Auto Protection (GAP) insurance is optional insurance coverage for drivers who have financed or leased a vehicle. It is highly worth adding to your policy as it offers protection if the vehicle is declared a total loss once it's already depreciated. If you're bringing any negative equity you may have had in your old vehicle to your new loan, GAP insurance is particularly valuable because it ensures that you won't owe money on the vehicle if it's wrecked.  
Will I have to pay double the sales tax?
One big advantage of trading in a car is that you'll save some money on taxes.  
Normally, when you buy a car, you pay provincial and federal taxes on the sale price. But according to Barnard, in the case of a trade-in, the tax would be charged on the difference between the selling price and the trade allowance. 
"It will absolutely reduce the tax burden," he says. 
How might a trade-in affect my insurance costs? 
With any car purchase, you also need to consider your insurance premium. Depending on the make and model of your new car, you could be paying the same or less per month to finance or lease the vehicle — but be paying more to insure it. 
There are several factors that go into determining a person's auto insurance rate, and the make and model of the vehicle is one of them. Generally speaking, the newer and more expensive a vehicle is, the more it can cost to replace, and therefore the more it can cost to insure.   
There are a few things people should consider when upgrading to a new vehicle. For example, you may want to add more coverage on a newer vehicle. If the vehicle is brand new, you may also want to add a waiver of depreciation to safeguard the vehicle's value.  
It's not guaranteed that you'll pay more for insurance after a trade-in, however. In fact, there are ways to reduce insurance payments even if you're upgrading to a newer model. Trading your vehicle for a more fuel-efficient car, for example, would help reduce your overall cost.  
Or, if the new vehicle has better safety features, your premium could actually decrease, so long as they aren't too expensive to repair. 
It's in your best interest, especially in a situation like this, to compare car insurance rates from a number of different providers before you make a decision. You can do this online for free using a quoting tool like ours. 
If I don't trade in my car, what are my other options?
Some people opt to sell their car privately. However, Barnard says this can be a more challenging avenue to take because you are responsible for doing all the work: the listing, the showings, the paperwork. And you won't get the tax benefit from the trade-in.  
"At the end of the day," he says, "the value that a dealer is likely going to give you on the price of your vehicle is probably very equivalent to what you would get in selling it privately." 
Save 30% on average on car insurance
Compare quotes from 50+ Canadian providers in 3 minutes.