I found out shopping at the nicer grocery store is costing me 30% more a meal
By: Lisa Coxon on

December 19, 2018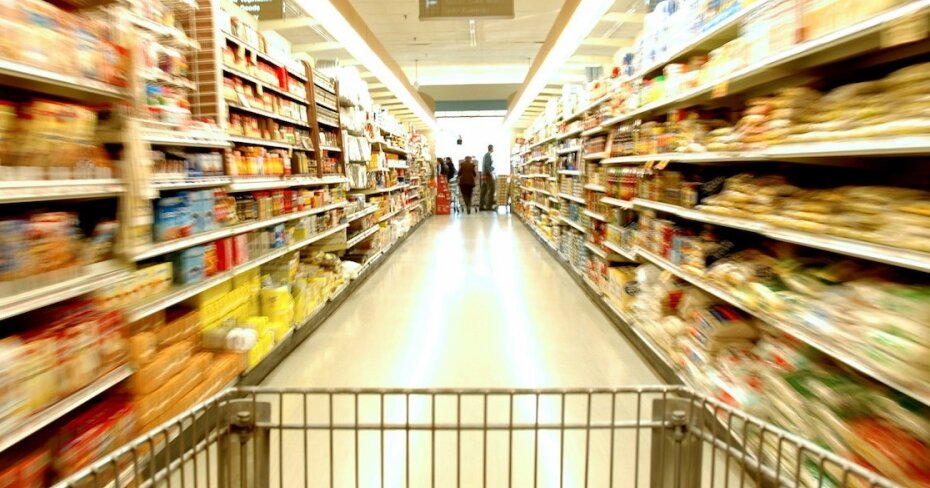 What you can find at one grocery store you might not be able to find at another. And what you spend at one you might not spend at another. Everything from brands to prices to customers varies greatly among our grocery stores. It's natural to develop a favourite that's both reliable and familiar. And in a city like Toronto, with so many different grocery chains to choose from — Loblaws, Sobey's, Fresh Co., No Frills, Food Basics — one can be, well, choosy.
I prefer to shop at Loblaws. It's clean, it's big, it's close to my apartment, and on any given grocery shop, it's guaranteed to have almost everything I need. Here, grocery shopping is akin to wandering around a beautiful and well-stocked supermarket. I'm at ease as I peruse the aisles, and I'm confident that whatever I pluck from the shelves will be ripe, without bruises, and well within its expiration date.    
That said, it's not out of the ordinary for my partner and I to leave Loblaws with a $70 to 80 grocery bill. That got me thinking: would it be so bad to try and shop somewhere cheaper?
My Loblaws devotion is proof, perhaps, that I have some pretty bougie standards. And I can't say I'm thrilled about lowering them. But maybe it's time to put my grocery store snobbery to the test. One basket of dinner ingredients from Loblaws. And one identical basket from No Frills — Loblaws' cheaper, discount grocer. For each place, I'll take you through what I bought and what I thought. We're making lasagna, though we might grab a couple other items. Let's go shopping, shall we?
Loblaws
"Those are some nice lookin' cauliflowers," my partner says to me as he scans the produce aisle. He's right. Here, I trust that I can pick up any sort of produce and it won't be rotting or deformed, or that the bananas won't go bad before they have a chance to ripen on my kitchen counter. Grocery shopping at Loblaws, I find, is rather mindless. In fact, I often catch myself not paying much attention to the price of what I'm buying.
Case in point: for this lasagna, we decide to use mascarpone cheese. Excuse me — $14 mascarpone cheese that, upon beeping its way through the checkout, nearly gives me a stroke. "Babe…" I whisper to my partner, who's begun loading up the cart with our bags. "That was f o u r t e e n dollars." The words squeak out as the regret and shame settle in. He looks surprised, but for the sake of being polite (and, I guess, for the sake of a tasty lasagna?) we quietly absorb our shock and carry on. It costs what it costs, I tell myself, as though I'm some well-heeled corporate exec. Food is a necessity.
It doesn't help, either, that Loblaws is filled with distractions. There's the bedazzling display of pomegranates as I walk through the entranceway, the stacks upon stacks of cranberry ginger ale that catches my eye; the massive wall — complete with glass sliding doors — of designer label cheese, and the various tasting stations that, every now and again, are set up throughout the store. These interruptions, coupled with my very misguided fantasy-style shopping, is how I got blindsided by that exorbitantly priced cheese (still not over it). It's a dangerous game.
Every time I enter Loblaws, there's gentle music playing over the store speakers. The lighting is soft and warm. The store is meticulously stocked. There's a vast variety of vegetables and fruit — all looking perfect. The well-dressed shoppers appear calm as they pull things off the shelves. Sure, why not, they seem to be thinking as they add more and more to their carts.
Now, I might be a grocery store snob, but I'm also fully aware that not all Loblaws are the same. One location might be the stuff of supermarket dreams; the next, a drab-looking food prison where produce goes to die. But in my neighbourhood, we've got a Sobey's one block away and a Loblaws two blocks away. And if we're buying anything other than packaged foods, like granola bars, peanut butter, or yogurt, we'll choose Loblaws. Every. Single. Time. I'll drive (and, before we had a vehicle, I would walk) the extra distance just to indulge my snobbery.
There's absolutely nothing wrong with those dented turnips... They're 100% edible. They're just not perfectly symmetrical
The lines aren't short at this Loblaws checkout, but there are seven cashiers on duty, so things move fairly quickly. Each one diligently scans and bags the items for us. When the line behind us starts looking long, we offer to help, but hey, it's not required.
The bill:
Classico pasta sauce: $3.29
PC Lime Sparkling Water: $5.49
IP Lasagna noodles: $2.99
Cracker Barrel Mozza Cheddar shredded cheese: $5.99
PC Basil: $2.99
PC Oregano: $2.99
Dole Ultimate Caesar bagged salad: $5.99
Fresh garlic: $1.23
Shiitake mushrooms: $7.44
White onion: $1.49
Turnip: $2.97
Ace bakery baguette: $1.39
Tre Stelle mascarpone cheese: $13.99 (sweet Lord, how did we miss this!?)
Reese peanut butter cup: $1.00
Plastic bags x 2: $0.10
​​
Total: $60.18 (after tax)
No Frills
A few weeks later, the mood for lasagna strikes again. But this time, I head to No Frills. I must say I've never been a fan of the highlighter-yellow walls inside these stores. The way they contrast with the fluorescent lights seems to illuminate all the imperfections of the store, including the produce. I can see that the acorn squashes are misshapen, the turnips have dents in them, and I can't say I'm not curious as to why there are so many leaves all over the store floor...
But looks aren't everything, and I know this. My partner is the head chef of a Toronto restaurant, and twice a week he drives to the Ontario Food Terminal to purchase produce for the restaurant. The experience has taught him a great deal about this province's produce system — knowledge that he has passed on to me.
Here's how it works. At the Terminal, produce is graded based on aesthetics. The more perfect-looking the produce is, the higher the grade it gets. Grocery stores bid on the produce as it comes into the terminal. Places like Loblaws have the best (see: highest) bid, so they get to buy up the higher grade produce, whereas places like No Frills buy the lower grade stuff. So, there's absolutely nothing wrong with those dented turnips I saw at No Frills. They're 100% edible. They're just not perfectly symmetrical, and therefore, less desirable to the Loblaws of the world. They've been given a lower grade and passed along to stores that buy lower-grade produce, who can then pass along those savings to their customers. (Loblaws even tried to capitalize on this a couple of years ago with its "Naturally Imperfect" line.)
Back at No Frills, I'm surprised by the wide variety of tropical fruits — ones that I've never come across at a Loblaws — like soursop, chayote squash, cocoes and breadfruit. I scan the aisles looking for my last couple of items and see "Get the frill out of your bill" plastered across the signs at the ends of the aisles. No Frills grocery shoppers really do seem to want to avoid frills. They study what they take from the shelf, as though they're actually thinking about the price and whether or not it's worth buying. At Loblaws, it can seem like people are dumping all kinds of things in their carts that they'll realize only later was an impulse purchase, or not worth what they were charged for.
As I approach the checkout lane, I remember that in the land of no frills, you have to bag your own groceries. I don't mind doing it myself. That's not the problem. It's the pressure this activity incites. There I am fumbling with my credit card while also trying to bag my groceries before the other customers' items start rolling through. Inside, I'm panicking, hoping I'll be out of the way by the time the next person's groceries come down the conveyor belt. I leave the store feeling somewhat flustered.
But when I get home, I take a look at two things: the bill, which is almost $20 cheaper than the one from Loblaws (and that's just for one meal! Imagine what I could be saving per week), and the time. This entire grocery shop has only taken me a half hour. At Loblaws, we normally spend 45 minutes to an hour shopping. For one, the store is exponentially bigger, which means it takes longer to walk from one end to the other. But it's also filled with those distractions I mentioned earlier. At No Frills, I was focussed. In and out. Not only did I save money, I saved time while trying to save money. I think I could get used to this whole comparison shopping thing.
The bill:
Classico pasta sauce: $3.27
PC Lime Sparkling Water: $5.27
IP Lasagna noodles: $2.57
Cracker Barrel Mozza Cheddar shredded cheese: $6.47
PC Basil: $1.97
PC Oregano: $1.97
Dole Ultimate Caesar bagged salad: $4.97
Fresh garlic: $0.55
Shiitake mushrooms: $3.97
White onion: $1.27
Turnip: $0.83
Baguette (no-name): $0.88
Tre Stelle mascarpone cheese: $8.29 (smaller size than one purchased at Loblaws)
Reese peanut butter cup: $0.88
Plastic bags x 2: $0 (whether it was a mistake or not, I wasn't charged)

Total: $43.96 (after tax)

Total savings: $16.12. That's just shy of 30% savings.
The verdict is crystal clear: I'm spending significantly more money and time than I need to, only because I want to. That doesn't sound like something a personal finance writer should say out loud. The real kicker is: both lasagnas tasted the same. It didn't matter whether I bought the ingredients from Loblaws or No Frills. So maybe that's the big takeaway. Snobbery in any form is harmful, but grocery store snobbery — mine in particular — only ends up harming the bank account.