Nearly 40% of Canadians don't know mortgage rates are negotiable
By: John Shmuel on

May 22, 2019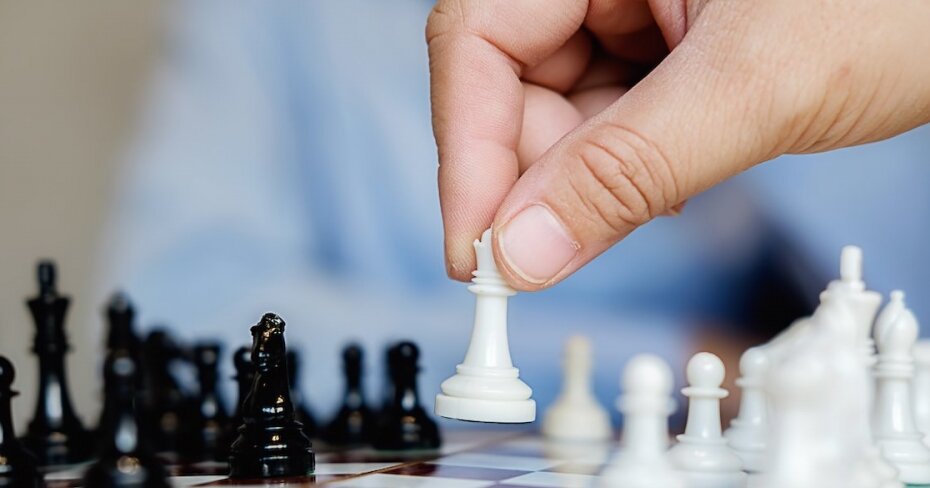 Knowing how to negotiate can get you a lot of good deals in life. That includes on major financial products like mortgages.
But our latest survey found that a lot of Canadians don't know you can negotiate mortgages  — something that can save you thousands of dollars a year in interest costs.
We surveyed 733 Canadians who use our site and found that 37.1% didn't know you can negotiate a mortgage to get a better rate.
When you walk into a bank, banks have what are known as advertised rates and discretionary rates. Advertised rates are what you see listed when you go to their website. Discretionary rates, meanwhile, are much better rates that you can get if you negotiate.
We'll talk more about this below. But first, let's break down some of the more interesting findings from our survey.
Canadians want rate transparency
The overwhelming majority of Candians don't want hidden mortgage rates. Our survey asked whether Canadians feel that banks should make their lowest mortgage rates public — a full 89.8% of Canadians said they should.
We also asked them if they felt that having to negotiate a mortgage is unfair — 53.7% said yes.
This makes sense. Buying a home and securing a mortgage is already a stressful process. There are a lot of variables at play — should you get a fixed or variable mortgage? Should you sacrifice a lower rate for a more flexible mortgage that offers prepayment options?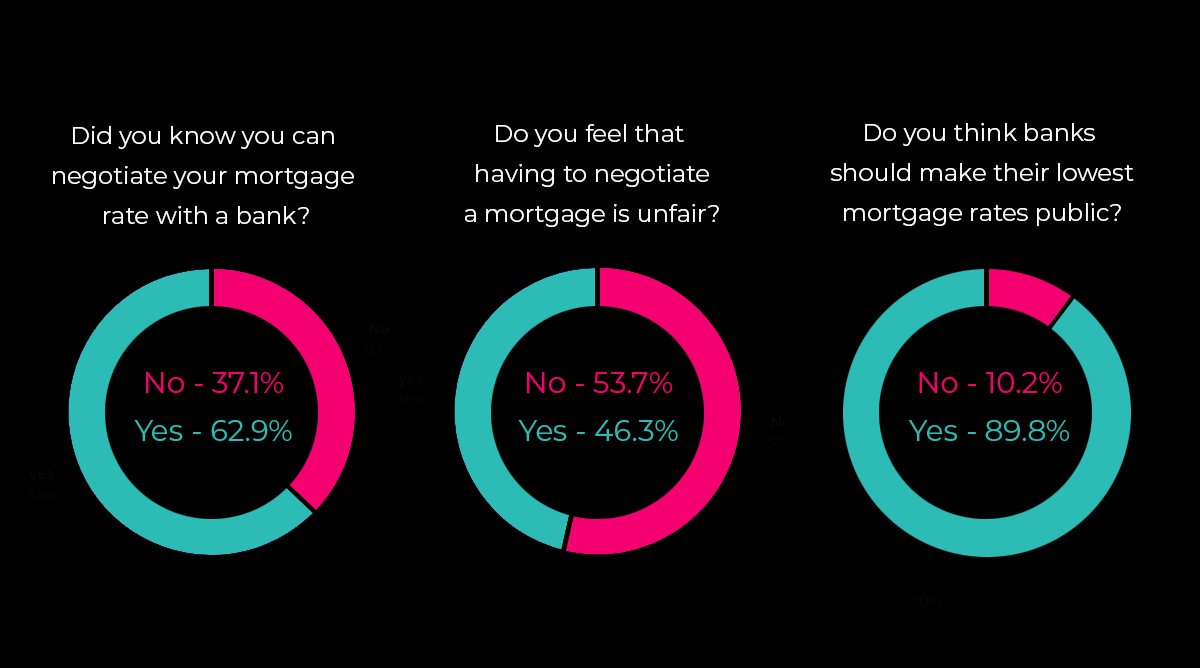 Amidst all of that and buying a home, you might not have your best foot forward to negotiate the best deal.
But negotiating is important — not knowing how can really cost you. Here's an example. On LowestRates.ca, the lowest advertised rate for a five-year fixed mortgage is currently 2.74%. If amortized at 25 years, the monthly payment comes out to $2,272.
Taking a look at the big banks, the best advertised rate for a five-year fixed mortgage is 3.29%. That adds up to a monthly payment of $2,412 — or $140 more than the best rate on LowestRates.ca. Over a year, you're paying $1680 more for that mortgage. And over a 25 year period, that adds up to $42,000.
What you need to know about discretionary rates
As mentioned, banks — as well as brokers — can often offer you a better rate than what they openly advertise. Now, not every lender will offer room to negotiate, but many do.
So what do you need to know?
For starters, know that the best rates go to good borrowers with excellent credit scores. Knowing where you stand in this regard will give you a better position to begin your negotiation. Also start with research — using comparison sites like LowestRates.ca will allow you to quickly glance at the best rates brokers are offering online.
Now, you have to understand how the person you're speaking to about your mortgage gets paid. Most brokers and reps at the banks selling mortgages get paid through commission. In the case of brokers, those advertising low rates online are lowering their commissions from the lender in exchange for getting a lower interest rate on your mortgage.
When you start your negotiation, you need to make sure the person you're dealing with is earning a commission. That's how you're going to negotiate your lower rate. Again, not everyone is willing to lower their rates — brokers, for instance, may tell you that while others can go lower with their rates, they provide specialized advice that is worth the higher cost of entry.
If you've decided you prefer the lowest rate, and you know your broker or mortgage rep is on commission, bring them the lowest rate you've found online. Ask them to match it — although make sure that that rate is for a comparable mortgage. For instance, some of the lowest rates shown online are often for high-ratio mortgages — that's for buyers who put down less than 20% and have government default insurance on the mortgage. Also keep in mind many of these mortgages don't offer perks like prepayment options.
A final word
This is all meant to be a starting point for you to understand the process of negotiating a mortgage. It's by no means an in-depth guide.
It's clear that many Canadians out there weren't even aware this was possible — so we help this is a small stepping stone for everyone to better understand the mortgage process. After all, we're literally talking about saving hundreds or even thousands of dollars with just a little bit of negotiation.