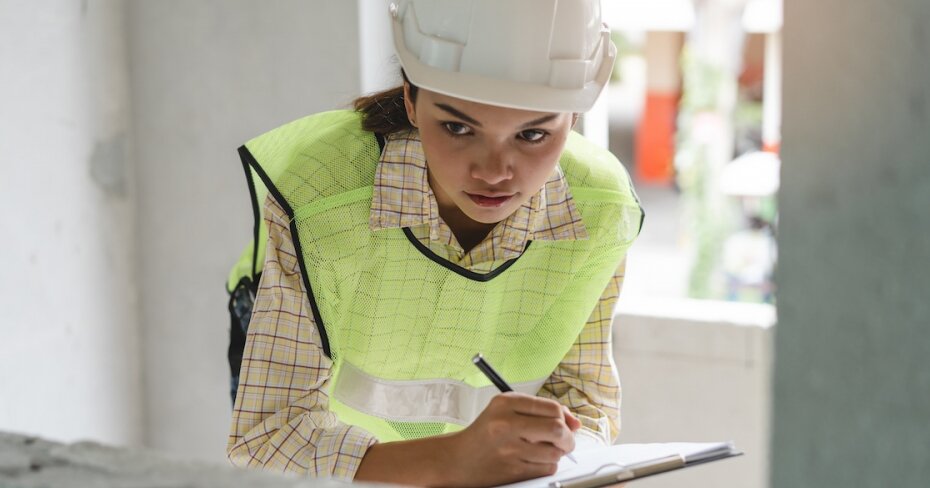 For many homebuyers, a home inspection is a vital step when considering the purchase of a home — after all, it's one of the largest financial decisions of your life, and you want to know everything you can about what you're getting into. 
A home inspector will look over the house, everything from the shingles to the foundation, to see if there are any deficiencies that should either be fixed before a buyer takes possession, or that might impact their offer. For a fee of approximately $500, a home inspector will check the electrical, HVAC, and plumbing systems, as well as the home's insulation, flooring, ceiling and walls, windows and doors. Most people find a home inspector via a quick internet search or recommendations from their realtor, family, or friends. Your province might also have a Home Inspector's Association that can point you towards a reliable professional. 
While home inspections aren't legally required for securing a mortgage or home insurance, they can be a valuable tool for those purchasing a home, especially first-time homebuyers.
When my partner and I were looking for our first house in the fall of 2010, we had no idea what to look for when it came to even the basics, so there was no question that we would hire a home inspector to help us evaluate any house we decided to put an offer on. We figured that between the home inspector, and input from family members who'd already been through the homebuying process, we'd be able to make an informed decision.
But that was before my home inspector missed several major issues. Now I've decided that I'll never use one again. 
Major problems overlooked
My partner and I were excited to find a detached home in the city, with a fully fenced yard and a parking spot! We could tell by the look of the place it would need some work, but felt we'd found our dream house.
On the advice of family and friends, we sought out a home inspector with a reputable company. The inspector came to the house, and explained what he was going to look at before setting about the task. He climbed on the roof, in the attic, and checked the furnace in the basement, among other things. While he told us some of the obvious results on the spot, like the loose tiles in the shower (more than $1,500 to repair) and the main water service pipe being lead (about $1,000 to $2,000 to replace), we'd have our full report emailed a few days later.
There were some issues he spotted that would need further investigation if we were to go ahead with the purchase: the water damage to the basement floor didn't have an obvious source, and he said the roof shingles and furnace were nearing the end of their life, but he expected that we would be able to get a couple more years out of both.
The exterminator showed us clear evidence of termite infestation along the beam, which the inspector should have caught
Because the house was in foreclosure, we only had to deal with the bank, and thankfully dodged having to go through a bidding war, which is common in Toronto real estate. We adjusted our offer on the house accordingly, lowering it by a few thousand dollars, and waited for the bank to respond. The bank accepted, and we closed that Halloween. We had a couple of months overlap between when we took possession and when we needed to move out of our apartment, so we made plans to remove the damaged flooring in the basement and give the place a deep clean in the meantime. 
One of the first orders of business was getting the furnace serviced so that we'd have heat. But when the HVAC technician came, he found that our furnace was leaking gas. He red tagged us (meaning he literally tied a red tag around our furnace that said it was unsafe to use and as a result, had been disconnected) and shut off the gas service to the house. We couldn't get the gas turned back on until the furnace was repaired (he didn't recommend this, since it was a nearly 25-year-old unit) or replaced. It cost us nearly $10,000 to purchase a high-efficiency model, as we weren't interested in the hassles of a rental unit. 
Things got even worse after we began tearing up the parquet flooring in the basement. As my partner lifted up a large chunk, I saw hundreds of small white ants. My heart sank. I knew right away that they were termites, and a visit from an exterminator confirmed my fears. They were everywhere, and had even eaten through our main support beam to the point that you could easily push a screwdriver through it. The home inspector had said he believed the uneven floor on our main level was due to settling of the foundation that the main support beam laid on, because he found the beam itself to be solid. But the exterminator showed us clear evidence of termite infestation along the beam, which the inspector should have caught. 
No liability from the home inspection company
When we explained these issues to the home inspection company, it merely pointed us to the clause in our contract which states that the company is not responsible for any mistakes or oversights in its inspection. In other words, we had no recourse. 
I couldn't help but feel like we'd wasted several hundreds of dollars on a service that didn't catch some pretty major issues that would have had a tremendous impact on the offer we made for the house. Everything the home inspection company put together for us in its 40-page report seemed to be things we could have looked after ourselves, such as checking the date on the hot water tank and furnace.
Now that we've more or less rebuilt the place from the ground up, I feel confident enough in my knowledge of home repairs and maintenance that I could assess any future homes I might buy, without a professional inspector. Add to that the fact that the government only established minimum standards and regulations for home inspectors in 2017 (an official Home Inspection Act is expected to be implemented sometime this year), and that certification can be completed online in a matter of weeks, and you can see why I don't have much confidence in the profession.  
I also think about my friends who waived the condition of a home inspection on their offer for their current home. The home inspector found asbestos in the walls and flooring, but they wanted the house so badly they didn't care. So really, what was the point of the inspection if it wasn't going to influence their purchase decision? Some might argue it's just good to know, but asbestos isn't likely to be a problem unless you disturb it, so they might have been fine. 
While some first-time homebuyers may find value in a home inspection, I know that I'll never use one again. And who knows? Maybe waiving the condition of a home inspection will even make my offer more appealing to sellers in this sizzling real estate market.