REPORT: The most popular fuel types among used vehicles in Canada
By: Hayley Vesh on

October 28, 2021
Key findings
Gasoline is both the most popular and most widely available fuel type. On average, 75% of Canadians viewed used gas vehicles in Q3 2021 on Carpages.ca, and more than 12,000 gas stations are currently operating in Canada.
Flex fuel vehicles (e.g., cars that can run on ethanol-gasoline blends, up to 85% ethanol) are the third-most popular fuel type across the country's used vehicle market; however, fueling stations are sparse.  
Despite global initiatives to reduce emissions, less than 1% of drivers are looking for an electric vehicle (EV) in the pre-owned market.
The cars that bustle down busy streets today are quite different from the steam-powered motorcars of the 1770s. Now, most vehicles run on gasoline, the most popular fuel source since 1905 — that's for more than a century. But with advancements in technology and initiatives to reduce greenhouse gas emissions, it may not be for much longer.
In partnership with Carpages.ca, we set to explore the most popular fuel types among pre-owned vehicles in Canada on the Carpages.ca website from Q3 2021. Fuel type refers to the kind of fuel a vehicle uses to run (e.g., gasoline, diesel, etc.), and popularity refers to the percentage of online views each fuel type received from each province and territory.
Gasoline is the number one fuel type across Canada
On average, 75% of views on Carpages.ca in the third quarter of the year were for gas vehicles — it is the leading fuel type in every province and territory. But when there are more fuel options than ever before, why might that be?
"For one thing, it's still the most widely available fuel type," says Ben Mirecki, president of Carpages.ca.
More than 12,000 gas stations operate in Canada, so it's not hard for drivers to fill up their tanks when and where they want. However, global demand sent gasoline prices soaring to record highs at the beginning of October, hitting drivers in the pocketbook. It's not unusual to see gas station signs in Ontario, for instance, displaying prices of $1.45 or higher right now.
"There are a lot of people who buy EVs because it is cheaper to charge a battery than to fill up a tank of gas," Mirecki says. "On the pre-owned side, I don't know how much of a factor that is because it's still, in the long run, cheaper to buy a used gas vehicle than an electric vehicle."
The long-term maintenance for an EV, such as replacing the battery, costs more for the time being. In some cases, a new battery can be more expensive than the car's value at the time replacement is required.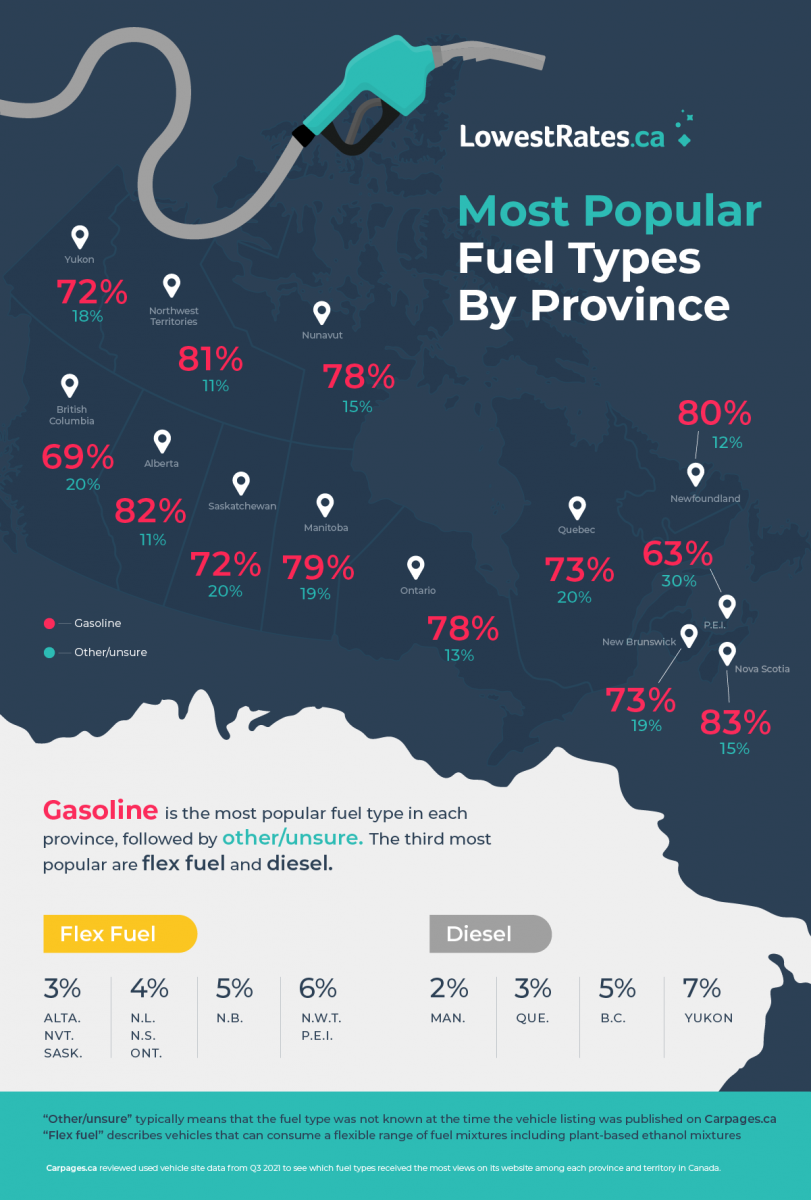 Flex fuel vehicles are more popular than diesel
The Carpages.ca data reveal the second-most popular fuel type in Q3 2021 to be "other/unsure," which means the fuel type was not known when the vehicle listing was published on the Carpages.ca website.
However, of the known fuel types, flex fuel is more popular than diesel in seven of the 10 provinces and two out of three territories.
These are the regions where diesel was more popular than flex fuel in the third quarter of this year:
British Columbia
Manitoba
Quebec
Yukon
Flex fuel, formerly known as E85, contains 85% ethanol and 15% gasoline. Ethanol is a renewable fuel source made from corn and wheat. Gasoline comes from crude oil, a finite resource.
"Flex fuel is popular with trucks," Mirecki says. "A lot of the new pickup trucks have the option of burning either straight gas or a gas mixture."
Flex fuel vehicles can be identified by their signature yellow gas cap, yellow gas cap ring, or sticker on the fuel filler door. However, many Canadians may be unaware their vehicle even has the option to run on flex fuel because the fuel supply is sparse.
When searching the Electric Charging and Alternative Fuelling Stations Locator from Natural Resources Canada, zero results appear for ethanol (E85) fuel. A quick Google search fared a bit better. Drivers may find the nearest flex fuel station from Facebook groups, Reddit, or other public forums, but it can take some legwork.
When it comes to performance, flex fuel contains less energy, resulting in a lower fuel economy than pure gasoline, although generally seen as a more environmentally friendly option because it emits fewer greenhouse gases and therefore burns cleaner than gasoline.
On the other hand, diesel has a higher energy content than gasoline, reducing fuel consumption by 15 to 30%.  
Diesel vehicles are generally more expensive to purchase than gasoline-powered vehicles; however, "diesel engines cost less to run since they burn fuel more efficiently," Mirecki says. "Diesel is popular in pickup trucks because diesel engines have more towing/hauling capacity than gasoline equivalents."
For this reason, diesel trucks are popular in industries that require heavy lifting, like farming, mining, and logging, many of which operate out West or in remote communities.
Electric vehicles flop on the pre-owned market
While electric vehicles are likely the way of the future, the data show that less than 1% of car shoppers in Canada are looking for a used EV. In fact, this engine type featured in the bottom two across most provinces.
"Gas engines are still by far the most popular," Mirecki says. That said, EVs are gaining in popularity.
"On Carpages.ca, we have nearly 1,500 pre-owned electric vehicles for sale right now across Canada," says Mirecki. "We are seeing more pre-owned EVs coming onto the marketplace."
Mirecki explains that the drivers who bought electric vehicles first popularized five or six years ago are due for an upgrade, though the average EV on the site is three years old (i.e. 2018 models). "The problem with pre-owned EVs," Mirecki says, "is that the battery life can be an issue."
Mirecki gives the example of a Tesla, which has an eight-year warranty on batteries. After eight years, though, the charge capacity starts to diminish. So instead of getting 600 kilometres out of a battery, the distance you'll get from a charge will be less and less over time. The driver will have to replace the battery at some point, and the cost can be exorbitant.  
"Until they figure out that problem, I think it's going to be hard to see a lot of interest in used EVs," Mirecki says.
Car manufacturers may have to solve this issue sooner rather than later. Earlier this year, the Government of Canada set a mandatory target for all new light-duty cars and passenger trucks sales to be zero-emission by 2035. This ambitious initiative would require a substantial overhaul of infrastructure and the automotive sector as a whole.
"The impact that will have on the pre-owned market will be really interesting," Mirecki says. "If you can't easily get a $4,000 [used] gas vehicle 15 years from now, then what are your options?"
New EVs can cost at least $15,000 more than gas-only vehicles, increasing car payments and stretching consumers' budgets. To put the cost into perspective, the average price of a used vehicle is around $28,000, according to Canadian Black Book, a leading source of vehicle values. That number has steadily increased over the summer due to demand and a microchip shortage. However, even with the increase, the cost difference for a new EV alone is more than half the price for the average used vehicle.
How does fuel type affect car insurance rates?
Insurance providers use many factors to calculate a driver's insurance premium, including age, gender, home address, and vehicle type. Insurance companies will also use the age, make, and model of the driver's car to analyze crash-test scores, theft and safety ratings, and the size of the engine to determine risk.
Vehicles with higher power engines or more expensive parts will typically see higher premiums. Diesel engines, for instance, are more expensive to repair than gasoline-powered ones. EV batteries are more costly to replace than those in diesel or flex fuel vehicles.
If you are shopping for a used vehicle, no matter the fuel type, be sure to compare car insurance rates as you shop. It may help narrow down your final decision and ensure you get an affordable rate for the coverage you need.
Methodology
Carpages.ca reviewed used vehicle site data from Q3 2021 to see which fuel types received the most views on its website among each province and territory in Canada.