Online searches for electric vehicles in Canada jump 295% in last two years
By: Shaistha Khan on

December 14, 2022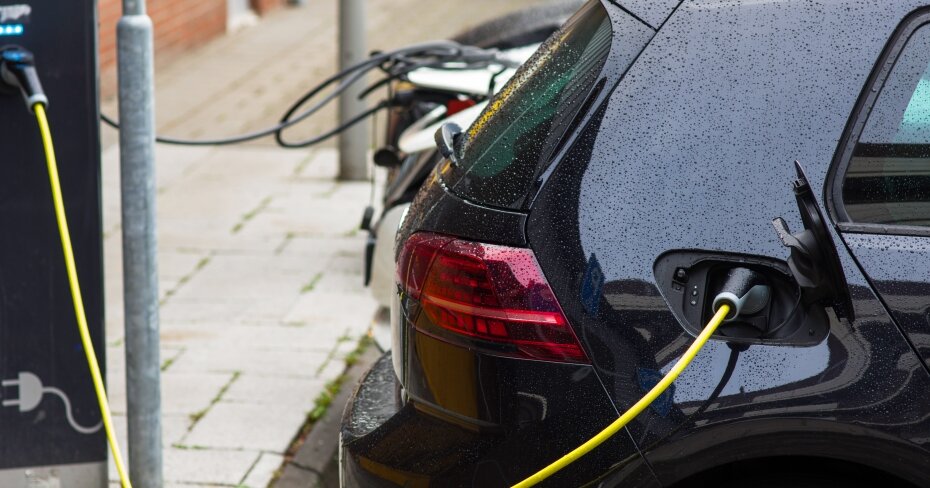 While electric vehicles technology has been around since the 1800s, EVs only became particularly popular with the introduction of Tesla Motor's luxury electric sports car in 2006. Over the next few years, Nissan and Chevrolet began adopting EV and plug-in EV technologies.  
Faced with high fuel prices and concerns about one's carbon footprint, Canadians are now considering EVs as an alternative solution to cars that run on gasoline. And according to Carpages.ca, an online marketplace for used and new cars, there has been a significant year-over-year rise in the search interest and popularity of EVs. 
Search popularity for EVs jumps 295% since fall of 2020 
Data collated over a period of two years (October 1, 2020 - September 30, 2022) demonstrates a significant increase in search volume for EVs.  
Searches for battery-powered electric vehicles (BEVs) saw a 295% increase during this period. And plug-in hybrid electric vehicles (PHEVs), which use a combination of batteries and gasoline, saw a 206% increase in search volume throughout the same time period. 
While electric and hybrid vehicle searches on Carpages.ca still represent less than 1% of the site's total search volume for all vehicle types, their popularity is clearly growing.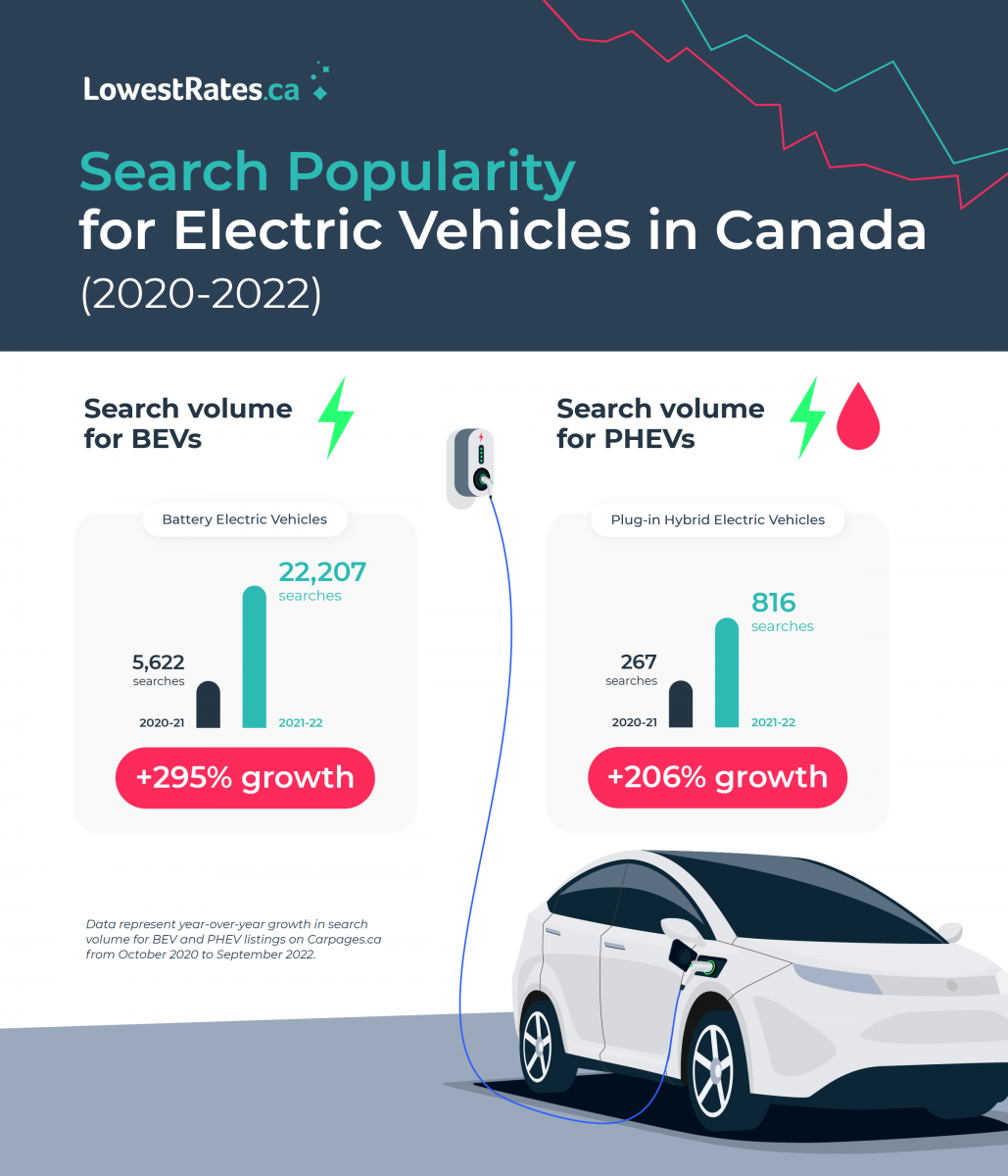 Tesla's BEVs, particularly Model 3, Y, and X, have seen the highest search growth, with the Model 3 yielding an increase of more than 6,000 searches from 2020 to 2022. The second-highest interest is for Hyundai BEVs, with the IONIQ seeing an increase of nearly 600 searches, and the KONA electric with 432 searches. On the other hand, the Toyota Prius saw a decline from 35 searches to zero during the same time frame. 
What's driving the demand for EVs in Canada?  
EVs appear to finally be having their moment. But what's behind this consumer shift?  
Canadian government incentives: Ben Mirecki, president of Carpages.ca, believes that the Canadian government's push towards phasing out gas engines and eventually, replacing them with EVs, might be one reason for increased popularity. For example, under the Incentives for Zero-Emission Vehicles (iZEV) Program, there is a purchase incentive of up to $5,000 for the purchase or lease of an eligible BEV or PHEV. Additionally, supporting the development of the industry by building a network of 50,000 EV charging stations across the country. 

High price of fuel: With the national average price of gasoline at $1.44 per litre, many Canadians are seriously considering opting for an EV. Mirecki also notes that the low cost to operate an EV may be driving demand, too. "Instead of paying for fuel fill-ups with gas, people are just paying to charge the battery, which is a lot cheaper."  

Environmental impact: With climate change, more and more Canadians are also reconsidering their carbon footprint. "There are definitely environmental reasons for purchasing EVs," he says, "and I think some of the early adopters who bought Teslas 10 years ago were definitely in that group or market segment." 
However, Mirecki notes that purchasing decisions are still largely driven by price. "I may be interested in reducing my personal emissions, but if the cost of doing that is three times what it would cost to buy a gas-powered car, then it's a hard decision to make." 
While there has been a rise in EV popularity, Canada still lags behind with widespread EV adoption, in comparison to other countries.  
Which EV models are the most popular? 
"Tesla has been a pioneer in the EV industry," says Mirecki. "When they started making EVs 16 years ago, they were the first company to mass produce any kind of EV, so they've had a jumpstart on everybody else. I think that's part of the reason for their popularity." 
Similarly, Nissan, Chevrolet, and Hyundai all have had various EV models for at least 10 years, which has given them some time to attain popularity. In comparison, Ford's F-150 electric pickup truck is a much more recent development, demonstrating that the first-mover advantage has helped these brands gain more credibility and popularity in the EV market. 
"Traditionally, companies that didn't advertise their EVs are now jumping on that bandwagon, a trend that we're going to see continue well into the future," says Mirecki. He also notes that on the used-car market side, there are currently five General Motors EV models listed on Carpages.ca, but two years ago, there were only two models. 
What does it cost to insure an EV in Canada? 
Auto insurance for an electric or plug-in hybrid electric vehicle might be slightly more than what you'd pay to insure a gasoline vehicle, as the costs of replacing the batteries in case of a collision is expensive.  
The good news is that many insurance providers offer a "green wheel" discount to encourage or reward individuals who are making an eco-friendly choice. Comparing EV and hybrid car insurance rates from different insurance companies also ensures you are getting the lowest rate.  

Interested in creating content with LowestRates.ca? Reach us at email@lowestrates.ca.  
Save 30% on average on car insurance
Compare quotes from 50+ Canadian providers in 3 minutes.