Saving With Your Smartphone: Part 3 – Deal Finder Apps
By: Lucy Zemljic on

November 20, 2014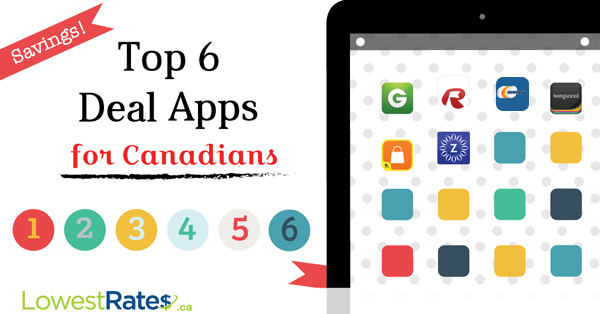 So far in our money-saving apps series, we've counted down
coupon clippers
 and helped you stretch your hard-earned dollars 
at the grocery store
. But what about all those
other
times you've wished you could snag a bargain? Have no fear, there's an app for every I-wish-I-could-get-this-cheaper moment, and they can help you save on everything from electronics to apparel to local (or international) getaways.
Thanks to these six handy deal-detecting apps, you don't have to overpay for your next purchase, whether it's a shiny new tablet or a night of wining and dining. Read on to find out which apps can help Canadians get the best bargains around!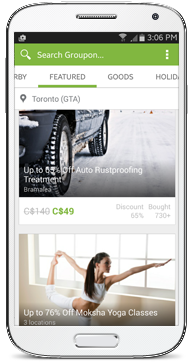 This popular deal-a-day site launched its mobile app in 2011 – Canadians can now get serious discounts on everything from yoga classes to Starbucks gift cards to Vegas vacations, with just a few swipes and taps.
Simply select your location from the list of Canadian cities, and voilà – instant deals. Browse through discounted goods and activities in your area, including a "Best of the Best" list. Choose from categories including electronics, health and beauty, entertainment, auto and more. When you find one that catches your eye, simply give it a tap then read up on highlights and fine print. At the bottom of the screen, a countdown shows how much time left you've got to catch the deal, so act fast!
LivingSocial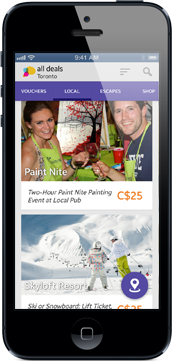 Sick of hitting up the same old bar in town? Visiting a new city and looking for something to do? There's an easy way to fix that, and it's called LivingSocial.
This deal-a-day marketplace has brought its online platform to Canadians' smartphones and tablets, so you can find your next city adventure at a great discounted price. Just sign up and LivingSocial will detect your current location, then fetch a fresh batch of deals available in your area. Filter by categories like restaurants, activities, and fitness, and take your pick of deals ranging from snow-removal discounts to belly-dancing classes to steakhouse meals. If you're craving an escape, swipe left and find deals on local or international getaways, too.
ShopWise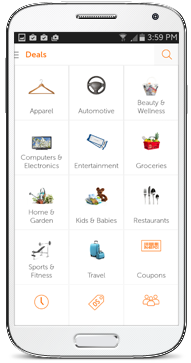 From the iconic Yellow Pages Group comes ShopWise, a Canadian-made app that puts bargains and deals in the palm of your hand. Select your city, then look through the latest bargains and Editor's Picks, or browse through categories from automotive to travel.
Looking for a tablet? Type it in the search box and scroll through the available deals – when you find one you like, give it a tap to check out its features and click on the link that'll bring you to the retailer's site. This app hails from the makers of the Yellow Pages themselves, so there's no lack of thoroughness here, and that means no more browsing through websites for hidden deals and savings!
RedFlagDeals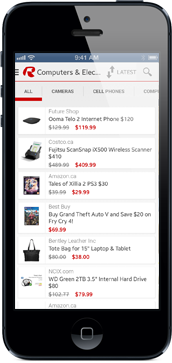 Canada's beloved RedFladDeals.com has gone mobile, making it even easier for Canadians to snag the hottest items at the lowest prices. Browse deals by category, check out coupons and flyers, and receive push notifications so you'll never miss another bargain. It even brings the well-known RedFlagDeals forum to your smartphone so you can chime in on lively deal discussions and see what others have to say about that shiny new item you've been eyeing.
For Fashion-Lovers: 

Zulily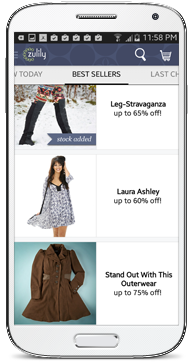 "Something special every day" is Zulily's motto, and it's pretty on point. Admittedly, this app isn't for everyone, but for lovers of fashion and all things adorable it's a mobile dream come true.
You won't find any electronics or car wash coupons here, but if toga dresses, infinity scarves and ruby red lipstick are your cup of tea, then the Zulily app is a must-have. Want actual cups of tea? Zulily's got that too, and with new items added every day at 50%, 60%, and 85% off, you can afford to splurge (just a bit). Scroll through categories including women's and men's apparel, shoes, beauty, and home, or browse through best sellers, last-chance items, and today's fresh deals. If you pick a deal that starts tomorrow, it'll even remind you about it the next morning!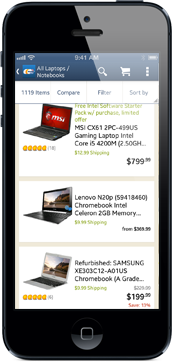 If you'd rather splurge on computer parts than cashmere sweaters, check out the Newegg app. Canadian techies know that if there's one online destination for serious deals on technology, it's Newegg.ca. Now, this tech-lovers heaven has brought its award-winning website to the mobile world with the release of its smartphone app. Browse through categories from laptops to outlets to gaming, then take your pick of specially-selected products. So whether you build your PCs from scratch, or just want a new tablet on the cheap, Newegg mobile is a one-stop-mobile-shop for all things technology.