Spooky Season Savings: Part 3 – The Party
By: Lucy Zemljic on

October 24, 2014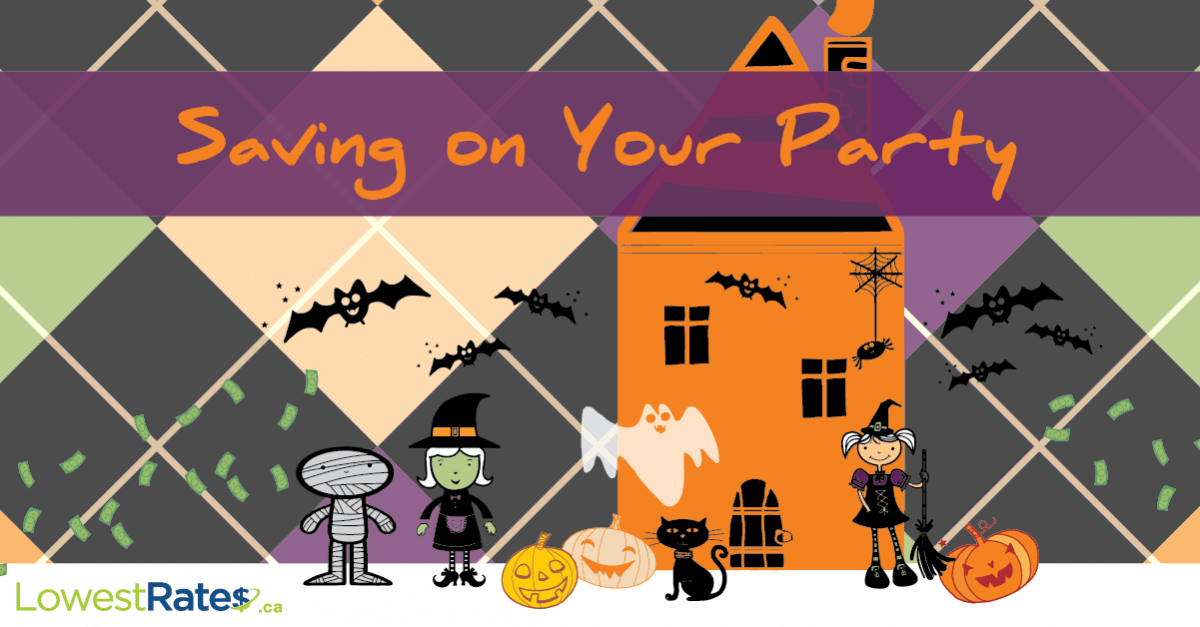 You've got
the costume
and you've set up
the decorations
, now all that's left is to put them to good use for your upcoming Halloween party. Setting up your big event on a budget doesn't have to be scary, though – avoid spooky party sticker shock with these 5 tips!
1. Send out E-invites Instead of Paper Ones
Instead of dishing out on expensive paper invites, go with the e-alternative and send out customized e-mail invites instead. The best part? They won't cost you a dime! Check out sites like evite.com, 123greetings, and smilebox.com for free Halloween-themed e-invites – some of them are even animated!  
2. Check out the Dollar Store, not the Party Store
You don't need to hit up a pricey Halloween or party store to stock up on supplies. There are plenty of low-cost party items to be found at dollar stores. Around this time of year, they're full of inexpensive Halloween-themed items: fill up on bat-shaped ice cube trays, jack-o'-lantern paper plates, and skull-shaped plastic cups. Save any leftover party supplies for next year's festivities – spooky supplies never go out of style.
3. Make Your Own Terrifying Treats
Another thing you don't need to spend big bucks on are your Halloween hors-d'oeuvres. The amount of online Halloween-themed recipes is practically endless, and most of them are easy and budget-friendly. Try your hand at
witches' finger cookies
,
mummy hotdog rolls
, and
Halloween punch
.  
4. Make it BYOB
Everyone knows that alcohol is one of the biggest expenses of any party. To cut down on the cost of alcohol, make it BYOB – stick with non-alcoholic soft drinks and punches and your guests can bring their own beverages. If you simply can't go without serving
some
alcohol, buy a small bottle of black vodka to brew up some
Halloween Spirits
– these black-as-night tonics will be a hit!
5. Get Creative with Party Games 
All it takes is a little creativity to come up with some ghoulish games for both kids and adults. The little ones can bob for apples, pass the pumpkin (à la hot potato), and play the classic "Killer" winking game.
Adults can partake in a simple "Guess How Many" game with a jar of candy, or the more elaborate 
Murder in the Dark
 game. Have your friends and neighbours show off their spooky smarts with Halloween trivia – questions like "What is Dracula's full name?" and "Name one classic Halloween song" are sure to keep everyone busy.  
6. Give out Candy Alternatives
If your party falls on October 31st, you'll have those incoming Trick-or-Trickers to think of, and even if it doesn't, you still have to prepare goodie bags for your younger guests. This year, instead of giving away the usual sweets, opt for non-candy alternatives like scary stickers, plastic spider rings, and Halloween pencils and erasers. Kids get a ton of candy on Halloween, so these little non-sugary treats will be a novelty. 
Best of luck!