Get this card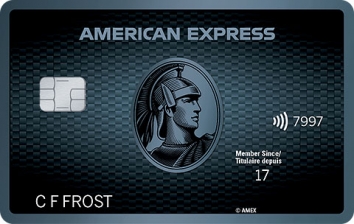 American Express Cobalt® Card
Apply Now
Network Provider

American Express

Provider

American Express

Type

Rewards

Annual fee

$155.88

($12.99 /month)

Purchase interest rate

20.99%

Cash advance rate

21.99%

*provided you make your minimum monthly payments on time

Balance transfer rate

N/A

Credit Needed

Fair (575-649)
Card description
In your first year as a new Cobalt Cardmember, you can earn 2,500 Membership Rewards® points for each monthly billing period in which you spend $500 in net purchases on your Card. This could add up to 30,000 points in a year

30,000 points is enough for:

$300 in statement credits redeemed towards purchases charged to your Card or
$225 in American Express® Prepaid Cards

Plus, you can earn a Welcome Bonus of 20,000 Membership Rewards points when you spend a total of $3,000 in purchases on your Card in your first 3 months of Cardmembership
Earn 5x the points on eligible eats and drinks in Canada, including groceries and food delivery
Earn 3x the points on eligible streaming subscriptions in Canada
Earn 2 points for every $1 spent on eligible transit & gas purchases in Canada and eligible travel purchases. That's 2X the points on purchases that get you from point A to B
Earn 1 point for every $1 in Card purchases everywhere else. We won't tell you where to spend, we'll just reward you on your Card purchases
Transfer points 1:1 to several frequent flyer and other loyalty programs
Cobalt Cardmembers receive regular Perks such as bonus reward offers and access to great events
Access Front Of The Line® Presale & Reserved Tickets to some of your favourite concerts and theatre performances and special offers and events curated for Cardmembers with American Express® Experiences
American Express is not responsible for maintaining or monitoring the accuracy of information on this website. For full details, current product information and Terms and Conditions, click the Apply now link. Conditions Apply
Card Features
24/7 Customer Service
Entertainment Benefits
Fraud Protection
Rental Car Insurance
Travel Benefits
Travel Insurance
About This Card
The American Express Cobalt Card is a credit card that's tailor-made for millennials with active social lives: the foodies, the Instagram influencers, and the summer festival-goers.
The provider itself doesn't even refer to the Cobalt Card as a regular old rewards card — it's a lifestyle card. To drive the point home, Amex opened a pop-up restaurant in Toronto's Kensington Market for the card's launch, the menu curated by celebrity chef Gordon Ramsay.
The Cobalt Card supercharges rewards by a factor of five when you use it to buy groceries, restaurant meals, and drinks. Earn twice the points if you pay for your cab rides and gas refills with the card.
The aim of the card, according to Amex, is to reward millennials for simply doing the things they do every day.
Broken down, the earn rate works like this: earn 5 points for every dollar spent on food and drinks (that includes meal kit delivery services!), earn 3 points for ever dollar spent on eligible streaming subscriptions in Canada, earn 2 points for every dollar spent on transit, gas and eligible travel purchases, and earn 1 point on all other purchases.
Once you've banked 1,000 points, you can either redeem them for $10 to spend on travel expenses or $7 for anything else. The card has a mobile app to make redeeming points easier. You can pay for streaming subscriptions or buy stuff on Amazon from the app.
In your first year as a new Cobalt cardholder, you can earn 2,500 Membership Rewards® points for each monthly billing period in which you spend $500 in net purchases on your card. This could add up to 30,000 points in a year.
30,000 points is enough for:
$300 in statement credits redeemed towards purchases charged to your Card or

$225 in American Express® Prepaid Cards
The Cobalt Card charges a monthly fee of $12.99, which adds up to $155.88 per year. To qualify for the card, you need a fair credit score (575-649). An annual percentage rate of 19.99% applies on outstanding balances and the interest rate for a cash advance is 21.99%. And finally, there's a 2.5% charge on foreign transactions.
Why get The American Express Cobalt Credit Card?
Earn a respectable amount of points in the first year - New cardholders could realistically earn up to 30,000 bonus points in the first year. Here's how it works: you'd need to spend $500 a month on your credit card, which adds up to 2,500 points a month, or 30,000 points after 12 months. Voila.
A diverse points program - The Cobalt Perks Program promises a series of offers and opportunities in retail, music, entertainment, and travel. Cardholders can also redeem points through Amex's bevy of established rewards programs.
Cut to the front of the line - Access Front Of The Line® Presale & Reserved Tickets to some of your favourite concerts and theatre performances and special offers and events curated for Cardmembers with American Express® Experiences.
Book flights easily - Some rewards programs pull a bait and switch, lowering the value of travel points during peak travelling season. This is where American Express shines as a company — The Fixed Points Program at Amex does exactly what it says: the value of your points doesn't change with the season, end of story. You can also transfer points 1:1 to several frequent flyer and other loyalty programs.
Get a travel credit - American Express is partnered with The Hotel Collection, which counts over 600 hotels and resorts as members. When you use American Express Travel to book a stay at a member hotel, you could qualify for up to $100 USD in credit to spend on:
Spa treatments, dining experiences (room services excluded), golf, and more (it depends on what amenities your hotel offers).
A complimentary room upgrade at check-in, when available.
Earn points doing fun stuff - The real selling point of the Cobalt Card is the fact that you can earn points faster for going on fun outings. Like boozy brunches. This isn't your parents' Amex.
Apply Now