Get this card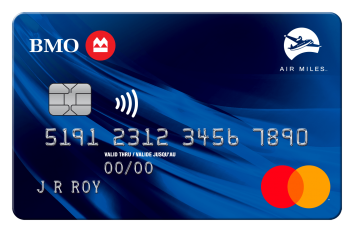 BMO AIR MILES Mastercard
Apply Now
Network Provider

Mastercard

Provider

BMO Bank of Montreal

Types

Rewards

Balance Transfer

No Fee

Annual fee

$0

Purchase interest rate

19.99%

Cash advance rate

22.99%

Balance transfer rate

1.99%

22.99% after 9 months

Credit Needed

Good (650-749)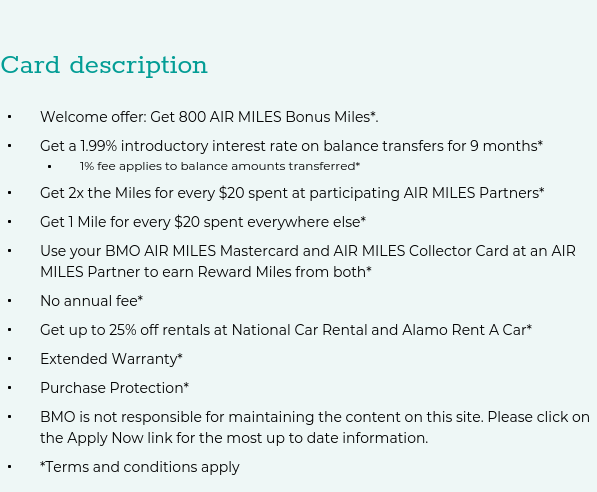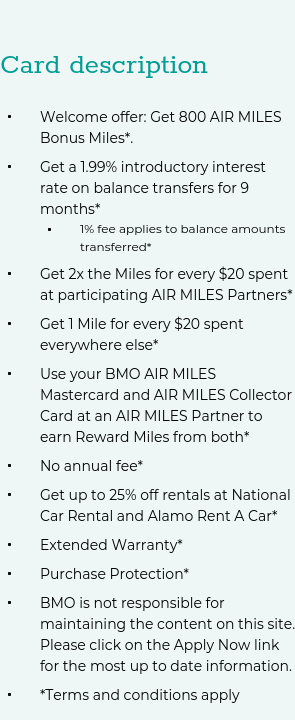 Card Features
Air Miles Rewards
Extended Warranty
Free Supplementary Card
Purchase Protection
Rental Car Discounts
Travel Benefits
About This Card
The BMO AIR MILES Mastercard is a travel rewards card that lets cardholders take advantage of valuable offers and quickly collect Air Miles. It is typically available to individuals with a good credit score (650 or greater).
Choosing the BMO AIR MILES Mastercard makes sense for anyone who plans to spend right after signing up. That's because new cardholders can earn up to 800 Air Miles points pretty quickly.
Here's how you can do that.
You'll get 400 bonus Air Miles after making your first purchase on the card. Then, if you spend another $1,000 on the card within three months, you'll collect another 400 Air Miles points. That's for a total of 800 Air Miles points, equivalent to about $80.
There's also an introductory offer on balance transfers: 1.99% interest for the first nine months (be aware of the 1% fee on the amount transferred).
The ordinary earning rate for Air Miles rewards is one mile for every $20 spent on the card. With the BMO Air Miles Mastercard, however, cardholders can also "double-dip" and earn twice the points when they use it at Air Miles participating sponsor locations along with their regular Air Miles card. Points can eventually be redeemed for free flights or merchandise.
The interest rates on the BMO AIR MILES Mastercard are average in the credit card marketplace. It has a 19.99% purchase interest rate, a 22.99% cash advance rate.
Why get the BMO AIR MILES Mastercard?
Rental car discounts – Anytime you use the card to rent at one of the participating National Car Rental or Alamo Rent A Car locations, you'll save up to 25% on your transaction.
Consumer protection – The credit card comes with both an extended warranty (doubles it up to a maximum of one year) and purchase protection (automatically insures items bought with the card against theft or damage for 90 days from date of purchase).
Free cardholder additions – Cardholders have the privilege of adding other cardholders at no extra cost. This allows points to be accumulated at an even faster rate than they would be with just one card in use.
Strong security – This card takes a number of measures to ensure that you, as a cardholder, are protected from fraudulent activity. It is embedded with a PIN-protected microchip, a Mastercard SecureCode, and a zero liability policy for unauthorized use.
Apply Now