Get this card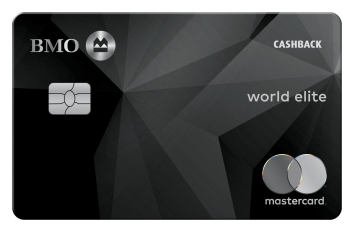 BMO CashBack® World Elite®* Mastercard®*
Apply Now
Network Provider

Mastercard

Provider

BMO Bank of Montreal

Type

Rewards

Annual fee

$120

Annual fee waived in the first year

Purchase interest rate

20.99%

Cash advance rate

22.99%

21.99% for Quebec residents

Balance transfer rate

22.99%

Credit Needed

Excellent (750-900)
Card description
Welcome offer: Get up to 10% cash back in your first 3 months and the $120 annual fee waived in the first year*
Earn more cash back on the categories that mean the most:

5% on groceries*
4% on transit including ride sharing, taxis and public transportation*
3% on gas and electric vehicle charging*
2% on recurring bill payments like your monthly phone bill or favourite streaming service*
1% unlimited cashback on all other purchases*

Now earn the highest cash back on groceries in Canada!†
Get valuable benefits and offers for digital everyday services from a variety of on-demand apps and subscription services
Extended Warranty Plus*
Purchase Protection Plus*
Complimentary membership in Mastercard Airport Experiences provided by LoungeKey*
Access over 1 million Wi-Fi hotspots around the world - all at no added cost, and no added fees or roaming charges*
Complimentary Roadside Assistance Program*
BMO CashBack World Elite Travel and Medical Protection*
BMO Concierge Service*
Unlock Mastercard Travel Rewards cashback offers when you travel and shop outside of Canada
Minimum 80K individual or 150K household income*
BMO is not responsible for maintaining the content on this site. Please click on the Apply now link for the most up to date information
*Terms and conditions apply
†Statement based on a comparison of the non-promotional grocery rewards earn rate on Canadian cash back credit cards as of January 1, 2021.
Card Features
24/7 Customer Service
Airport Lounge Access
Extended Warranty
Purchase Protection
Rental Car Discounts
Roadside Assistance Program
Travel Benefits
About This Card
The BMO CashBack® World Elite®* Mastercard®* is a cash-back rewards card is available to people with excellent credit scores (750 and higher).
For the first three months, users of the BMO CashBack® World Elite®* Mastercard®* receive 10% cash-back on all purchases. Then the card yields 1.5% cash-back.
BMO CashBack® World Elite®* Mastercard®* cardholders also get complimentary roadside assistance, discounts on rental cars, travel and medical protection and concierge services.
To qualify for the card, you need to earn an income of at least $80,000 as an individual or have a household income of $150,000. The annual fee is $120 and supplementary cards can be obtained for $50 per year. However, the annual fee is waived in the first year.
The card offers competitive interest rates of 20.99% on purchases and 22.99% on cash advances and balance transfers.
Why get the

BMO CashBack® World Elite®* Mastercard®*

?

Earn quick cash-back with BMO's welcome offer - Consumers who obtain the BMO CashBack® World Elite®* Mastercard®* have three months to take advantage of 10% cash-back.

Twenty-five percent off car rentals - BMO CashBack® World Elite®* Mastercard®* users save up to 25 percent on car rentals at both National Car Rental and Alamo Rent A Car locations. Collision damage coverage for all rented vehicles is also included.

Travel and medical protection - While travelling, BMO CashBack® World Elite®* Mastercard®* cardholders can enjoy peace of mind, as the card comes with travel and medical protection, including out-of-province and out-of-country emergency medical assistance.

Roadside assistance - BMO CashBack® World Elite®* Mastercard®* cardholders get complimentary roadside assistance, worth $69 per year.

Apply Now