Get this card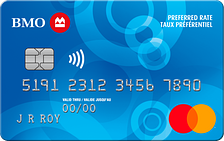 BMO Preferred Rate Mastercard®*
Apply Now
Network Provider

Mastercard

Provider

BMO Bank of Montreal

Types

Low Interest

Balance Transfer

Annual fee

$20

Waived in the first year

Purchase interest rate

12.99%

Cash advance rate

12.99%

21.99% for Quebec residents

Balance transfer rate

3.99%

12.99% after 9 months

Credit Needed

Good (650-749)
Card description
Welcome Offer: Get a 3.99% introductory interest rate on Balance Transfers for 9 months with a 1% transfer fee and we'll waive the $20 annual fee for the first year*
Enjoy our lowest interest rate of 12.99% on purchases and cash advances*
Minimum 15K individual household income*
Free extended warranty and purchase protection*
Zero Dollar Liability: protects you from unauthorized use of your credit card*
Worldwide Acceptance at over 30 million locations*
BMO is not responsible for maintaining the content on this site. Please click on the Apply Now link for the most up to date information.
*Terms and conditions apply
Card Features
Extended Warranty
Purchase Protection
About This Card
The BMO Preferred Rate Mastercard®* is an excellent credit card to consider if you've bruised your credit score and are looking to repair it.
With this card, you get BMO's preferred interest rate of 12.99%. Credit card lenders typically only allow clients who are in good standing credit-wise to access their preferred rate.
The card's Zero Dollar Liability features protects you from unauthorized use of your credit card — another useful feature if you're trying to improve your credit rating.
There is an annual fee of $20, but it is waived for the first year.
Plus, you only need a fair credit score to qualify (in the 575-649 range). However, if you've declared bankruptcy within the last seven years, your application will be denied.
New cardholders can transfer an existing balance onto the BMO Preferred Rate Mastercard®* and only pay 3.99% on the balance for the first nine months. There's a one-time fee of 1% for transfers.
By now, you might have the impression that the BMO Preferred Rate Mastercard®* is for practical types. That's not entirely true.
Get this: cardholders get 15% off of Cirque du Soleil tickets (applicable to Canadian stops only) and 20% off any of its Las Vegas residency shows. Balancing frugality with the occasional adventure? We think that's a balanced approach to personal finance.
There are a number of extras you can add on to your account for an annual fee, like travel insurance, protection against identity theft, and special services that provide round-the-clock monitoring of your (ever-improving, we hope) credit score.
Fees to be aware of include the $29 over-limit fee and a $48 fee for dishonoured payments returned by your financial institution.
Why get the

BMO Preferred Rate Mastercard®*

?

Viva Las Vegas - Cardholders get 15% off Cirque du Soleil tickets and 20% off on tickets to its Las Vegas residency shows.

Worry-free travel- For an additional $129 a year, holders of the BMO Preferred Rate Mastercard®* who are also under 65 can apply for comprehensive travel insurance. Included in the package is BMO's 31 Day Medical Protection, which provides up to $2-million in coverage for eligible expenses for trips up to 31 days in length. Also provided is BMO's Travel Protection with Trip Cancellation insurance, which delivers coverage if you encounter an emergency, flight delay or baggage problem on your trip.

Additional insurance - With BMO Travel Protection, for $35 a year, BMO Preferred Rate Mastercard®* holders can access collision damage waiver insurance for car rentals and unexpected return home and trip assistance. Also included in the program is a benefit that delivers up to $500,000 in common carrier accidental death and dismemberment insurance.

Products to help you rebuild your credit score - One of the unique add-ons offered to holders of the BMO Preferred Rate Mastercard®* is BMO's CreditDefence product. For $18.99 a month, BMO and D+H, a global financial technology firm, will deliver a full report of your credit history, as well as your updated credit score. You'll also receive activity alerts courtesy of CreditDefence, which will alert you any time your credit bureau file is impacted in a significant way. This service monitors your credit file 24/7.

Protect your balance - If you're ever in a position where you can't pay your bills, you may be able to draw on BMO's Credit Card Balance Protection service. By signing up, you can get up to $15,000 in coverage for just 94 cents for every $100 of your total average daily balance. The example used by BMO breaks it down this way: if your total average daily balance was $1,000, you would pay just $9.40 for the month.

Apply Now