Get this card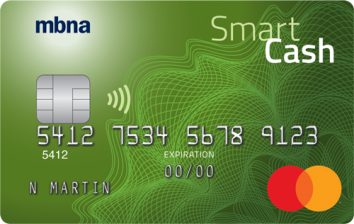 MBNA Smart Cash Platinum Plus® Mastercard®
This offer is not available for residents of Quebec. For residents of Quebec, please click here.
Apply Now
Network Provider

Mastercard

Provider

MBNA

Types

Rewards

No Fee

Annual fee

$0

Purchase interest rate

19.99%

Cash advance rate

24.99%

Balance transfer rate

22.99%

Credit Needed

Good (650-749)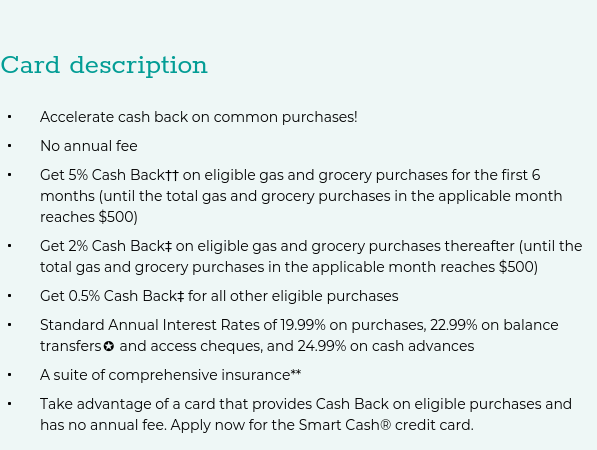 About This Card
The MBNA Smart Cash Platinum Plus® Mastercard® is a no-fee credit card that offers cash-back rewards and a tempting introductory offer.
New cardholders will earn 5% cash back on gas and grocery purchases for the first six months of their membership. That's one of the highest earn rates you can get — lenders usually don't exceed that percentage level in Canada.
As for how the earn rate breaks down, it's pretty straightforward: spend $100 on the card, receive $5 back.
There is a $500 spending cap in place, though. Translated, it means that once you spend $500 on your new card you'll stop receiving 5% cash back. Your earn rate drops to 0.5% until the next billing period starts. Not as much, for sure, but not shabby either.
Here's how rewards work after the introductory period has passed.
On gas and grocery purchases:
You earn 2% cash back on gas and grocery purchases, but only up until you spend $500 on the card. Once you cap out, your earn rate goes down to 0.5% cash back.
This is a monthly spend cap. When you start your new billing period, you'll be back at earning 2% cash back until you reach the $500 cap.
It works a lot like revolving credit, though, the spend cap shouldn't be confused with your monthly credit limit.
On everything else:
All other purchases — meaning, not gas and grocery — earn 0.5% all month long.
Beyond the opportunities to earn extra cash, MBNA offers cardholders a comprehensive suite of insurance benefits, which are underwritten by Allianz Global Risks US Insurance Company.
The MBNA Smart Cash Platinum Plus® Mastercard® charges 19.99% APR on purchases, 22.99% for balance transfers and access cheques, and 24.99% on cash advances.
Why get the MBNA Smart Cash Platinum Plus® Mastercard®?
Get cash back - The Smart Cash Platinum Plus® offers one of the best cash-back opportunities in the Canadian credit card market. You'll earn 5% on gas and grocery purchases for the first six months, capping out at $500 in cash back a month.
Top-tier insurance coverage - Having a platinum-tier MBNA credit card (second from the top in MBNA's hierarchy) entitles you to a number of travel and purchase insurance coverages. Included with your card membership is coverage for: rental vehicles; assistance with lost luggage, travel documents, and tickets; legal advice, should you need it while out of the country; identity theft, and much more.
24-hour customer service - As an MBNA cardholder, you can request a credit increase and have it applied to your account within one hour. All it takes is a phone call to customer service. In the event of an emergency, MBNA provides a number of options. Agents can supply an emergency cash transfer of up to $5,000, or you can make a wire transfer via Western Union.
Get versatility - The Smart Cash Platinum Plus® is part of the Mastercard network, one of the most widely accepted credit cards in the world. So, take a deep breath — you won't need to worry about merchants rejecting your card while you're abroad.
Apply Now