Get this card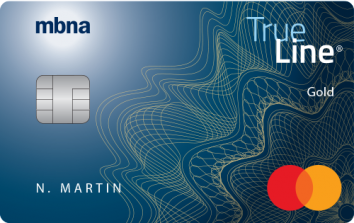 MBNA True Line® Gold Mastercard®
This offer is not available for residents of Quebec.
Apply Now
Network Provider

Mastercard

Provider

MBNA

Types

Low Interest

Balance Transfer

Annual fee

$39

Purchase interest rate

8.99%

Cash advance rate

24.99%

Balance transfer rate

8.99%

Credit Needed

Good (650-749)
Card description
$39 annual fee
Standard Annual Interest Rates of 8.99% on purchases, 8.99% on balance transfers✪ and access cheques, and 24.99% on cash advances
Around-the-clock-fraud protection
Access to 24/7 customer service
Card Features
24/7 Customer Service
Fraud Protection
About This Card
The MBNA True Line Gold Mastercard is a low-interest credit card with an 8.99% rate on balance transfers and a 24.99% rate on cash advances.
This card carries a fee, although there is a no-fee version called the MBNA True Line Mastercard. The difference is the Gold version offers one of the best interest rates in the market: 8.99% versus 12.99% for the no-fee card.
The annual fee clocks in at $39. For that price, though, you get a card that has an impressively low purchase interest rate.
There are, however, a few extra fees consumers need to consider before applying for the MBNA True Line Gold Mastercard.
Since MBNA is owned by TD Bank, consumers who have credit card debt on a TD-issued credit card cannot transfer their balance onto their new MBNA card. There's also a transaction fee equal to 3% of the dollar amount of each of your balance transfers (yes, you can transfer more than one balance!). A minimum fee of $7.50 also applies for each balance you transfer. This applies to the no-fee version as well.
The interest rate for access cheques is 8.99% and cash advances are 24.99%.
Why get the MBNA True Line Gold Mastercard?
Low annual fee - For $39 a year, cardholders have access to some of the lowest interest rates in the Canadian credit card marketplace.
Low interest on purchases and balance transfers - While some credit lenders charge significantly more interest on certain transactions, the MBNA True Line Gold Mastercard has a flat interest rate for most transactions: 8.99% on all purchases and access cheques. The rate on cash advances is 24.99%.
Apply Now
✪ Balance transfers will be fulfilled in the order listed and are treated as balance transfers in accordance with your Account Agreement. The total value of balance transfers cannot exceed your authorized credit limit. If the value is greater, MBNA may send a partial payment to the named creditor/designated account. THERE WILL BE A TRANSACTION FEE EQUAL TO 3.00% OF THE DOLLAR AMOUNT OF EACH BALANCE TRANSFER INITIATED WITH THIS APPLICATION. A MINIMUM FEE OF $7.50 WILL APPLY TO EACH BALANCE TRANSFER TRANSACTION. A balance transfer may not be used to pay off or down your account balance or any other balances with us (including our affiliates, which would include any member of the TD Bank Group).