10 Fall Maintenance Tips to Ready Your Home for the Season
By: Lucy Zemljic on

September 22, 2014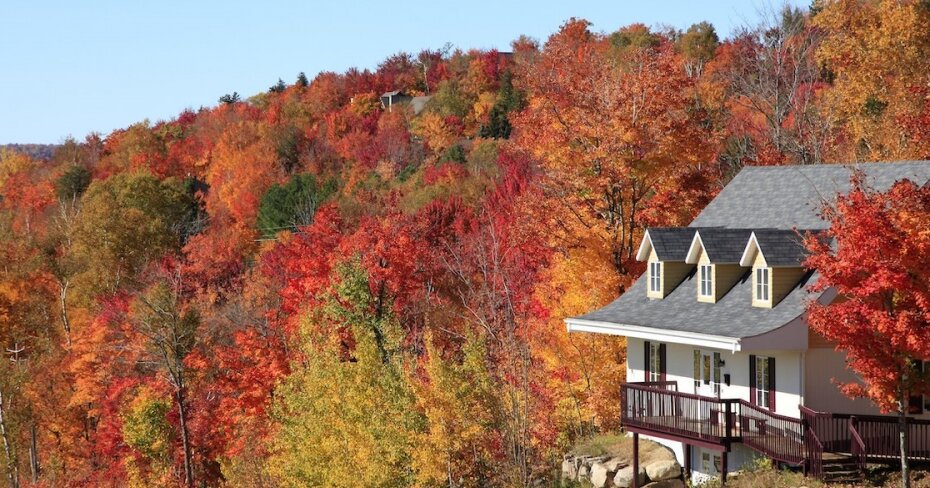 Believe it or not, another summer has come and gone. There's a nip in the air and pumpkin spice on every menu, and that can only mean one thing – it's autumn in Canada. We all know what to do to get our wardrobes ready for the season, but how do you prepare your house for those chilly months to come?
To help you answer this question, we've come up with some handy fall home maintenance tips so you can make sure your house is ready for the season – on the inside and out. Read on to see what you can do to keep your home in tip-top shape all the way from September 'till March.
On the Outside
Start at the top and nip roof problems in the bud:
Nobody likes a leaky roof. Get your roof inspected in the fall to make sure a tiny leak doesn't sprout into a major problem when the ice and snow come 'round.
You can hire a licensed professional or inspect the roof yourself. Look for any wear and tear: check your shingles for damage, curling or cracks. If your shingles look like they've been through one too many winters, it may be time to replace them.
Check for any damage on the metal flashing around your chimney, vents, and in the valleys of your roof (use the illustration below as a guide). If you find any gaps or damage, repair it asap by spreading roof cement over the whole flashing joint, making sure to cover the edge completely.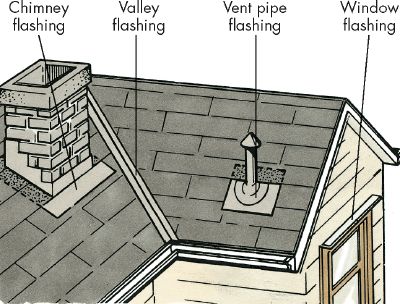 Image courtesy of home.howstuffworks.com
Sometimes, it pays to have your mind in the gutter:
While you're up on the roof, take some time to inspect your gutters.
Gutters (also called eavestroughs here in Canada) are vital to keeping your home running smoothly – if there are any clogs in your eavestrough system, make sure to clear them up. Once the leaves start falling, you'll want to clean your eavestroughs every so often. Better yet, clean them up before the trees start shedding, then cover them with mesh to keep those autumn leaves from causing problems down the road.
Keep the warm air inside by checking for air leaks:
When you have an air leak in your home's "building envelope" – the collective name for the outside walls, roof and foundation of your house – you're letting your warm air out and the chilly air in. According to Energy Star, air leaks can cost a homeowner up to 20% of their heating or cooling bills – that's a lot of money to be throwing away on leaking air.
To keep the warmth from escaping your home, check around your doors and windows for gaps in weatherstripping and caulk. Check the foundation for any cracks, and inspect the caulk around pipes and the entry points of wires. If you find any cracks, simply re-caulk the trouble areas – this inexpensive solution will help cut down your heating bills in the long run.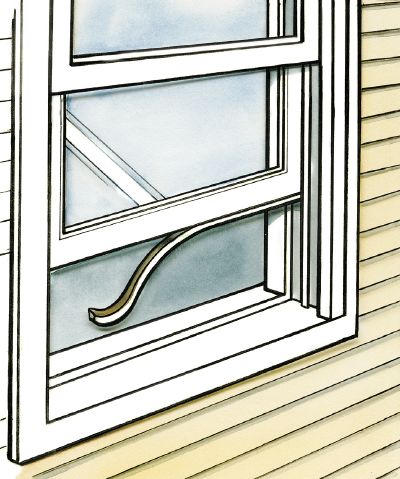 Image courtesy of home.howstuffworks.com
Make sure those faucets don't burst:
To keep your outdoor faucets from freezing over and bursting in the cold, shut off your outside water valves. You'll also want to drain your garden hoses, and store them away in the garage during the fall and winter months.
Keep your driveway in tip top shape:
It's never a good idea to ignore a cracked driveway, but if you let those small cracks go unattended in the chilly seasons, ice and snow will only worsen the problem. If you find any damage – such as wide cracks and uneven sections of driveway – you'll want to clean out those areas and repair them with driveway filler. Coat the areas with a commercial sealer for added protection.
On the Inside
Give those detectors a test run:
Fall is the perfect time to test out your smoke and carbon monoxide detectors. Give them a test run to make sure they're running properly – just press the test button. Change the batteries if needed. Remember: you should have a smoke detector on every floor of your home.
Check up on your furnace:
It's a good idea to get your heating system professionally inspected every year. Early fall is the perfect time to make sure everything's running smoothly – your furnace will last longer and use fuel more efficiently if you do an annual check-up.
A little filter maintenance goes a long way:
Your furnace comes equipped with a filter that traps dirt, dust and airborne particles before they can make their way into your heating system.
A basic furnace filter should be changed every three months, but you can stretch the life of your filter by giving it a vacuuming – a basic disposable filter can be cleaned once before a replacement is needed. Get your vacuum out and use a soft brush to get rid of built-up dust. If you have a metal or electrostatic filter, spray it with water instead.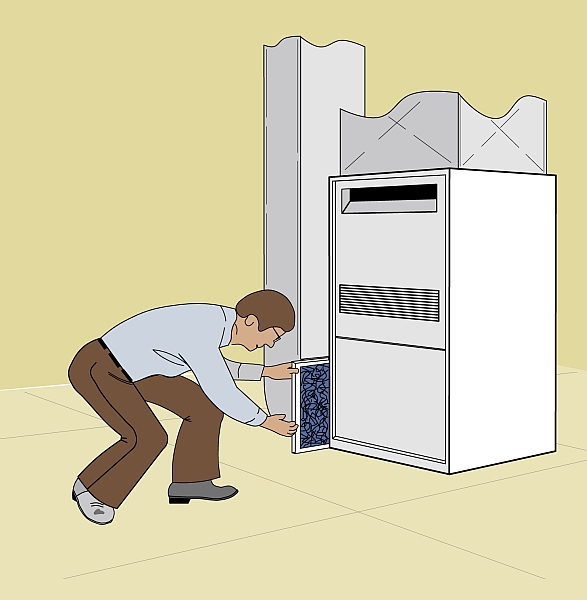 Image courtesy of blog.srmi.biz
Keep the fireplace burning:
Make sure your fireplace is in working order – inspect the door gasket of your fireplace insert and ensure that it has a tight seal. Clean and inspect the glass door for any cracks or damage. If you really want to go that extra mile, get your chimney cleaned by a professional chimney sweep (yes, they do exist!)
Do some spring cleaning – in the fall:
To get ready for the season of staying indoors, do a general cleanup of your home. Get rid of old newspapers and recycle any scrap paper lying around. Give your home a thorough dusting and vacuuming, and clear the space around your furnace, heaters, and other heating appliances to stay safe during the heating seasons.
It's all too easy to take a pass at home maintenance, especially in the fall and winter, but tackling those little problems early on will save you a lot of headache down the road.
So do yourself (and your home) a favour this fall, and take some time to make sure that your house is ready for the season. You'll thank yourself later on – perhaps with a Pumpkin Spice Latte?