Car insurance prices rise in Ontario, Alberta and Atlantic Canada
By: John Shmuel on

October 30, 2018
If your car insurance rates went up this year, you're not alone. 
The latest data from the LowestRates.ca Auto Insurance Price Index shows that drivers are paying more for car insurance across the country. The index tracks quotes received by the millions of Canadians who compare auto insurance using our website every year. Consumers can use our quoter, which is powered by Applied Systems Canada, to see rates from more than 30 insurance providers.
In some provinces, such as Ontario, rates have been rising steadily for more than a year, while in Atlantic Canada, the increase is a more recent phenomenon. 
Any way you look at it, however, prices are going up across Canada. That's frustrating when owning a car is already so expensive. Below, we break down what's going on.
Prices have risen for the past year in Ontario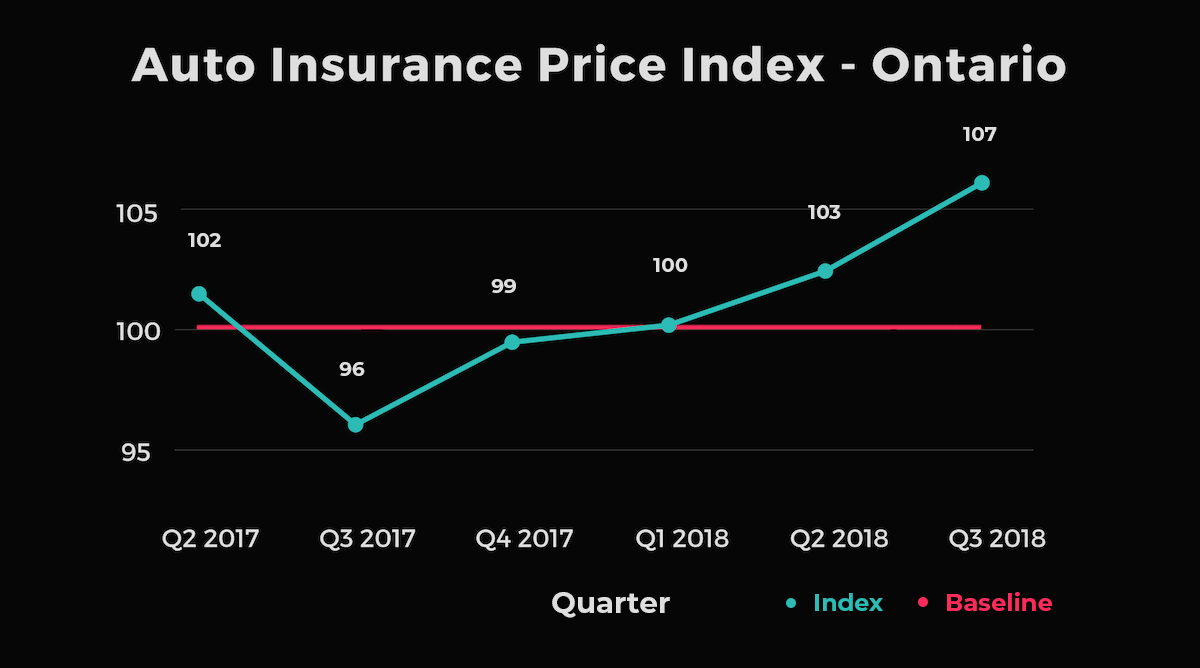 Ontario has seen the steepest increase in car insurance prices out of all the markets we track. Prices in the province have risen 10.71% in the past four quarters — that's the biggest one-year jump we've seen since we started tracking prices in 2016. 
Drivers in the province have long paid some of the highest car insurance rates in the country. Some experts have blamed the high rates on a prevalence of insurance fraud in Ontario. This can take many forms, from unscrupulous mechanics overcharging for repairs to shady medical clinics diagnosing fake injuries and collecting large claim payouts.
Insurance provider Aviva has said that fraud costs the average Canadian $150 a year in increased insurance costs. That's because when insurance companies have to pay out more claims in a given quarter, they have to raise premiums for all drivers to cover the costs. So fraud impacts everyone. 
Prices see a tiny jump in Alberta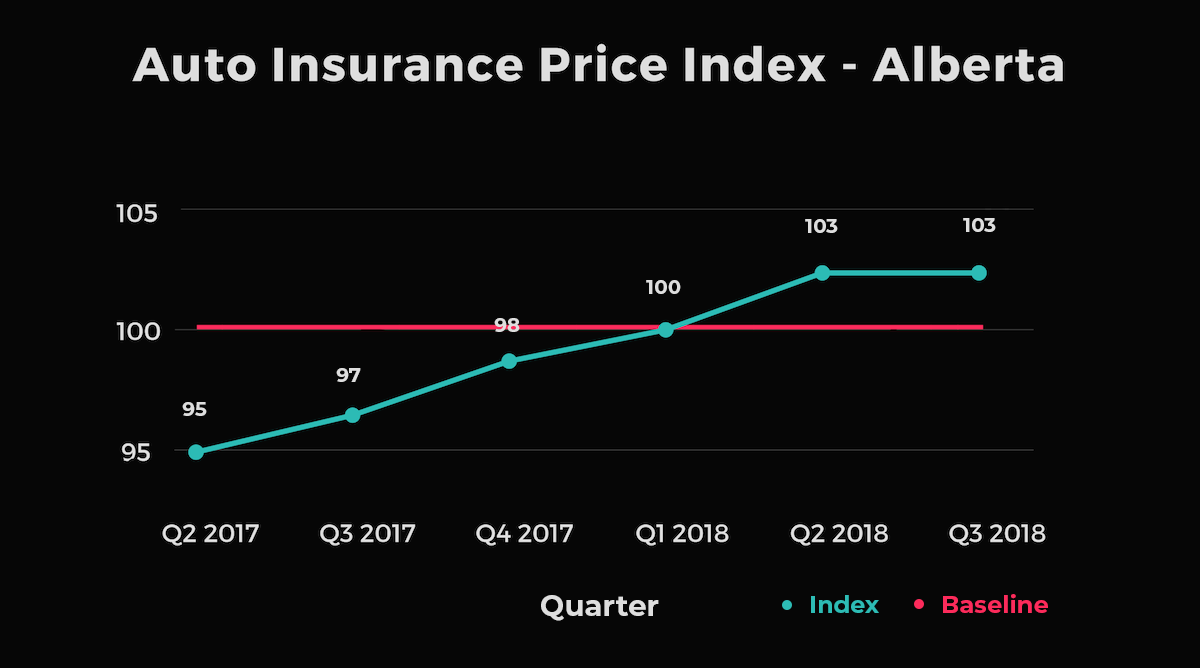 Prices in Alberta were essentially flat in the third quarter, registering a negligible increase of 0.24% compared with Q2.
But that hides the true story of what's happening in the province. Insurance rates there have been rising non-stop for the past two years.
Recently, insurance companies in Alberta have complained that a government cap on prices — which limits the amount that insurers can raise rates — has hurt the industry.
Companies in the province were ordered last December by Finance Minister Joe Ceci to limit successive rate hikes to 5% — that policy is in effect until the end of November. Ceci said the policy is needed to stop unreasonable price increases that would make car ownership unaffordable for some drivers. 
The insurance industry, however, has argued the caps are creating an even worse problem. Some insurers now have claim costs that are more than what they bring in from premiums in the province — and there's been talk that some insurers are rejecting new customers or even considering pulling out Alberta entirely. 
Unfortunately, the loser in this spat between government and the insurance industry has been the consumer. Car insurance prices have risen 6.7% in the past year alone. 
After a decline earlier this year, prices rise in Atlantic Canda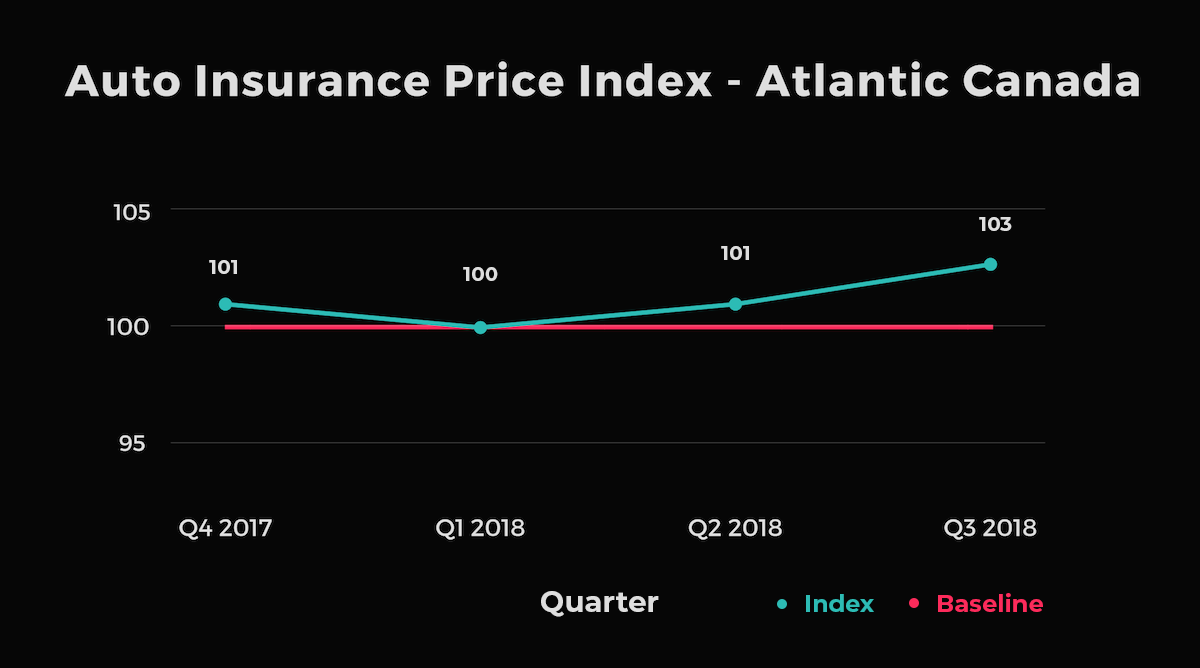 Prices in Atlantic Canada have been the most stable out of all the regions we track. 
Prices have risen about 2% in the past year — on par with the rate of inflation. 
We haven't been tracking data long enough in this region yet to provide additional insight. However, the next report will have our first annualized look at prices — after which we also hope to do a breakdown of pricing trends in each of the four Atlantic provinces.
For now, drivers in the region can draw some comfort from the fact that while rising, prices in Atlantic Canada have not seen nearly the surge that those in Ontario and Alberta have. 
How the index works 
Our index is based on the lowest priced quotes that users of LowestRates.ca get when they use our site to compare car insurance. An average price is taken every quarter and then compared to previous quarters. Every year, more than a million Canadians compare auto insurance rates on LowestRates.ca.
To get a sense of where pricing is trending, we created a benchmark quarter for the index — in this case Q1 2018 — that has a baseline reading of 100. Each point on the index above or below 100 represents a roughly 1% change in prices. For instance, a 105 index reading would mean the price has increased by 5% since Q1 2018.