As the electric vehicle market expands, how will Canada's insurance companies respond?
By: Sadaf Ahsan on

August 3, 2021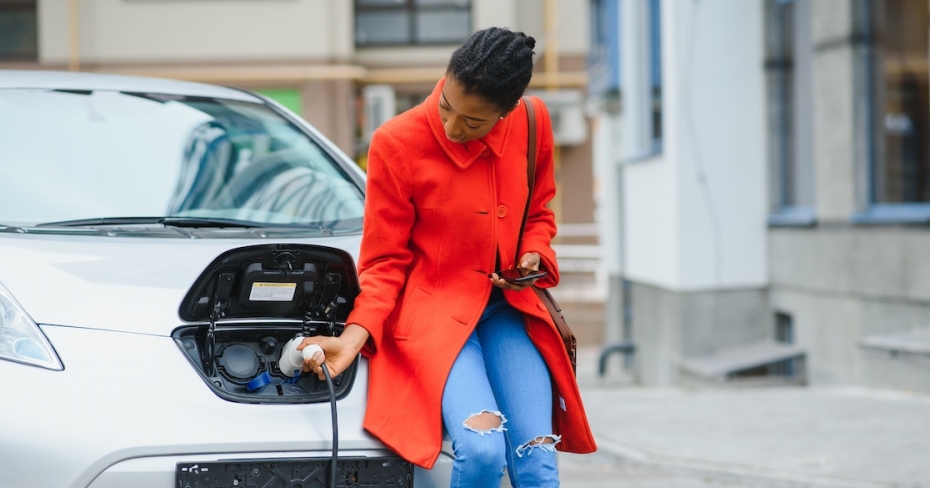 The global electric vehicle (EV) market is poised for significant growth in the coming years. The proof is in the numbers.
More than 10 million EVs hit the road all over the world in 2020. According to BloombergNEF's Electric Vehicle Outlook 2020, there are likely to be more than 500 different models available worldwide by 2022 — and by 2040, EVs are predicted to account for more than half of all passenger vehicles. 
Just this past March, there was a 146% year-over-year increase in the number of Canadian drivers filling out a car insurance quote for an electric vehicle (EV) on LowestRates.ca.
All signs point to an electric revolution.
Because EVs rely on an electric motor and battery pack instead of gas to operate, they're an eco-conscious choice that cuts down on a driver's carbon footprint, reduces emissions, and saves people money on fuel.
But no matter whether you drive a gas-powered vehicle or an electric/hybrid vehicle, you're still going to need car insurance. So how do Canada's insurance companies plan to respond to this burgeoning market? 
Many EVs come with built-in discounts
"Insurers understand and embrace the reality that electric vehicles will become more popular in the years ahead," says Vanessa Barrasa, manager of media relations at the Insurance Bureau of Canada. "Insurers are consumer-centric and want to provide policies and programs that work towards satisfying their customers' needs and expectations – insuring electric vehicles is part of this. Beyond just electric vehicles, insurers are on the forefront of addressing changes to risk as it applies to new driving habits and types of vehicles." 
For now, that's largely limited to discounts for drivers making the eco-conscious choice of driving an EV or hybrid. 
"As of today there are a handful of carriers offering 'green' discounts," explains Sara Caruana, service team leader at DirectRate.ca. "These discounts are actually built into the VIN number of the green vehicles; therefore the majority of the quoting tools know to automatically apply the green discount if applicable. Although it is always a good idea for the consumer to speak with their broker to make sure they are receiving all applicable discounts. At this time there is no incentive for existing customers to switch to electric vehicles."
Meanwhile, federal and provincial governments are encouraging EV/hybrid purchases with incentives that can save you thousands. This dates back to May 2019, when the Government of Canada launched the Incentives for Zero-emission Vehicles (iZEV) Program, which, depending on the make and model of your EV, can lead to a rebate of up to $5,000. 
In Ontario, drivers can receive $1,000 toward the purchase of a used fully electric car and/or a plug-in hybrid electric car through Plug'n Drive when they scrap an old gas-powered car. Meanwhile, British Columbia's Go Electric program provides rebates of up to $3,000 for the purchase or lease of a new EV, and Quebecers can be eligible for rebates of up to $8,000 on EVs under $60,000.
Insurance providers offering "green" discounts for EVs
Several insurance companies have also implemented discounts for switching to an electric vehicle. 
For example, as part of its "Vibrant Planet" initiative, TD Insurance offers a Green Wheel Discount for those making the "smart and eco-friendly choice to drive a hybrid or electric vehicle," though specifics are dependent on individual quotes.  
There's also Aviva's 5% Green Vehicle discount for insuring an EV with the company, and a possible further 15% discount for those who have a manufacturer-installed automatic emergency braking system, which most EVs already do. And Desjardins is offering Green savings for those who go electric.
"Each insurance company offers its own incentive programs for its customers," explains Barrasa. "These can include things like loyalty programs, snow tire discounts, bundling policies discounts and many others. It is up to each insurer to determine the programs they wish to offer their customers. Drivers should shop around and find policies that best meet their individual needs."
Will I pay more to insure an electric vehicle?
Car insurance rates for electric vehicles can be slightly higher than what you're forking over for the average gas-powered car because they tend to cost more to purchase and repair due to their specialized and expensive parts. The car's battery alone, for instance, can cost thousands of dollars to fix. And the more it costs to repair or replace a car, generally speaking the more expensive it is to insure. 
That doesn't necessarily mean you're guaranteed to pay more because you've decided to go electric, though. Insurance companies are actively finding ways to respond to this growth in the market, and the other good news is: your rates aren't determined on vehicle type alone.
The better driving record you have, the less you'll pay. Age, gender, location, and years of experience are also factors that are taken into account, as they are with any type of car insurance policy. 
No matter if you're sticking with a gas-powered vehicle or going green, it's in your best interest to compare car insurance quotes online from different providers ahead of purchasing a policy.