REPORT: Kilometres on used vehicle listings rising amid global vehicle shortage
By: Hayley Vesh on

June 8, 2022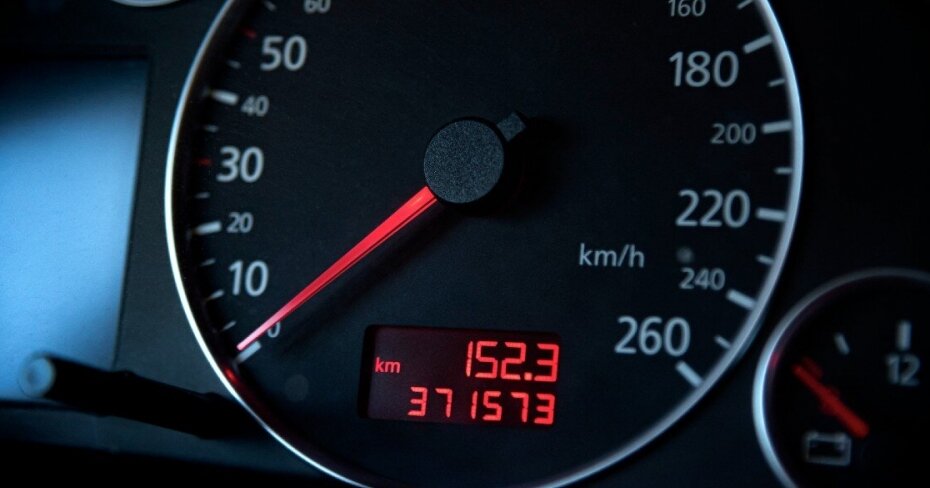 Key findings:
Pre-owned vehicles in the below $5,000 category saw a 40% increase in their odometers on average when comparing listings from Q1 2020 to Q1 2022.
High-end used vehicles (costing more than $45,000) saw a 354% spike in kilometres over the last two years.
A vehicle's odometer reading tells only a fraction of the story. To understand a vehicle's maintenance and overall quality, you'll have to look under the hood and through some paperwork.
If you've ever been in the market for a pre-owned vehicle, you've probably heard the cautionary phrase, "don't buy a car with too many clicks." Often, people believe that keeping a close eye on a vehicle's odometer can ensure you get a reliable automobile rather than one requiring a lot of costly repairs.
In 2022, however, this guidance seems to have been thrown right out the car window. A global semiconductor (or microchip) shortage forced automakers to slow the production of new vehicles over the last two years, and some industry experts predict delays will stretch into early 2023, creating further roadblocks for buyers and leaving them with little choice.
In an effort to explore the emerging trends among used vehicles in Canada, we teamed up with Carpages.ca to review listings from Q1 2020 to Q1 2022. Here's what we found.
Used vehicles are selling with more kilometres on them now than two years ago
On average, when we compare Q1 2020 to Q1 2022, used cars are now being listed with more kilometres on them than two years ago within the same price range. The data show this trend across every price segment, even high-end vehicles. And the supply shortage is likely the main reason for this.
"New cars aren't being produced as fast as they need to be to keep up with demand, which causes two problems," says Ben Mirecki, president of Carpages.ca. "For one, people who want to buy a new car can't always get what they want right away. The second problem is that they're driving their car for another 16 months until they get their new one."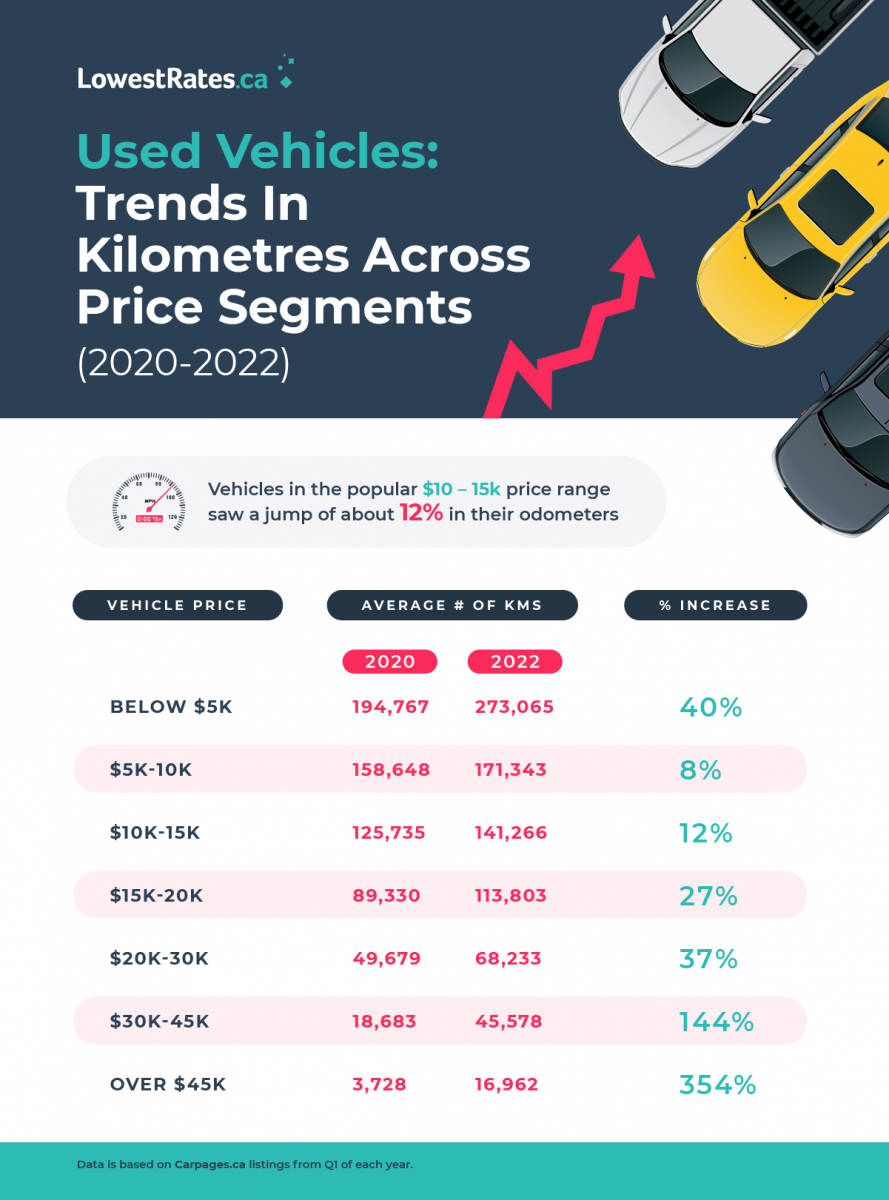 Used vehicles listed in the most affordable category, priced below $5,000, saw a 40% increase in their odometers, on average, from 2020 to 2022. At the same time, high-end pre-owned vehicles (costing more than $45,000) saw a 354% spike in kilometres during the same period, jumping from just 3,728 kilometres on average in 2020 to 16,926 kilometres in 2022. Vehicles in the most popular price range, between $10,000 and $15,000, saw a jump of about 12% in their odometers during that time.
While this is not the news many used car shoppers want to hear, sellers are in a unique position right now to get top dollar for their rides — despite higher odometer readings. In many cases, dealerships are paying big bucks to beef up their inventories. Some are even calling former customers to buy back their vehicles.
Depending on the demand for your specific make or model, your vehicle may retain its value for longer. However, car owners looking to cash in on their vehicles must also consider what they'll buy next.
"Until the [supply] problem gets fixed, used car prices will probably stay high," Mirecki explains. "And the number of kilometres on used cars is going to remain high as well."
Don't judge a vehicle by its odometer reading
The number of kilometres on a car, truck, or sport utility vehicle (SUV) can help estimate the potential wear and tear sustained over time. Typically, the fewer kilometres, the better — although that's not always the case depending on the maintenance regime. A vehicle's odometer reading tells only a fraction of the story.
"Cars are much better built today than they were before," says Mirecki. "A car with 100,000 kilometres now still typically has a lot of life left on it."
The reality of a pre-owned vehicle, or any vehicle for that matter, is that it's going to take on wear and tear. "Whether it's an older car, new car, luxury car, or cheap car, parts get worn down and need to be replaced — especially in Canada," says Mirecki. "Rust is a big problem."
While the number of kilometres a car has can indicate the longevity of its parts or potentially increase the likelihood of something needing replacement, proper maintenance can prolong a vehicle's lifespan.
If you're in the market for a pre-owned vehicle, you can take simple steps to ensure you're getting a good deal. "Doing a proper mechanical inspection is super important," says Mirecki. "Also, get a CARFAX Report."
Many dealers offer free CARFAX Reports to show buyers the vehicle's history, such as the former ownership, which provinces it was registered in, and any collision damage reported. Meanwhile, a mechanical inspection can help you assess the vehicle's actual condition down to the brakes, engine, and transmission.
A used vehicle can score you a cheaper auto insurance rate
You might have to pay slightly more than you budgeted to buy a used car today, and you might have to settle for one with more kilometres on it, but driving used can help you get a cheaper auto insurance rate. There are a few reasons for this, but it generally boils down to claims costs (potential repair or replacement costs and injuries) and optional insurance coverage.
Insurance industry experts use the Canadian Loss Experience Automobile Rating (CLEAR) system from the Insurance Bureau of Canada (IBC) to assess the risk specific vehicle makes and models pose by analyzing real-life claims data. Cars prone to theft or those that feature expensive parts to replace often have higher auto insurance rates. In comparison, vehicles with a smaller propensity for a claim tend to have lower insurance payouts and cheaper auto insurance premiums.
"Generally, more expensive vehicles have sensors and more comprehensive chips — technology that is much more expensive to replace individually and, as a result, makes those vehicles more expensive to replace as a whole," says Steven Harris, licensed insurance broker and LowestRates.ca expert. Many used vehicles are older and don't have that same level of technology as new vehicles, so the replacement costs are generally lower.
Then there is the amount of coverage a car owner chooses to maintain. People who have recently purchased a new vehicle will often want protection for any potential damage, whether a collision or a comprehensive peril, such as hail.
"If you buy a used vehicle, you generally still want physical damage coverage, but it will depend on the car's age," says Harris. "There's a certain threshold where it doesn't make sense to carry those coverages."
Say you have a vehicle worth $1,000, and your deductible is also $1,000. In that case, you wouldn't receive any money back should you file a claim. While this scenario is extreme, particularly in today's inflated car market, the claim payout could be nominal in other cases.
"At some point, paying for the coverage doesn't make sense anymore," says Harris. "For a lot of vehicles, that tends to be somewhere around that 10-year mark, but it depends on the vehicle, condition and the market value of the vehicle at any given time." Your auto insurance broker or agent can help you determine if having these optional coverages on your policy still makes sense for you.
Methodology
LowestRates.ca reviewed Carpages.ca used vehicle site data from Q1 2020 to Q1 2022 to see which price segments saw the highest increase in average kilometres reported by sellers during the pandemic in Canada.
Save 30% on average on car insurance
Compare quotes from 50+ Canadian providers in 3 minutes.