Buying a house with friends might be harder than you think
By: H.G. Watson on

November 25, 2022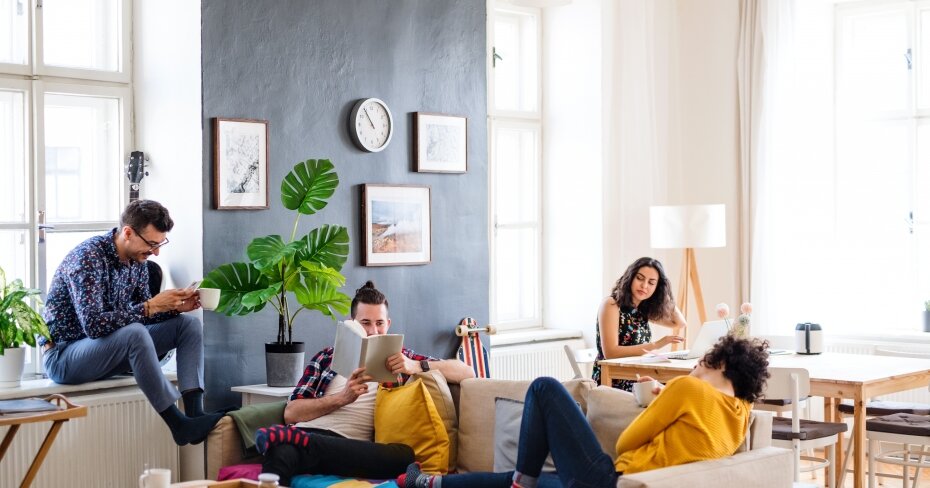 Although the housing market has softened in the last few months, it's still very expensive to buy a home. The average price of a Canadian home is about $640,000, with homes in Vancouver and Toronto still well above $1 million. 
That's why some people have chosen to buy property as a team. Sotheby's International Realty released a poll earlier this year that found a third of Gen Z plan on becoming homeowners with friends and family. This trend isn't just for youngsters, though: retirees have also opted for co-ownership so they can have support and friends as they age.  
However, owning a home with multiple people is not always an easy proposition to take to mortgage lenders. Here's why. 
Co-homeownership raises questions of longevity 
Historically, when you get a mortgage, you're applying either as a single person or with a relative, either through blood or marriage. 
But having multiple unrelated people (e.g., a group of friends) apply for a mortgage is far less common and can raise questions for lenders, however unfair, about the nature and strength of the group's relationship.  
"You would hope that there is longevity to [spouses or common-law partners], and it's more likely that there would be longevity in that relationship compared to a set of friends," says Leah Zlatkin, a LowestRates.ca mortgage expert. 
Co-homeownership can create credit issues 
While being part of a co-homeownership group won't automatically preclude you from getting a mortgage, it can become more challenging, depending on who the members are, and how they earn a living. For instance, some lenders don't like to offer mortgages to self-employed people because it can be harder to prove income. "If you even have one person on a file who's in business for themself, it kind of limits the lenders you can go to," says Zlatkin. 
A group of people are subject to the same financial background checks as any homebuyer, and that's where the risk comes in. A lender has to collect down payment history, bank statements, credit records, and job history information from potentially three or more people.  
What if one of your friends has a bankruptcy or job interruption you didn't know about? This can mean "much more paperwork for the lender to go through, much more paperwork for the broker to go through, and many more opportunities for holes or problems with the income source or problems with the down payment sources," says Zlatkin. So, while lenders may not outright disapprove of this type of arrangement, it's more likely an issue will arise.  
A legal agreement is wise for co-ownership mortgages 
What happens if you and your new co-owners and roommates have a falling out? Or another person has financial trouble that leaves them unable to cover their share of the mortgage payment?  
Having a strong legal agreement in place can offset some of those issues. According to Lesley-Anne Scorgie, a Toronto-based personal finance columnist, the agreement makes clear the ownership split and what financial responsibilities each person has. It's important to hammer out issues like who is responsible for maintenance ahead of time, as well. 
"Be precise about how the home will be shared," Scorgie wrote in the Toronto Star, "and work through differences of opinion." 
What to keep in mind if you want to buy a house with a friend 
Because the housing market has been showing signs of easing, Zlatkin suggests that, if you can, try to buy on your own if it's affordable.  
However, if you want to enter into co-ownership with a friend, you should, at the very least, give a good amount of thought to who you're buying a home with. 
Another option is to buy a house with just one friend — that's less complex for lenders to sort through. But regardless of who you buy your house with, be sure you're both on the same page about what you want, and honest about your financial realities. 
Interested in creating content with LowestRates.ca? Reach us at email@lowestrates.ca.