REPORT: LowestRates.ca data shows rising condo insurance prices now spreading to Ontario
By: Jane Switzer on

February 9, 2021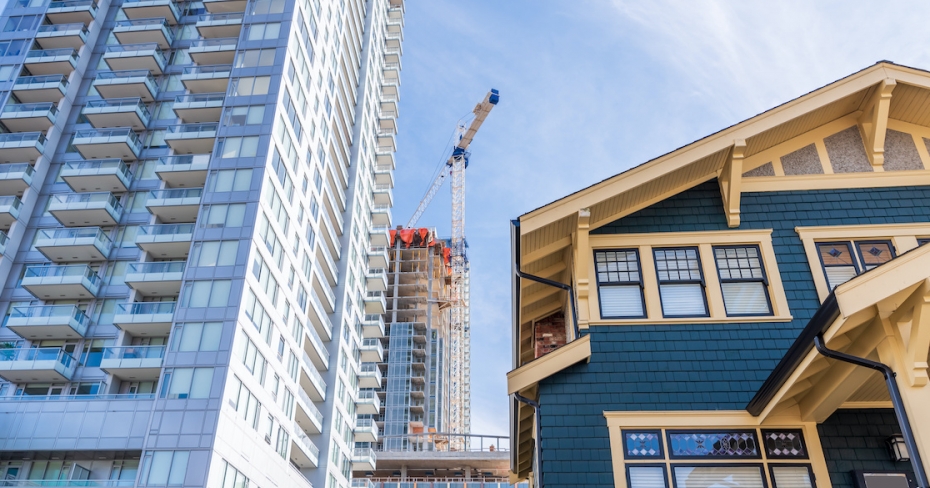 Condo insurance prices are rising in Canada. Climate change and rising deductibles are putting upward pressure on this product, and the costs are being passed onto consumers. This is the main conclusion of the latest LowestRates.ca Home Insurance Price Index, which we publish so consumers can see how property insurance prices are changing and explain why. 
Our data shows that over the past year, home insurance prices remained relatively stable, while condo insurance rates spiked in British Columbia, Alberta and Ontario. While B.C. and Alberta have dealt with rising prices for more than a year, the rise in Ontario is new. 
We're also continuing to watch whether the COVID-19 pandemic will affect home insurance prices. Despite more people now working from home, it has not led to any notable increase.
Key highlights from the report: 
Rising condo insurance premiums creep into Ontario: Prices continue to skyrocket in Alberta and B.C. As predicted, insurance rates are now rising in Canada's most populous province. 

COVID-19  hasn't affected property insurance rates: While Canadians shifted to working from home en masse in early 2020, this hasn't translated to higher premiums. However, migration from cities to the suburbs and rural parts of Canada may impact insurance rates in the future. 

Extreme weather is exposing aging infrastructure: Extreme weather events are the new normal, putting pressure on aging infrastructure and increasing costs. 
How to use this index: Property insurance can be complicated. That's why LowestRates.ca publishes the Home Insurance Price Index. The index is created from the hundreds of thousands of insurance quotes we get every year and shows whether prices in your province are rising or falling. Here's how it works: Our baseline is set at 100. This means that if our index increases from 100 to 101, prices have increased by roughly 1%. (One thing to note: this index doesn't factor in inflation.)
Part 1: Provincial breakdown of house and condo insurance rates (Q4 2019 - Q4 2020)
Year-over-year, Alberta and Ontario home insurance prices are down 4% and 1%, respectively. In B.C., home insurance prices rose 3%. Condo insurance prices continued to spike throughout 2020 across all three provinces. Before getting into the analysis, here's a look at the trends. 
Ontario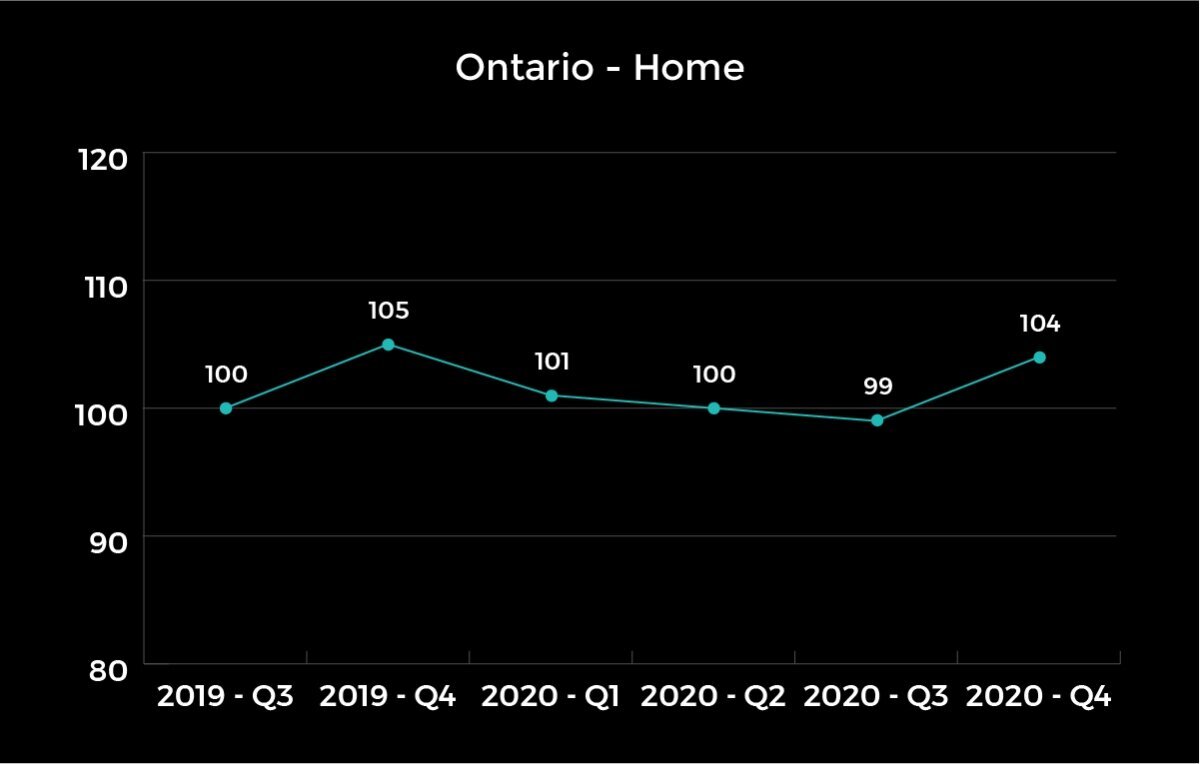 Alberta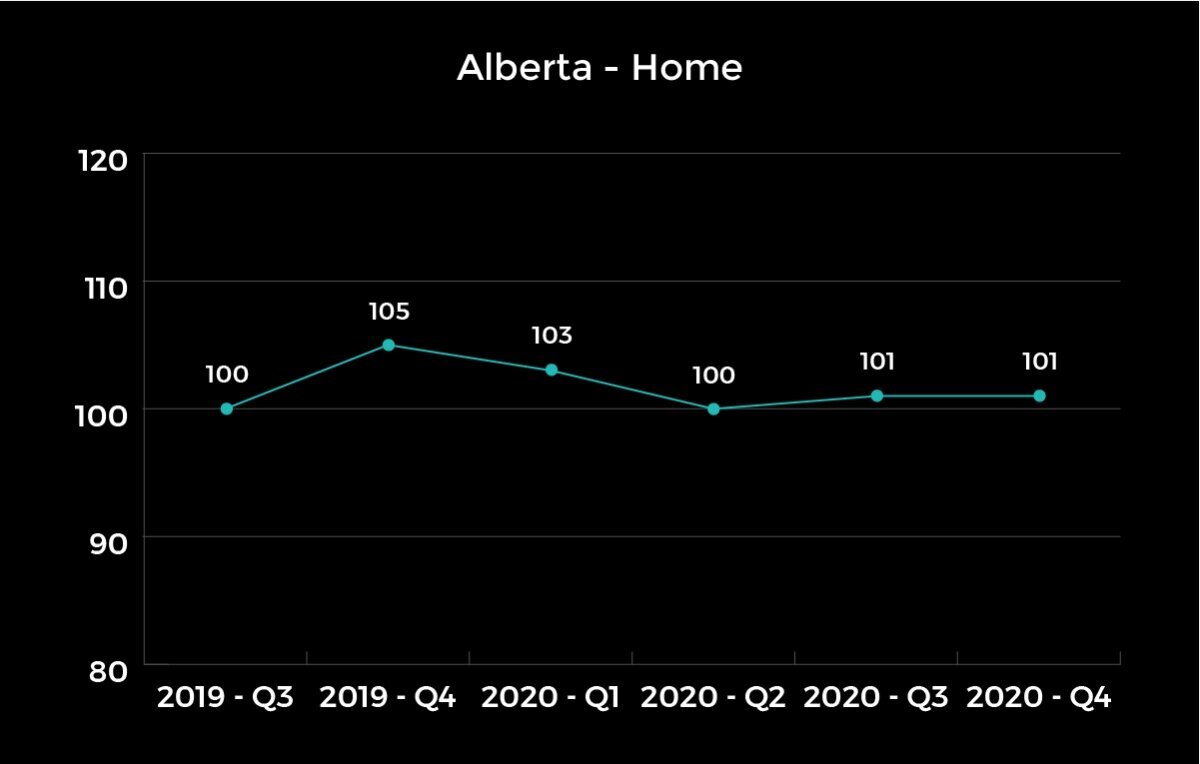 British Columbia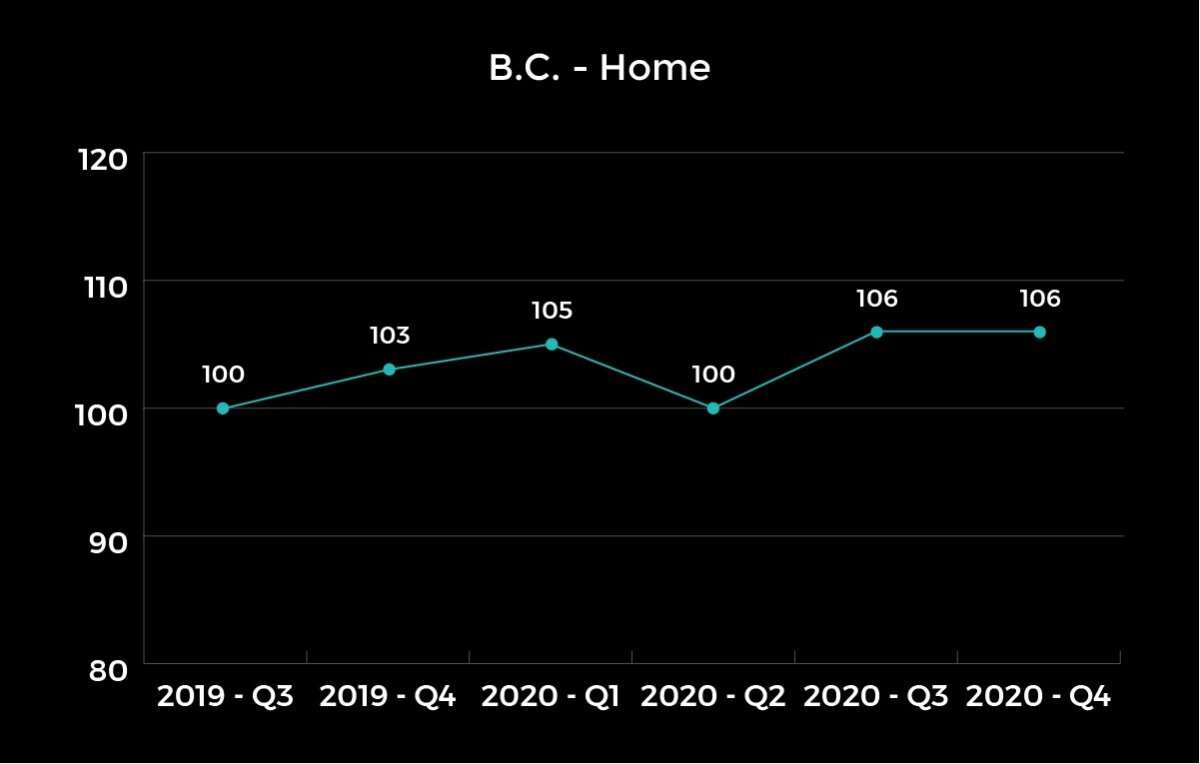 Part 2: Condo insurance premiums spike in B.C. and Alberta. Higher prices also spread to Ontario  
Condo insurance premiums in B.C. and Alberta increased among LowestRates.ca users by 18% and 20%, respectively, between Q4 2019 and Q4 2020. And as experts speculated in LowestRates.ca's last report, rising condo premiums are now starting to creep into Ontario. Year-over-year, condo insurance premiums in Ontario rose 8%. 
Premiums are rising as insurance companies increase deductibles for condo buildings in Alberta and B.C. A deductible is the amount of insurance companies require individuals or businesses to pay out of pocket before they can tap into insurance coverage.
There are two types of policies that cover condo buildings: one for the unit owner that covers the unit itself, personal property and liability, and one for the condo corporation that covers the structure, common areas and exterior. In addition to paying for their personal insurance policy, unit owners pay for a share of the corporation's policy through monthly condo fees. When the condo corporation's policy faces coverage gaps or higher deductibles, those additional risks are passed on to the unit owner.
The issue is especially pronounced in B.C., where about half of the province's 5.1 million residents live in strata housing. In B.C., "strata" is used to describe a property divided into individually owned units with shared common areas. The term encompasses condos, townhomes, duplexes and single-family homes in strata subdivisions. 
Strata property owners started seeing rates spike around July 2019 due to a "substantial reorganization of the insurance industry," says Tony Gioventu, executive director of the Condominium Home Owners' Association of B.C. Skyrocketing real estate prices have eaten into insurance companies' profitability and caused many to withdraw from the market altogether.
"Competition basically nosedived in the condo market for insurance," he says. "With so few insurers historically, rates just exploded."
Gioventu says rising premiums and deductibles are mainly affecting larger buildings with more than 50 units, where the risk increases exponentially, or buildings where there are a high number of claims.
With big increases in real estate value, you look behind the curtain and every industry behind insurance — construction, restoration, materials supply — increases at the same rate
"We saw deductible rates for larger properties go from $25,000 or $50,000 to $200,000 to $250,000 for claims," he says. "A lot of claims became self-insured or became the responsibility of the individual unit owners on their insurance policy."
When a claim becomes self-insured, it means there's no reimbursement from a third-party insurance company — the money comes directly out of the homeowner's pocket.
This issue isn't exclusive to B.C., and is bleeding into cities across the country as more condos are built and the frequency of claims and cost and value of real estate are rising.
In Ontario, condo insurance rates are rising as the province catches up with B.C.'s strata-heavy culture and weather-related risks spread across the country. In condo-centric Toronto, existing stock is aging while more and more buildings fill the skyline for an increasing population. And while B.C. and Alberta have grappled with more risks around earthquakes, forest fires and floods, weather-related risks are increasing everywhere — especially when it comes to water.
"With big increases in real estate value, you look behind the curtain and every industry behind insurance — construction, restoration, materials supply — increases at the same rate," Gioventu says, leaving strata and condo corporations without basic predictability around costs.
Many condos are also starting to age. If they're poorly built or poorly maintained, it leads to losses. And while damage to a single-family home is relatively contained, flood or fire in a condo unit could mean several other units in the building are affected.
"Insurance isn't supposed to be a maintenance contract, but if the railings aren't put on properly and someone falls, you're going to get sued," says Dave Dyer, LowestRates.ca's chief operating officer. "If the plumbing was installed poorly, you're going to have water damage."
Legislative and regulatory changes announced by the B.C. government in June 2020 aimed at curbing rising insurance costs are starting to be implemented. For example, insurance brokers previously didn't have to disclose their commission rates, which were reported to be as high as 20%. As of Nov. 1, 2020, brokers in B.C. are now required to disclose the amount of commission they receive for insuring strata properties, which Gioventu says leaves room for negotiation between clients and brokers. 
Key takeaway: Rising condo insurance rates has become a national issue for major cities across the country as more condos are built, existing stock ages, weather and water damage batter buildings and the prices of building materials and replacement costs rise.
But while insurance rates rose steadily throughout 2020, that doesn't necessarily mean they'll keep going up indefinitely. 
"Insurance is like a pendulum, it swings between a soft and hard market," says Victor Adesanya, vice president, insurance at DBRS Morningstar. He says Canada's insurance sector is currently in a hard market, caused by low interest rates and more money flowing out of insurance companies from losses and expenses. In a hard market, there's more demand for coverage from consumers but less supply as insurers tighten their business and write fewer policies. This means insurers have to raise premiums to boost profits. In a soft market, less demand for insurance and more competition in the market leads insurers to reduce their rates. As the pendulum swings, it means some volatility for consumers.
Part 3: Property insurance prices unaffected by COVID-19
As Canadians started to work from home en masse starting in March 2020, there was speculation around whether this shift would affect home insurance rates due to the increased likelihood of accidents or damage. So far, that hasn't materialized. 
"The concern for insurance companies continues to be widespread, catastrophic losses as opposed to isolated events," says Elektra Hilton, director of operations at DirectRate.ca. "Increases in home premiums have been driven by water and other weather-related catastrophes."
Even with additional risks to a property and its contents from families being home all the time, most damage caused by individuals would be on a much smaller scale compared to major natural disasters such as flooding, hailstorms or forest fires, or water damage from bathroom or roof leaks, frozen burst pipes or corroded plumbing.  
When you insure a property, you're insuring the reconstruction costs. As prices go up, the cost of rebuilding goes up, too
One COVID-related consequence that could affect property insurance rates: people moving out of major cities into surrounding suburban areas. Many buyers have recently left cities such as Toronto and the suburbs in search of more space and are finding it in smaller municipalities. As a result, this has driven prices up in those places. While rising real estate values don't directly drive property insurance prices, there's some correlation. Mortgage lenders typically want to insure homeowners for at least the value of the mortgage, regardless of a home's replacement cost.
Rising home prices in the suburbs and rural areas also reflect the rising cost of labour and materials, which can translate to higher insurance prices, says Adesanya of DBRS Morningstar.
"When you insure a property, you're insuring the reconstruction costs," he says. "As prices go up, the cost of rebuilding goes up, too."
Key takeaway: Property insurance rates have not been affected so far by the COVID-19 pandemic. However, there may be some fallout effects as migration from cities to suburbs and rural areas drives up prices. Whether this will happen remains to be seen. 
Part 4: Wild weather exposing weak and aging infrastructure
"Climate change isn't going anywhere," says Adesanya, and continues to be a key driver behind rising home and condo insurance prices. 
Severe weather caused $2.4 billion in insurable damage in 2020, according to the Insurance Bureau of Canada (IBC). The June 13 hailstorm in Calgary caused $1.3 billion in insurable damage alone. Storms and floods also hit parts of Ontario, B.C., Quebec and Alberta, pushing 2020 to the #4 spot on IBC's list of the Top 10 Highest Loss Years on Record.
As more homes and buildings are built in concentrated areas populated by an increasing number of people, it puts pressure on aging infrastructure that hasn't been upgraded to meet the demand.
"The infrastructure is weak, resulting in excess water getting in people's basements," says Dyer of LowestRates.ca. 
In November 2020, the federal government acknowledged that "natural disasters are increasing in frequency and severity." It announced a task force to look into creating a low-cost national flood insurance program for people without enough insurance and develop relocation plans for homeowners in flood-prone areas. The task force will submit its final report by spring 2022. 
Key takeaway: Insurance experts agree that climate change and extreme weather is the new normal, and will continue to influence property insurance rates. In particular, flooding and water damage will continue to push insurance rates higher as extreme weather becomes more frequent. The IBC called the federal government's flood task force "a foundational step," but it could still be years before a cohesive national plan is formed. In the meantime, insurance companies — and consumers' insurance premiums — will continue to bear the brunt of water damage costs unless more immediate action is taken.
Conclusion
Home and condo insurance rates are always changing. Dyer says insurance rates will rise a bit every year based on inflation alone, but not all insurance companies raise their rates every year, or by the same amount — that's where comparing comes in. There are also individual factors that may raise or lower premiums, such as the deductible, the home's postal code, the amount of coverage, personal claims history and more.
"For consumers, shopping around is the best way to save money as insurance costs rise from inflation and climate change," says Dyer. "By comparing the market, you'll know you're getting the best deal based for your unique situation."