How to find a good home insurance policy if you live in a wildfire zone
By: Brennan Doherty on

August 16, 2022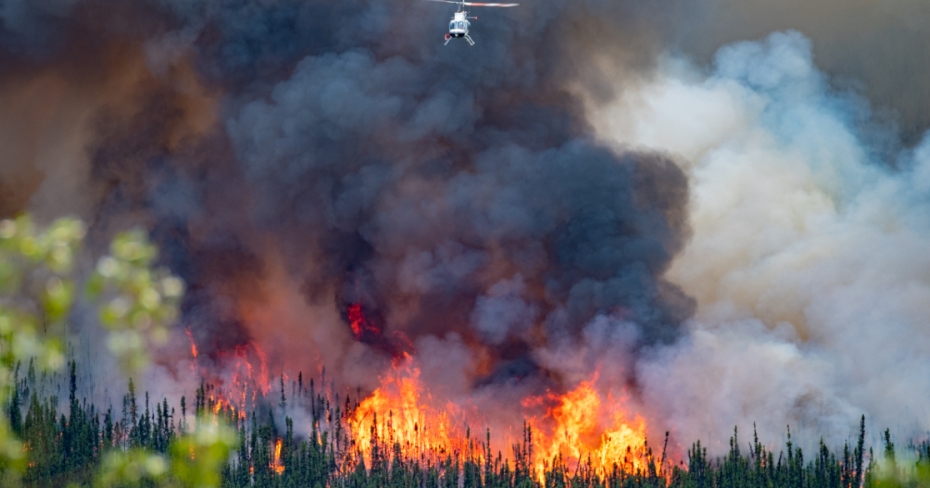 This article has been updated from a previous version.
After three days of the highest-recorded temperatures in Canadian history — nearly 50 degrees Celsius — a wildfire swept through Lytton, B.C. last summer with almost no warning. "I noticed some white smoke at the south end of town," the village's Mayor, Jan Polderman, told CBC News at the time, "and within 15 to 20 minutes, the whole town was engulfed in flame."
All that remained of the village's main street was charred rubble, and aerial photographs showed rows of building foundations blackened by flames. Wildfire season typically strikes between late spring and early fall for B.C., the boreal forest regions of Ontario and Quebec, the Prairie provinces, and the Yukon and Northwest Territories. But over the years, these seasons have gotten hotter, more destructive, and less predictable thanks in large part to climate change.
A 2020 report by the Insurance Institute of Canada found annual damage claims from severe weather, including wildfires, will more than double over the next 10 years from an average of $2.1 billion in annual losses to $5 billion. Losses after the 2016 Fort McMurray wildfire hit nearly $4 billion, making it the costliest natural disaster in Canadian history.
The victims of Lytton, B.C.'s wildfire lost nearly everything they couldn't carry to safety. In the weeks that followed the tragedy, the town's policyholders undoubtedly spent a lot of time on the phone with their insurance providers in search of compensation to replace or repair their most valuable possession — their homes. Insuring a home in a wildfire-prone area may seem daunting, but it's a lot easier than you think. Here are a few important pointers on what to consider when insuring your home — and how to prepare for the worst — before wildfire season strikes.
How wildfires are covered under home insurance policies
Stefan Tirschler, product and underwriting manager at SquareOne Insurance Services, says some customers are surprised that the B.C.-based insurance provider doesn't have a problem with insuring homes in a wildfire zone. "You may assume options are more limited," he says, "but it's probably not true in the vast majority of cases."
With the exception of particularly remote areas, Tirschler says most Canadians should have access to a reasonable range of home insurance providers to choose from, and that most policies will include wildfire coverage. "Fire is fire is fire," Tirschler says. "The fact that it originated in the forest doesn't change the fact that fire is what burns your house."
The last thing you want to think about is how you're going to pay to put your family in a hotel
When it comes to wildfire coverage, there are a few clauses in your home insurance policy that are worth looking out for when you sign up or renew. Donna-Leigh White, regional sales manager for Westland Insurance Group in B.C., says some insurance companies have a limit on coverage for forest firefighting expenses if a fire originates on your property. She says a lot of providers will cover between $10,000 and $15,000. Some have no limits at all, while others have limits that can be increased
Most homeowner policies cover property damage from wildfires but there are exceptions. For instance, most policies don't cover damage to home landscaping and plants.
FireSmart Canada, a wildfire information and safety program run by the Canadian Interagency Forest Fire Centre, recommends homeowners keep their yards clear of woody debris, consider fire-resistant building materials for their house, and space out trees on their property — factors that Tirschler says can affect a homeowner's insurance rates.
"Virtually everything can be insured for the right price," he says, "but if a home is in an unduly hazardous condition, then the price will be unaffordable."
Mass evacuation coverage is another aspect to consider if you're looking to insure a property in a wildfire zone. This covers your expenses — White says $3,000 is typical — from hotel costs to food if a government body orders you to evacuate due to a local disaster. "Even if nothing happens to your home, these expenses can be quite high and you're already in such a stressful time," White says. "The last thing you want to think about is how you're going to pay to put your family in a hotel for a week."
How living in a wildfire zone can impact your home insurance rates
Many wildfire-prone areas are in what FireSmart Canada calls the wildland-urban interface — the line where human habitation meets undeveloped wildland.
Living in a wildfire region can contribute to a higher premium, but Tirschler says wildfire risk is just one of many considerations insurance companies make when assessing a new customer. "Yes, being in a wildfire zone means you may be more likely to experience fire loss than someone who's not," he says. "But it's only one of the things that is likely to happen." Take water damage — from appliances or the elements — for example. Fire damage (and especially wildfire damage) can be catastrophic, but Tirschler says water damage is an incredibly common claim for providers to process.
By the time a region is put on an evacuation notice, it is far too late for homeowners to insure their properties
That said, one major factor insurance companies consider when insuring a property is its proximity to a fire hydrant or fire hall. White says there are three categories of fire protection:
Protected (meaning a home is close to a fire hall and within about 300 metres of a hydrant);
Semi-protected (a home without nearby hydrants but within eight to 13 kilometres or so of a fire hall, depending on the provider); and
Unprotected (meaning you are outside these limits and don't have access to hydrants).
The latter is especially common in rural areas. "That is where you're going to see higher premiums because the risk of something happening is greater," White says, "because it takes longer for the fire hall to get to you."
White says another key factor insurance companies consider when setting rates due to fire risk is frequency.
"Let's say that Prince George has one fire — that doesn't mean their rates are going to go up just because of that," White explains. "Whereas somewhere like the Okanagan that clearly has a history of having fires. . .  is definitely an area that is much higher risk and, therefore, the rates tend to be a little bit higher to reflect that."
Don't wait until the last minute to get home insurance if you live in a wildfire region
It isn't unusual, Tirschler says, for home insurance companies to see a bump in policy applications from areas under an imminent wildfire threat. But by the time a region is put on an evacuation notice, it is far too late for homeowners to insure their properties. In principle, home insurance providers won't accept those applications. "The problem when a region is already on fire is that it's no longer the chance of loss," he says. "It is now a certainty."
White says most companies will allow you to finalize a policy up to 30 days before it takes effect — and you should. "Don't wait until your last week or the last two weeks," she says. "Make sure you're starting right at the 30-day mark because as fires come up, it limits an insurance company's ability to finalize insurance for you."
Several years ago, White recalls a woman in the Okanagan who was trying to set up condo insurance, but was delayed for weeks due to ongoing wildfires. An hour after the woman signed her new policy, another fire started. "If she'd waited even another hour to come in and sign, I wouldn't have been able to do it that day for her," White says.
Keeping your home insurance provider informed of any renovations and upgrades to your home is also important. That way, they'll have the most up-to-date understanding of what it will cost to rebuild your home. The same philosophy applies to documenting your possessions before the wall of fire hits your house. Do it well in advance, if possible.
Tirschler says the easiest way to do this is to simply turn on your cell phone's video camera. "Slowly walk through the house and just pan carefully over each room, over the contents of each cupboard, over the contents of each drawer, and save that to your phone," he explains. That way, if you find yourself sitting at a restaurant table after a mass evacuation, you'll be able to recall exactly what to claim in damages.
Interested in creating content with LowestRates.ca? Contact us at [email protected].
Save 30% on average on home insurance
Compare quotes from 50+ Canadian providers in 3 minutes.