How to navigate a bidding war: 10 expert realtors weigh in
By: LowestRates.ca Staff on

March 30, 2021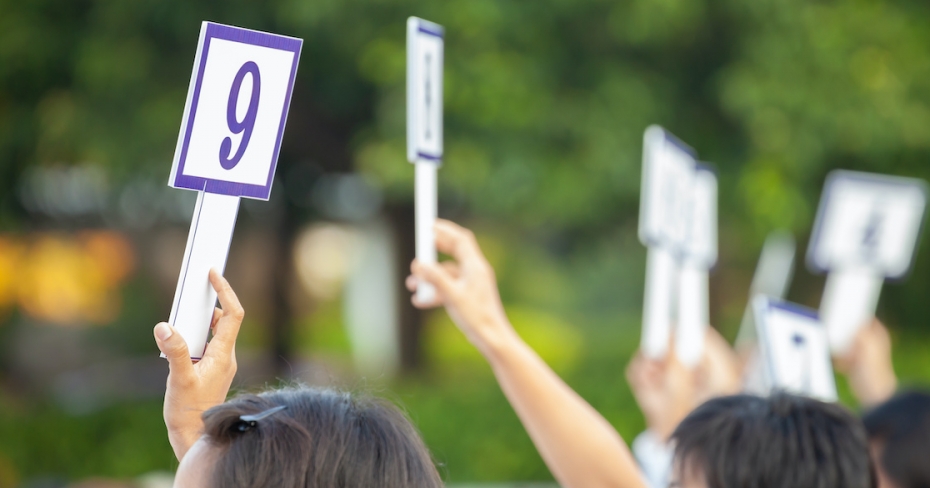 As the spring weather heats up, housing markets are blazing across the country. In places like Toronto and Vancouver, high numbers of bidding wars routinely make headlines and frustrate buyers hoping to land their dream home. 
If you find yourself in such a situation, you might be feeling intimidated and downright confused. How do you navigate a bidding war? We asked 10 expert realtors to share their insights and tips.
Christopher Alexander, Chief Strategy Officer and Executive Vice-President, RE/MAX of Ontario Atlantic Canada
"To 'win' in this market, buyers have to be prepared to make their best offer – unconditional and over the asking price. With that said, homebuyers have to do their due diligence. Know what you're buying and make sure you can afford it. One's personal circumstances, such as finances, stable employment, and family situation are all important factors. Ultimately, homebuyers should always look at the big picture when making an investment of this magnitude."
Tatiana Londono, star of HGTV's The Property Shop, Founder and CEO, Londono Realty Group
"Hire a real estate agent. Many people try to approach the listing agent and deal with them directly. But what you want in a market like this is to work with an agent that has your best interests at heart, not just the sellers' interests. So make sure you've got a great real estate agent that you trust.
Look for a home you can afford. Listings are selling for hundreds of thousands over asking, not just tens of thousands like they might have previously. You should know where your hard stop is and look for places that are listed at 100K to 200K less than that amount so that you have room to bid.
Get pre-approved for a mortgage. If you are shopping without a pre-approval, you've already lost. Things are moving too quickly in today's markets for any delay in financing. 
Avoid unnecessary conditions. Why are you worried about financing if you already have a pre-approval? Why include a home inspection if it's a new-ish home? Everything should be in the seller's declaration. If a seller has a number of offers, and your offer has conditions, guess who the seller is going to go with? Not you. A caveat to this is condos. I wouldn't suggest forgoing conditions with condos as it can complicate things with condo associations.
Be patient. You may lose out a few times initially, but it will happen eventually. The forecast for property prices is to continue to go up. They thought COVID would break the market and it didn't. There's a high amount of optimism and positivity in the market and we're going to see really bright days and greater things ahead."
Gus Papaioannou, Sales Representative, Realosophy
"The buyer has to decide what the home is worth to them before the offer night. Homes are often priced under value, and the listing price isn't always what the home is actually worth. It's a marketing tactic. What I like to do with clients is a comparative market analysis. I choose comparable homes in the neighbourhood that have sold recently, take a look at their prices, and then take a look at different aspects of the home that can affect the price. For example: lot size, room size, whether there's a private or shared driveway, where the home is situated, whether there are any buildings around it blocking the sun. Things like this all play a factor in a home's value. I compare that with homes that have sold in the same area with both positive and negative attributes.
I work much like an appraiser does for a lender and through this process we determine the home's value and what it's worth on paper. Then we take a look and see what it's worth in the market, which might be slightly different, depending on if it's a seller's or buyer's market.
The final question is: what is this house worth to the client? There may be certain things about a home that make a buyer more willing to spend a bit more to get it because it would make their lives better or more convenient in some way. For example, if the home is in the neighbourhood where the client's parents live, and that means that they'll get help with childcare, that obviously puts a higher value on the home for them. It's important that when clients get to offer nights, they're prepared emotionally. Going through this evaluation process eliminates FOMO and emotional bids. Clients might need to be prepared to go through this process for four, five, six different homes. Most homes will go for 2 or 3% above what they are worth, especially in tight markets such as Toronto and Vancouver.
You can't control what the market is going to do, you can't control whether somebody else is going to pay an exorbitant fee for the house, but what you can control is what the house is worth to you, and know your limits."
"Forget about the asking price. In a hot market it's common for homes to be listed artificially low in order to get more attention and create a bidding situation.
Have your financing in order. In hot markets firm offers with no conditions are common.
Get precise on what it is you are looking for and do your research ahead of time. This includes housing type and location. Once you narrow this down you need to examine what comparable homes have recently sold for. This gives you a range of what homes are actually selling for, not just what they are listed for.
Be sure to adjust the price if the sale is not in the recent past. For example, some markets have experienced over 2% price growth per month. If this is the case and a comparable home sold four months ago, that selling price is no longer helpful.
There are no miracles in real estate. If a home listing price sounds too good to be true, it probably is. Know your numbers and if your numbers indicate the home is probably out of your range based on recent comparable sales, then keep looking."
"This market is like a toy sale on boxing day and there is only one Tickle Me Elmo left! Not only do you need to know how hard you're going to fight to get the property — you need to know how much it is worth to you.
When navigating bidding wars, the personal letters [from prospective buyers to sellers] we saw in 2014 to 2017 don't work. Sellers don't care about your first purchase or your puppy named Scottie. They care about how much money you're offering and how many conditions you don't have."
"Understanding how much showing activity a property has received, the number of pre-inspections done, and having strong communication with the listing agent will all help you gauge what to expect in a multiple-offer situation.
Obviously with multiple offers you want to do your due diligence ahead of time and come in subject-free [a bid provided by the buyer that is unconditional once the seller accepts] in order to remain competitive. Clients also need to set a budget and not let emotions take over."
"Hire a professional that you trust. Realtors that get deals done in a competitive market are excellent communicators and have their fingers on the pulse of the market. 
Realtors and buyers need to be on call. Properties pop up and sell before some agents and/or buyers even have a chance to clear their schedules.
Tighten up your financing. Make sure you are fully pre-approved, not just a rate hold. Ensure your mortgage broker is readily available as last-minute discussions and crunching of numbers is often required in this fast-paced market.
Don't settle. It's easy to get caught up in the frenzy. When the market is this hot, everything sells. Don't settle for a poor house, bad lot, weird layout, or other deficiencies just to get into the market. Chances are when the market slows down and it is your turn to sell, your less-than-desirable property will sit on the market longer than others.
Stay positive. There are always opportunities out there. If you are unsuccessful with your first couple of bids, re-evaluate your location, your budget, maybe even your approach. The right one will come along."
"View the property as early as possible. Do not wait until the Sunday showing or open house if offers are that night or the next day. During this viewing, be nice to the realtor. Blind them with kindness. There is no point in trying to negotiate or talk down on the home at this point. 
Talk to your mortgage broker. Make sure you are qualified and send them the MLS listing, property disclosure statement, and anything else they ask for well in advance. See if you can even send an appraiser in advance of the offers. They can give a conditional approval for your peace of mind. Read all the necessary documentation, such as the property disclosure statement, title search, MLS listing, and any disclosures or tenancy agreements. For houses in Vancouver, make sure there are no oil tanks and/or easements, covenants, etc. on the title. If they do have them, find out what they are in advance. For strata properties read all the strata documentation. Don't have time? there are companies that read for you and report back. Confirm the parking stall, storage lockers, and strata fees. 
Put in a clean [subject-free] offer. When it comes to multiple offers, 99% of the time the highest price wins. You can write a letter, as they do help, but price, terms, and dates usually define the winner. Give the seller the dates they want. If it works financially and you have to rent for a month, you will not regret that one month of living in an Airbnb. Have a bank draft of at least 5% included with your offer. When it comes down to it, if you have a bank draft and someone else does not, your offer is stronger (price dependent, of course). If you can increase your deposit, that does not hurt.
Be available. Be ready to communicate with your realtor as things happen fast. Don't send an offer and then go for a swim or a hike with no reception."
"If you want to be successful in a multiple offer situation, make sure you have all of your ducks in order. Gather all of the documents, such as title, property disclosure, oil tank certificate, etc. from the listing realtor.
Do your due diligence in advance of the offer presentation so that your offer is as clean as possible, including possibly conducting a pre-inspection of the home. Ask the listing realtor for preferred closing dates and attach a copy of the deposit cheque with your offer. Stay by your phone at presentation time."
"Only pay what you are comfortable with. It is easy to get caught up in the hype of the market and it may be wise, depending on the market you are in, to practise some patience. We do see more inventory come on the market in the spring and with interest rates climbing, the market will slow down a bit. 
So practise patience and don't over-leverage yourself. There will be ups and downs in the market and this too shall pass. Things will normalize at some point."