Party like it's 2021: What to know about hosting, COVID-19, and your home insurance
By: Katie Rook on

August 19, 2021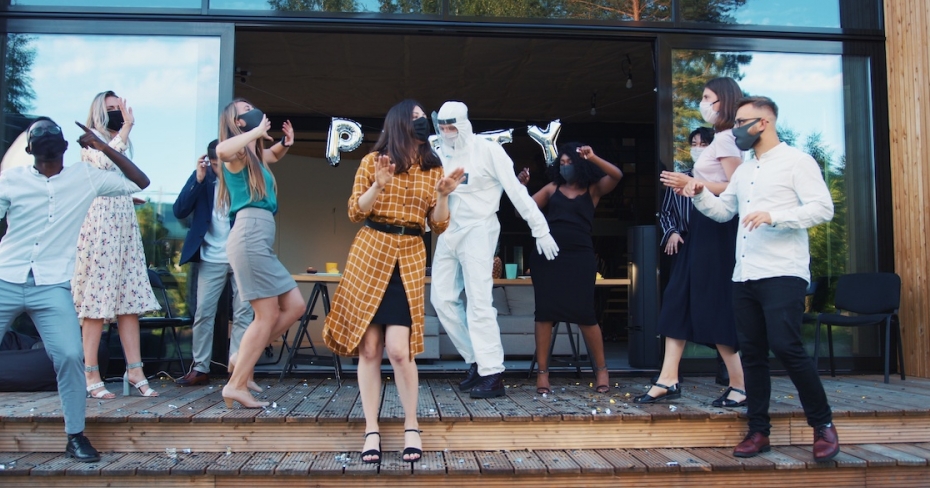 If you're considering hosting a party any time soon in Ontario make sure you're familiar with the specifics of your home insurance policy.
Many home insurance policies include a communicable diseases exclusion, which absolves the insurance company of having to provide liability coverage to the policyholder in the event that they're sued by someone who contracted a communicable disease while at their home.
Exclusions for communicable diseases, including COVID-19, are here to stay, says Stefan Tirschler, product and underwriting manager for Square One Insurance Services. 
"It's common to find a communicable disease exclusion in most policies – tenant, condo and home," says Tirschler. "It's an exclusion that has been a feature for as long as I can remember and that's now 15 years in the business."
Tirschler says that in general, exclusions are not often removed from home insurance policies. So just because gathering restrictions have eased in recent months doesn't mean your policy's COVID-19 exclusion has, too. 
How the communicable disease exclusion puts you at risk
Ari Singer, a civil litigation lawyer at Singer Katz LLP, says that while it's unlikely a guest could successfully sue you if they contracted COVID-19 at your home, the exclusion puts you at greater risk for two reasons. 
First, without liability protection from your home insurance company, you'd have to assume the cost of defending yourself. 
Second, if the plaintiff was successful, the fact that you own a home means they could pursue you for damages. 
"The exclusion raises the risks significantly for the homeowner if they're found liable for anything," Singer says. "The risk is that if he owns a house, there's money and the person can collect on it."
Hosting safely in the pandemic era
When it comes to hosting get-togethers at your home, you need to be on guard for the risk of someone contracting COVID-19. 
"You want to be taking reasonable and necessary steps to protect yourself," says Tirschler, adding that you should think of managing your risk of transmitting COVID-19 in the same way you would follow proper food handling practices: adhere to basic public health rules to make sure everyone stays healthy.
New law offers some protection for Ontarians against COVID-19 related liability
Personal injury lawyer and founder of Kotak Law, Nainesh Kotak, points to a new law in place that protects Ontarians against liability if a guest contracts Covid-19. 
In November 2020, the provincial government passed Bill 218, Supporting Ontario's Recovery and Municipal Elections Act, providing that people can't sue anybody for damages arising out of COVID-19 exposure or contraction unless that person's failure rose to the level of gross negligence. 
In other words, unless a homeowner showed such flagrant disregard for public health rules that the court was shocked, it's unlikely there would be a finding of liability. 
Nonetheless, Kotak says hosting gatherings during the pandemic is not a zero-risk scenario. For example, if you were sued and found not liable, you'd still have to cover legal expenses – potentially including those of the plaintiff. 
"While causation would be difficult to prove, even if you're not found responsible, you could have to cover the plaintiff's legal fees," Kotak says.
Could there ever be COVID-19-specific home insurance coverage?
Tirschler is unaware of any specialized home insurance coverage that has been developed directly because of COVID-19, specifically, but says it's too soon to know if that will remain the case. 
"I'm not aware of coverage developed for COVID-19 yet, but a lot of attention is being paid to it within the industry," he says. 
"Insurance provides a mechanism to let everyone put money into a pot and only a few use it, if there's a loss. A pandemic results in the entire policy portfolio being affected."
Kotak takes a long view, acknowledging that we've all had to make sacrifices during the pandemic, including the ability to gather.
If you're going to host, he recommends acquainting yourself with the current public health rules so that you're aware of how many people you're allowed to have in one location — either indoors or outdoors. (Pro tip: In our current phase three of reopening, Ontarians can gather indoors in groups of up to 25.)
And, Kotak advises, take the time to make sure you understand your coverage. "One has to read their policy, particularly on renewal."