Why both homeowners and contractors need to be insured during renovations
By: HomeStars on

March 23, 2021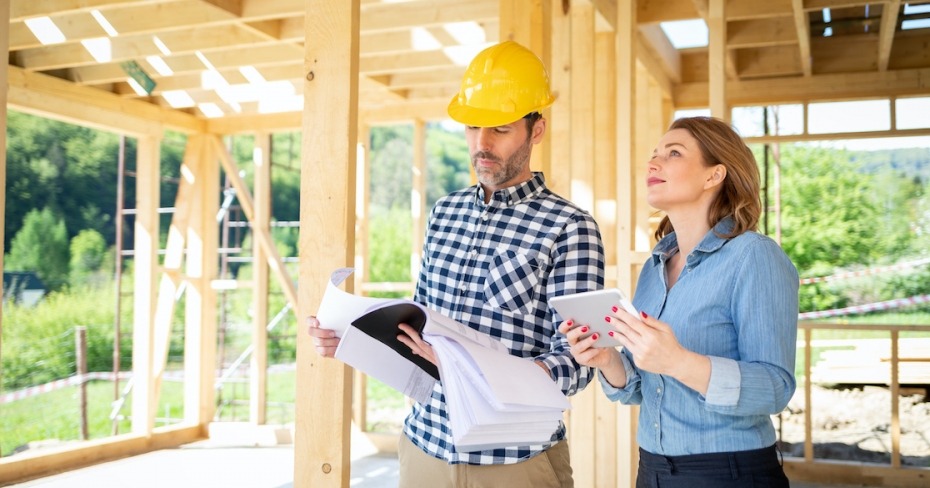 Before undertaking any home improvement project, it's important that both you and your contractor are insured. Whether you're having some necessary repair work done or are undertaking an elective renovation, you want to make sure you're both covered should anything unexpected happen. 
Your home insurance policy covers you, your home, and its contents. A contractor's insurance policy covers their workers and any damage done to your home during the renovation process. By not hiring a contractor with the proper insurance, you could be putting your home at risk. Here are the main reasons why both you and your contractor should have insurance before you begin your next home improvement project.
Benefits of homeowners being insured during renovations
The main benefit of homeowners insurance is that it protects you if something unexpected happens to your home. This could be a pipe bursting and flooding your kitchen, or it could be damage to your property caused by renovation work. In either case, having insurance ensures that you're financially protected. 
Keep in mind that insurance will only benefit you if you have it ahead of time. If you're planning a major home renovation and don't currently have insurance, you're missing a crucial step of your project planning and should reach out to a broker or insurance company. If you already have insurance, be sure to let them know about the renovation you're planning so that you're properly covered. 
Benefits of contractors being insured during renovations
Certain home improvement projects require proper licensing and insurance that you might not even be aware of. For example, any roofing, electrical, plumbing, or major structural work being done to your home should have insurance behind it. 
When hiring even the most experienced and knowledgeable professionals, mistakes can still happen. Should a worker become injured while working on your project or a window gets broken accidentally, you want to be sure that the company's insurance will cover these damages. Failing to hire a contractor with insurance means that these costs will fall to you, the homeowner. And, depending on the insurance you have, you may or may not be covered for their mistakes.
How to confirm a contractor has insurance
The best way to confirm that a contractor has insurance is to ask them for proof. Any reputable company will have no issues providing you with proof. If the company tries to brush off the question or says they cannot provide proof of insurance, don't hire that company. You don't want to put your home or the company's workers at risk. Instead, look for a company that can confirm their insurance coverage. 
Whether you have a contractor lined up or are still in the process of finding the right professional for you, there are multiple online tools available to aid you in your search. One helpful online tool to add to your homeowner toolbox is HomeStars, a website that connects Canadian homeowners with community-reviewed and reputable contractors. You can browse through company profiles, read reviews from past clients, and confirm proper licensing. 
To do this, simply look for a Verified badge on company profiles. When a company has a Verified badge, this means that they've passed HomeStars' rigorous background checks, including criminal and financial. And because HomeStars asks contractors to provide proof of proper licensing, you can trust that you're hiring a reputable professional. Once you've found a couple of companies you're interested in, reach out to them and be sure to ask about insurance before hiring.
Research your contractor, whether you chose them or not
If you're having a repair or renovation carried out as the result of making an insurance claim, you may or may not have control over the company that is doing the work to your home. While it's unlikely that your insurance company would hire a contractor who is not insured, it's always good to double-check for your peace of mind. 
Once you know the name of the company assigned to work on your home, be sure to check them out online. You can look at their company website and HomeStars profile. This way you can read reviews, look at project photos, and confirm proper licensing. If you see any red flags while researching them, such as not providing proof of insurance, be sure to bring this up to your broker or insurance company, as they may be able to assign a different contractor to your project.
Alternatively, you may get to decide which company you hire for your next home improvement project. This could be because your insurance company is too busy to find a contractor for you, or because you're electing to have work done to your home. In either case, it's still extremely important to only hire a contractor who is insured for the work they're doing. 
In this scenario, you must be diligent in your research. Remember to check out any potential company online, including their reviews, licenses and insurance. Make sure you ask the company upfront about their insurance coverage and don't consider companies that offer a cheaper price but don't have insurance.
How to handle renovations before your home is insured
Many homeowners buy older homes with the intent to renovate and fix them up. In this case, your home may need work done before the home can actually be insured. To get it up to code, you will likely have to hire several contractors to do the necessary work. This may include projects like electrical, plumbing, or structural work that requires both proper licensing and insurance on the contractor's part. You can use HomeStars to help you narrow down your search and find companies that have the right experience working with older homes. Again, be sure to read reviews and look for a Verified badge to help determine how reputable each company is.
When you're in this scenario, it's extremely important that the contractor is insured — because your home currently is not. If anything were to happen, you want to make sure that the contractor's insurance can cover them. If you hire an uninsured electrician, for instance, and they accidentally cause an electrical fire while working on your home, it will be up to you to pay for the damages out of pocket.
Now that you understand how important it is for both parties to be insured, you can confidently move forward with planning your next project. Whether you're having work done as a result of an insurance claim or are finally getting around to some much-needed elective renovations, make sure you and your contractor are both covered. 
We're grateful to our friends at HomeStars for lending their home repair expertise to the LowestRates.ca audience. HomeStars is Canada's number one website for connecting homeowners with community-reviewed and reputable contractors. You can browse through company profiles, read reviews from past clients, and check for proper licensing all in one place.