'I have to pay what?!' 11 unexpected costs when buying your first house
By: Desirae Odjick on

January 18, 2017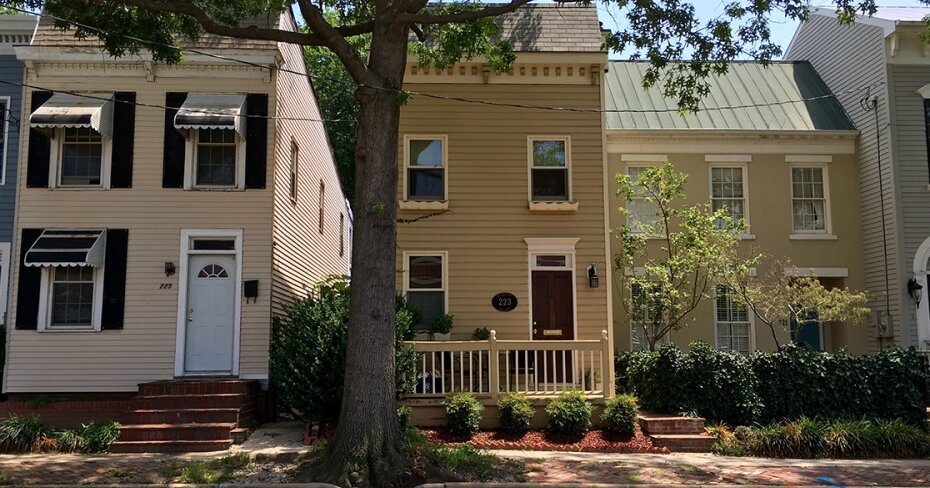 So you've just spent years living a frugal life to save for your down payment, and you've finally closed on your first place.
If you were hoping that it was just a matter of paying your mortgage from here on out — well, it turns out, houses are expensive for homebuyers in a lot of sneaky ways.
To get the inside track on exactly how much you can expect to spend in your first year, I spoke with two experts who have helped about a zillion* people deal with the unexpected costs of buying a home.
*They were both very clear that, as people who do numbers, a "zillion" is not the accurate number of people with whom they've worked.
Small Repairs
When you buy a house, there's likely going to be a laundry list of little tweaks you want to make around the house. This could be anything from patching drywall to hanging shelves, but the list of tools you'll need to accomplish these seemingly small tasks can add up quickly.
Nick Bachusky, a mortgage agent with The Mortgage Advisors in Ottawa, always suggests a way around buying a whole new set of tools as soon as you move in. "Look for organizations like tool libraries where you can rent the tools you need for a day or two, instead of buying them."
Updating the Decor
Another sneaky — and seemingly small — cost when you move is updating the decor of the house to suit your style. Sure, it's not mandatory, but it's also something people tend to underestimate when it comes to cost.
"When I speak with clients, I recommend they set aside a few thousand for minor updates to the home — paint, carpets and anything else they want to customize or refresh," says Elyse de Varennes, a broker with Dominion Lending Centres Integrity Financing in Ottawa.
Big Repairs
Unlike smaller, optional costs, there are some big things that can truly sink your house budget, and are non-negotiable fixes. Your roof and your foundation are two things you need to ask about during inspection, because those repairs won't come cheap.
To prepare people for the eventual big repairs that might come up, "I typically recommend clients budget for an additional $200 to $300 a month to save for repairs, on top of all of their bills," said de Varennes.
Furniture
If you're going from a one-bedroom rental to a three-bedroom house, once you've got all your stuff moved in, you'll probably realize your two-seater table looks awfully small in that formal dining room. That's where furniture comes in, and filling a new house with big pieces can add up to thousands.
"Having an in-depth budget and plan for each room is so key, especially between couples," says Bachusky. Sit down with your co-purchaser (or yourself) and set some ground rules about what's a must-have right away, and which big purchases can wait a few months or a few years.
Bills, Bills, Bills
As a renter, you're probably used to one or two bills, since so much is rolled into your rent payment. But as a new homeowner, you're on the hook for everything.
"You should always ask your realtor to try to get monthly estimates of all of the bills from the current owners," said Bachusky. That'll give you the best information about how much that big old house actually costs to heat in a Canadian winter.
Plus, de Varennes cautions that you might run into setup fees with different providers. "For example, if you've never had a relationship with a utility company before, they may require a deposit of a few hundred dollars."
It'll likely get reimbursed, she notes, but not until the following year.
Home Insurance
When it comes to home insurance, it pays to shop around, especially if you've never paid it before. That's what Bachusky recommends to all of his clients.
"Home insurance varies everywhere, so you should at least shop around and bring what others offer to your insurance company," he says.
Don't focus solely on cost though, he warns: There are other factors to consider, like the amount of coverage you'll get, and the terms of the insurance.
Property Taxes
The amount of tax you'll pay on your house varies by location, so you'll need to look up the rates where you're buying. You can pay them through your mortgage, or directly to your city, but based on extensive experience, Bachusky recommends paying directly to the city if you're able.
"I've seen many errors between the lender and the cities for clients who pay their taxes through their mortgage — it's much, much easier to just handle it yourself right from the start."
CMHC Taxes
"You'll have to pay taxes (depending on the province) on the insurance premium you pay to CMHC if you have less than a 20% down payment," de Varennes says.
So while you're probably prepared for the CMHC fees themselves being added to your total mortgage if you've got less than 20% down, you might owe the PST on them when you close on the house.
Depending on your down payment and the purchase price, that PST could run you hundreds of dollars, or even top $1,000.
Land Transfer Taxes
Another cost that'll be due at closing is your land transfer taxes. They'll depend on your location, and you could get a rebate for being a first-time home buyer, but even with that rebate, they're not cheap. Most locations will ding you thousands in land transfer taxes.
New-Build Fees
"Buying directly from a builder, or as it's usually called, a new build, will have additional costs. They're not huge, but they'll vary based on your price point and can be a few extra thousand dollars in addition to the basic closing costs," says de Varennes, who's seen people be surprised by fees like enrollment fees and solicitors fees they owe to their builder.
Appraisals and Tax Adjustments
If you're buying a resale home — one that's been owned before — don't get too smug that you're automatically dodging those new-build fees.
"If you're buying a resale, for the most part, your closing costs will vary based on when you're buying during the year, and how that impacts the property tax adjustment," says de Varennes.
If the previous owners had pre-paid their taxes, you'll need to cover that cost on closing, based on the date.
"You'll also need to consider appraisal fees, especially if you're buying a privately-listed home," she says.
Here in Ontario, that means that the Grapevine property you fell in love with will come with an extra cost for an independent appraisal.